Kicked out of court for crying: 'How the inquest system failed my cousin'
Gaia Pope was failed by the police and NHS – and now by the justice system. Her cousin speaks to openDemocracy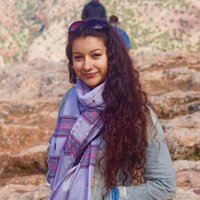 14 October 2022, 3.50pm
Relatives of Gaia Pope say they faced threats of being thrown out of court for crying during an inquest into the teenager's death.
It comes after revelations earlier this week that the man accused of raping Gaia was already under police investigation at the time of the attack. The family say he should have been more closely monitored.
Gaia's cousin Marienna Pope-Weidemann sat through one of the longest inquests in British history in the hope of seeing justice. She told openDemocracy the family were initially optimistic about having been assigned the youngest female coroner in the UK.
Yet they say she threatened to exclude family members from court for crying, which effectively barred Gaia's mother from proceedings. "Who could expect the grieving mum who's lost a child under those kinds of circumstances to be able to attend and not cry?" said Marienna.
The Covid-19 public inquiry is a historic chance to find out what really happened.
Marienna said she was the first family member to be given the warning, which was delivered through her legal team in a private room, but that it was subsequently extended to others. The Dorset Coroner's service did not respond when approached for comment.
As well as "barbaric and brutal" on a personal level, Marienna said, the process was "very worrying and heartbreaking" for what it reveals about the British inquest system.
Right to life
Gaia was 19 when she went missing in 2017. A survivor of sexual violence, failed by the police and mental health services, her body was found 11 days later on a clifftop, after a public search involving thousands of people.
Her family had won the right to a full hearing with a jury because the coroner agreed there had been "an arguable breach of the obligations under Article 2 of the European Convention on Human Rights" – the right to life.
The inquest, which heard evidence from 78 witnesses about more than 50 missed opportunities for authorities to intervene before and after Gaia went missing, concluded in July with the jury finding that Gaia's death was due to hypothermia – and that the decision by mental health services to discharge her without further support had possibly contributed.
Seemingly at the last minute, the coroner had refused to allow the jury to decide on whether police failings had been a factor in Gaia's death. It was a huge blow to the family.
Marienna calls it an indictment of the inquest system that fails to give families like hers real accountability.
"We were the lucky ones," she said. "We got legal aid, we got a jury, we got massive media coverage, we got civil society support.
"And still, even the best-case scenario looks like this. That tells you, I think, that the inquest system is a lot more about creating the illusion of accountability than actually preventing future deaths."
Police failings
Gaia was raped in 2014. She reported the attack to the police the following year, and named the man responsible, but her family say detectives told her there was little chance of the case succeeding.
A few months later, the same man was jailed for an unrelated sexual offence. Gaia's twin sister Maya Pope told the inquest that, before she died, Gaia had been worried about the man's imminent release from prison.
"I just know she was absolutely terrified to go out in Swanage, and she had shown me messages from the perpetrator saying that he knew people in Swanage and threatening to kill the family," she said.
A number of communication failures by Dorset Police before Gaia went missing were also laid out in police recordings that were played to the jury. They heard that one officer, who spoke to Gaia on the phone on the day she disappeared, did not recognise her mental health crisis, assumed it was a hoax and hung up on her.
When she went missing, Gaia's mum and aunt were repeatedly turned away by the police. In one recording, an officer was heard laughing and telling the call handler: "This is the fifth call I've had. The last call ended with them talking absolute rubbish… I think they are taking the piss, to be honest."
When Gaia went missing, the police did not take all steps expected of them immediately, losing vital daylight hours, and graded her as a medium-risk person.
Marienna told openDemocracy that the jury spent eight of the 11 weeks of the inquest hearing testimony about the failures in the police search.
"That's two months of their lives. They were asked to sit quietly and hear all this, only to be told: 'We don't want your opinion on it, actually, never mind.'"
She describes the coroner's decision not to allow the jury to decide on whether police failings had contributed to Gaia's death as a "complete shock" to both her family and their legal team: "No one saw it coming."
But, she added, problems had started long before this moment because the jury were only ever going to be scrutinising police actions in the time between when Gaia went missing and the date by which she had definitely died. "Yet we always maintained that the police had been failing Gaia for two years," Marienna said.
"To have got to the end of the inquest only to be told that even that tiny window was going to be taken off the table was devastating."
If the police want to block scrutiny by a jury, all they have to do is screw the investigation up so badly that there isn't enough evidence to evaluate
Marienna believes the police's failure to keep adequate records of their discussions and decision making actually helped get them off the hook.
She thinks this sets a dangerous precedent: "If the police force wants to block scrutiny by a jury in an inquest following a death, all they have to do is screw the investigation up so badly that there isn't enough evidence for the jury to evaluate."
Marienna claimed that when the Dorset officer who hung up on Gaia the day she went missing took the stand, "he literally smirked all the way through," while nonchalantly apologising for his use of the phrase "taking the piss". He told the court: "I always just imagined her as this giggling teenage girl."
NHS failings
The inquest also heard of missed opportunities to refer Gaia for appropriate NHS support on multiple occasions, including failing to get her the support she needed after she was sexually harassed as a mental health inpatient in February 2017 – including failing to inform her family or record the incident.
A neurologist who treated Gaia also told the inquest that there was a "failure of communication" within the NHS and that no action was taken to connect Gaia's epilepsy and mental health support.
"We hear a lot about the culture of misogyny in the police… but what we don't hear anywhere near enough about is that that culture also exists within the NHS," Marienna said.
She thinks part of the problem lies in the fact that mental health services have suffered severe austerity cuts, so people like her cousin can't get the care they need.
"On top of that, the NHS isn't a magical bubble immune to rape culture and misogyny."
As with the police failings, the inquest jury heard evidence of NHS failings during a relatively short period in 2017.
But Marienna argued: "The trajectory of the story was established in December 2014. That's when she disclosed the abuse."
Marienna said Gaia was so disturbed she could only communicate by writing on a notepad. It was then that she was told by the mental health service that she was having "delusions of sexual violence".
"She didn't feel believed. I saw first-hand, as did our whole family, the impact that had on Gaia's confidence, on her own voice, her hope for the future."
The coroner
Marienna calls it "ironic" that the jury heard evidence that different institutions – the police and the NHS – had failed to link up properly, only for the same thing to happen in the inquest itself.
"Without that big-picture view," she said, "it cut out the roots of the story and all you end up with is this little snapshot.
"They [coroners] have so much power to cut up the story, push evidence off the table, push voices off the table, push really important public interest issues off the table."
Marienna does highlight the positives of the inquest – notably, a Prevention of Future Deaths report, which has local and national implications and includes recommendations for healthcare trusts and the police on how to work with survivors.
But it's not enough, she adds. That's why the Justice for Gaia campaign has launched a petition aiming to attract 2,500 signatures, with demands including that Dorset Police set up a specialised rape unit. The family have also recently launched a new manifesto, calling for a review on policies around policing, mental health and social support.
For Marienna, the Prevention of Future Deaths report is important because the way she and her family lost Gaia is "too deep a wound".
"There can't be justice for our family. She's gone forever. Nothing's going to change that. This was always about change so that it was less likely that other people would have to go through what she did."
Above all, Marienna wants to thank everyone who's supported them.
"Every day, I'd come out of court, and I'd check my phone and there'd be another message from someone who went through stuff like what Gaia went through, saying thank you."
She believes that if it hadn't been for the community support and public pressure Gaia's body may have never been found. "Since all this started, it's been the support of ordinary people outside of all of these processes that has made the difference.
"We know that the courts fail to give justice. It's all about building the movement... We're not done yet."
Russian aggression is driving Ukrainians into poverty. But the war could also be an opportunity to reset the Ukrainian economy – if only people and politicians could agree how. The danger is that wartime 'reforms' could ease a permanent shift to a smaller state – with less regulation and protection for citizens.
Our speakers will help you unpack these issues and explain why support for Ukrainian society is more important than ever.
Read more
Get our weekly email