This powerful one-woman play shows how "black revolutionaries don't just drop from the moon"
With poetry, music and dance, the new play Woke stages the personal, political awakenings of Assata Shakur and a young Black Lives Matter activist.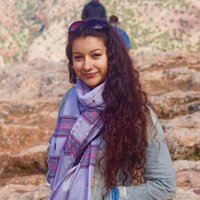 12 June 2019, 10.04am
"I'm so ready, so anxious", says a young Assata Shakur as she joins the Black Panther Party in the 1970s US. The notorious black liberation activist and currently the FBI's 'Most Wanted' woman, living in Cuba, adds: "I've got all these ideas, all this anger, like a fire in my gut – and I gotta use it for good, or else I'm gonna explode".
A new one-woman play, Woke, tracks Shakur's ascent, political education and ultimate criminalisation; interspersed is the fictional story of the wide-eyed Ambrosia, who enrols in university in 2014 as the Ferguson riots kick-off in Missouri, following the killing by police of an unarmed black teenager, Michael Brown.
I spoke with the writer and performer of Woke, Apphia Campbell, ahead of the play's opening at the Battersea Arts Centre in London this week, before it travels to the Edinburgh Festival Fringe this summer. She kindly gave me a dress rehearsal tape to watch – and what I saw was a force of nature.
Throughout the show, Campbell acts, sings, dances – and she wrote the piece, and some of its music – as she seamlessly swaps between the two characters. It reminds me of the stamina and passion of the black liberation activists she plays. "I've been doing some workout videos just to get back in shape", she tells me, laughing.
Get one whole story, direct to your inbox every weekday.
The play is simple, but unique – covering well-known political stories, from personal angles. Its power lies in showing how revolutionaries are formed and what stirs them into action. As a young woman involved in activist movements myself, it reminds me of what the stories of past revolutionaries can teach us today.
"I've got all these ideas, all this anger, like a fire in my gut – and I gotta use it for good, or else I'm gonna explode"
Campbell, who grew up in Florida and is now based in Glasgow, was living in Shanghai in 2014, when the Ferguson riots were happening. She tells me: "I remember watching the news and asking my roommate at the time, who was also American: is America really this bad? where we need militarised police and tanks?"
These images of the riots prompted her to remember a play a friend had written about Assata Shakur's experiences 40 years earlier. She had other inspiration too, explaining that "many women moved me to tell this story" and citing Ava DuVernay's Netflix documentary 13th about the mass imprisonment of African Americans.
The one-woman show opens with an empty stage and the sounds of news reporters echoing through the auditorium. One reporter in the 1970s calls Black Panther Party members "criminals" and "hooligans" engaged in "terrorist activities". Four decades on, another reporter asks: "Is Black Lives Matter a hate group?"
The similarity feels striking, and deliberately provocative. "I just think it's really important to understand our history in order to understand today", Campbell says, adding: "I think if people empathise with [Shakur's] story a bit more then it will bring more empathy to the current Black Lives Matter movement".
What drew her to the Black Panther's story in particular? Campbell chuckles and exclaims: "I don't think most people really realise that Assata Sakur is still alive, living in Cuba in exile!" Though those in power haven't forgotten; "even when Trump was elected, one of the first things he said was: we want Assata back".
"People connect with stories, no matter what their race or background"
Campbell's life experience, living in Florida and New York in the US as well as in China and Scotland, has taught her how to communicate across borders and that "people connect with stories, no matter what their race or background".
She recalls, after a performance of her last play, Black Is The Color Of My Voice, about the US jazz singer and civil rights activist Nina Simone, "this Chinese woman came up to me just sobbing saying, 'I can't believe everything this woman went through, but how she's stayed so strong'. She just really connected with the story".
Campbell is looking for similar connections with Woke. "I wanted to write Ambrosia from a naive perspective of someone who knows nothing about the Black Lives Matter movement or the Black Panther movement and is just coming in".
The present-day Ambrosia opens Woke listening to her father castigate black activists, declaring: "We are a family who love and respect the police. All lives matter!" When her father leaves her at university, she celebrates her independence: "I don't have to do nothing, except eat, drink, sleep, sing, stay black and die".
Talking to me over Skype, Campbell giggles, "Ambrosia only goes to the [Black Lives Matter] rally because she likes a guy". But it's not long before she finds herself targeted by the police for her activism, with a spiral of increasingly unaffordable fines for minor crimes like "walking in the road" and "failure to disperse".
Likewise, Campbell compels us to feel frustrated with Shakur's unjust treatment at the hands of the state, which begins many years before she was convicted on murder charges and imprisoned. In 1979 she escaped from prison, and since the 1980s she has been living in Cuba where she has political asylum.
"We aren't doing anything wrong!" Shakur laments in the play, describing the frontline community activities of black liberation activists in 1970s America. "Oh, how dare us!" she mocks, "we give away free breakfasts to black babies, we organise student rallies, we give out free newspapers, we patrol our own streets".
Significantly, Campbell takes care to depict the personal moments that galvanize these young black women into activism. This is rare – revolutionaries are often presented in mainstream narratives as a ready-formed political thinkers, rather than people on a journey towards a political awakening.
"Black revolutionaries don't just drop from the moon. We are created by our conditions, shaped by our oppression", says an original recording of Shakur, as Ambrosia realises the injustice of her own criminalisation.
"Black revolutionaries don't just drop from the moon. We are created by our conditions, shaped by our oppression"
Woke's powerful soundtrack includes original music that Campbell wrote "to show Ambrosia's evolution, where initially she's singing other people's music, and then eventually she's finding her own voice".
For Shakur's scenes, gospel and traditional blues delineate the timeline and "mirror the African American struggle and how we've used music since slavery".
Campbell tells me: "Nina Simone was always about creating a mood with music, so I love to implement music and sound into my work". It has a powerful effect – with the play's poetic language and dance, it creates a fast-moving and varied performance.
In 1971, Shakur chooses to shed her "slave name" Joanne Chesimard, adopting her new, African name. In the play, this rebirth is marked by loud drumming and an African dance. In another scene, after Shakur's conviction, she's asked:
"Joanne, Joanne, what the judge say?

He said I shot a cop in a cold terrorist way!

Oh no, Joanne, is that true?

Of course not! My hands show no gun residue,

So why did they shoot you and take you away?

Because a white cop's dead and someone's gotta pay!"
The play ends with Michael Brown's mother discovering the devastating news that "the man that murdered her son will walk free", as Campbell, playing Ambrosia, screams: "This is not justice! This is not justice!"
But Woke shows that it's not just racial injustice that persists; activist movements also continue to flourish out of this injustice, building and learning from their predecessors, as Shakur's voice booms towards the end of the show: "until every black man woman and child is free – there will always be a black liberation army".
Campbell's play opens in London as one of the women who inspired her, Ava DuVernay, has just made waves with her latest Netflix series When they see us, which tracks the now infamous, wrongful conviction of five black and hispanic teenagers for the rape of a white woman in New York City's Central Park in 1989. It shows again this is the "same fight, different decade", as Ambrosia puts it in the play.
I've often heard feminist activists in London use phrases like "we stand on the shoulders of giants" or "we are the daughters of the witches you burnt". But watching this play drove home the intergenerational nature of our fight for justice – and the necessity of action. Shakur's words are still ringing in my ears: "If you know what's happening and do nothing but sit on your ass, then you're nothing but a punk".
Read more
Get our weekly email