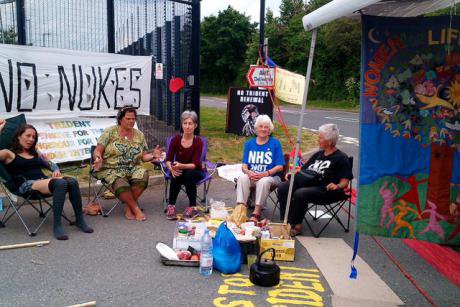 Women blockading the Atomic Weapons Establishment, Burghfield, England. Photo: Trident Ploughshares
The decisions on Trident renewal and EU membership will have transformative consequences not just for Britain, but for our region and probably the rest of the world. Some of these consequences will profoundly affect our security. 
If David Cameron survives the EU referendum as Prime Minister, parliamentary insiders are speculating that he may rush Parliament into taking the so-called 'main gate' vote on Trident in July.  This would authorise the government to sign contracts worth up to £41 billion and start building the "successor" nuclear submarines for Trident to be deployed beyond 2050. This price tag is double what MPs were told when they first voted on Trident replacement in 2007 as part of a double-sided motion which didn't just decide to replace Trident, but also committed to taking "further steps towards meeting the UK's disarmament responsibilities under Article VI of the Non-Proliferation Treaty".  
Linking Trident replacement to further disarmament steps was Tony Blair's way of salving his conscience and distracting from what nuclear modernisation for a further 40 years actually means. Like calling Trident "our independent deterrent" or the naming of a US nuclear-armed MX missile "peacekeeper".  To buy off Labour sceptics, Blair and his Defence Secretary Des Browne promised parliament a further say before signing the huge construction contracts.
The speculation about a July vote may be a bit of kite flying by the Conservatives. Cameron is apparently looking for something that will serve to throw Labour into disarray and distract from the Conservative Party's deep divisions over the EU referendum, whatever the outcome. He will have the long-awaited publication of the Chilcot report in early July, but as a Blair-adoring Tory Cameron was on the wrong side of history.  Inconveniently for the Prime Minister, the arguments and concerns raised by Labour leader Jeremy Corbyn and the millions of opponents to the Iraq war at the time were the rightones, as evidenced by the ongoing tragedies and security threats that are recognised now as the legacy of the Bush-Cheney-Blair "war of choice".  
Corbyn is also right to oppose Trident replacement.  Forcing Parliament to vote on this a few months before Labour's defence policy review has been concluded would not deliver a debate or outcome in Britain's best interests. Shadow Defence Secretary Emily Thornberry and her team are still in the process of reviewing British security and defence, including Trident, with a view to debating these important issues at the Labour Party Conference in late September.  No vote should be scheduled before then.
If David Cameron does try to railroad such an important financial and security decision through before Labour's review process has been concluded, it could backfire for him.  Instead of dividing in disarray Labour could put in a delaying amendment that the entire party – and many other MPs - could unite behind.
There are other critical strategic and financial reasons why Cameron should not rush ahead to sign the big "steel-cutting" contracts with BAE Systems. The reasoning on which the Ministry of Defence (MoD), Navy and MPs based their arguments in favour of Trident replacement ten years ago no longer holds.  Before new submarines are even started, Trident is being exposed as technologically and strategically obsolete in military-security terms.
First, the invisibility and invulnerability of submarines at sea, deemed an essential requirement for the nuclear weapons to be a deterrent, cannot be relied on any longer.  Defence journalist Julian Borger has made a compelling case that Trident is already dangerously out of date. Rapid and ongoing advances in cyber, drone, robotics and other technologies mean that sea-based nuclear weapons systems are losing their strategic edge and could be hacked by cyber warriors and used against us. 
To save money, the Navy has opted to install "Windows for Submarines" as its operating system (this is not April Fools). Borger comments that this is "vulnerable to malware as it comes off-the-shelf.  This also means there are more bugs in circulation that could affect it, and every time a submarine comes to port and gets a software patch, it is newly vulnerable." Most worrying, as considered in cyber wargames such as NATO's "Locked Shields" exercise this year, hackers may now be able to get into command and control systems and alter launch and targetting systems to fire and use a nuclear-armed state's weapons against its own populations or some other nation, perhaps even to start a nuclear war.
Des Browne, the Labour Defence Secretary who had led the debate for Trident replacement in 2006-7 was quoted in a recent Borger article as saying: "Cyber attacks are already able to undermine the reliability of our nuclear command, control and communications… No longer can we guarantee that the weapons will work as we designed them to do."
Second, as privately acknowledged now by senior officials from several nuclear-armed and NATO states, including Britain, a new, multilateral Nuclear Ban Treaty now looks inevitable, and could come into force under International Humanitarian Law as early as 2020. This is the potentially transformative diplomatic development that has been missed by practically all mainstream coverage of Trident replacement. While the reasons for this would be useful to analyse, the salient point today is that the political and diplomatic process to prohibit nuclear weapons, which grew out of initiatives in 2009-2010 to reinforce the Non-Proliferation Treaty (NPT), is backed by a growing cross-regional group of 'Humanitarian Pledge' governments (127 so far) and the International Campaign to Abolish Nuclear Weapons.  
Following two weeks of UN-mandated talks in Geneva during May (which David Cameron's government opposed and then boycotted), the writing is now on the wall.  A nuclear ban treaty is going to happen, whether or not all governments avail themselves of the right to participate in negotiations.  Regardless of whether the UK signs up at the beginning, a global ban treaty that prohibits the use, deployment, transporting and stockpiling of nuclear weapons will add a potent new legal, normative, moral and security dimension to nuclear decision-making, while also reinforcing the NPT's nuclear disarmament obligations, which successive UK governments claim to accept. 
The US has reportedly begun considering contingency plans for when the Nuclear Ban Treaty is negotiated, so Britain cannot afford to bury its head in the sand much longer.  Does anyone seriously think that if nuclear weapons are internationally prohibited it will be feasible – or acceptable - for any UK government to carry on with the multi billion pound vanity project of Trident replacement?
In view of these relevant changes in the strategic, technological and legal context for nuclear decision-making,  it would be irresponsible for any government to sign irrevocable contracts to cut steel for £41 billion worth of useless submarines.  Yet this is what a parliamentary vote on 'main gate' is supposed to authorise. 
Fiscal prudence alone should dictate that the government delays this until there has been further and deeper consideration about how recent developments affect the viability of an in-principle Trident replacement decision taken over nine years ago, when the normative and technological considerations were so different.
Moreover, BAE Systems (reportedly nicknamed "bad and expensive ships" by exasperated MoD insiders) is over budget and behind schedule on current contracts, as well as being responsible for the Type 45 destroyers that defence chiefs have admitted cannot operate in the Gulf's warmer waters without breaking down. 
BAE Systems is also struggling with a series of problems, design and construction flaws that cause performance and safety worries for the Royal Navy's Astute submarine programme, and have delayed delivery of these nuclear powered "hunter-killer" subs.  As a result, BAE Systems and the Barrow workforce have their hands full for several years if they are to complete their existing submarine contracts.  A rushed vote in July serves no security or jobs purpose, but it would line BAE's pockets prematurely, as the contracts would no doubt lock in penalty clauses to make it difficult for a future government to recoup the public money when the time comes to cancel the programme.  This has happened before with other unnecessary and ideologically-driven projects, from Thorp reprocessing plant to Nimrod and TSR2.  
Shortly before CND estimated the overall cost of Trident replacement to be £205 billion, Defence think tank RUSI reported that Trident costs were set to rise to one third of the entire defence budget in the next decade. If it goes ahead. 
Cancel Trident – it won't be relevant for Britain's future deterrence, war prevention and security needs. 
Focus on the European Union.  If the anti-immigration fear-mongering of Brexit campaigners wins the referendum, it will not only be Britain's peace and security that loses out. The security and humanitarian arrangements we rely on will be eroded, making things worse from Europe to the Middle East and to the melting Polar ice caps.  
We would lose our seat and decision-making roles in the EU's Common Foreign and Security Policy (CFSP) bodies. These coordinate the development and implementation of policies relating to trade, international relations, peace, security, and diplomacy, and cover international arms control, disarmament and non-proliferation agreements, commercial and peace-enhancing activities in outer space.  The EU carries great importance as a major international actor in preventing the proliferation of weapons of mass destruction, as well as illicit trafficking in small arms and light weapons, military equipment, drugs and people.  EU engagement strengthens international cooperation and capabilities in conflict prevention and crisis management, working closely with national defence, police and foreign policy services.  Britain's involvement with these EU arrangements contributes personnel and expertise, while also amplifying the effectiveness of the security services and policing work here at home. 
All these EU security, defence and peace-building activities will continue, no matter what the 23 June referendum decides.  The question is whether Britain will continue to be at the table, making the policies as well as contributing to their implementation.  
The UK's role in determining, develeoping and implementing all these collective defence and security arrangements will be severely weakened and curtailed if Brexit triumphs.  Who would benefit from that?
Wrong-footing domestic opponents seems to excite this Prime Minister,  but that motivation seldom makes for good policy.  Like Blair's "war of choice" in Iraq, Cameron chose to drag Britain into this referendum on EU membership, which even Michael Fallon called a "big gamble" with UK security. Now, with the too close to call, it's obvious how badly Cameron miscalculated. If despite (rather than because of) the Conservatives, Brexit is defeated, Cameron will owe his "Remain" victory to people like the late Jo Cox,and millions of others who didn't want our security and future well-being thrown out with the dirty bathwater churned up by UKIP and anti-migrant "leavers".   
Driven by populist rhetoric and political point-scoring, they've given us a binary choice that does not reflect the complex realities.  We're asked to vote for or against EU membership in a toxic debate that has been shamefully reduced to migration and money.  Migration is a major international challenge, with its causes in conflicts fuelled by globalisation, environmental destruction, distributions of resources and populations, and relative poverty and disadvantage around the world.  With or without the EU, these human and security challenges have an impact on our own problems of inadequate housing, education, health and employment resources here in Britain.  Moreover, the UK must accept some responsibility for the consequential contributions of our past political, military and economic policies.  
As for money, our contribution to EU budgets delivers more in terms of both security and influence than most other expenditure.  The EU provides us and many other countries with cooperative institutions and tools to tackle not just the consequences but also the causes of the security challenges that face us in the 21st century.  The last thing this country needs is to lose our role in the EU's security, defence and foreign policy decisions. Nor do we want to lose the important human and gender rights and leverage provided by the EU, nor protective labour and environmental legislation, nor put at risk a host of other European benefits that would go down the plughole if Cameron's inept tactics and short-sighted political gambles result in Britain having to exit the European Union.
As the growing support for "Another Europe is Possible" demonstrates, it's not that progressives think the EU is fine as it is.  But we believe that working inside the EU to achieve the improvements and changes will be better for Britain's future security, stability and well-being than going it alone.
June 20 is World Refugee Day. Coming together to mourn Jo Cox MP,  tragically murdered by a hate-filled man wielding a gun and knife, Trident Ploughshares and Women in Black are turning their ongoing Trident protest at AWE Burghfield into a wider demand to control weapons, end male violence and support refugees from war-torn countries like Syria.  The best way we can honour this brilliant MP's life is to take forward the issues that she passionately cared about and worked on. 
These issues go to the heart of the EU referendum.
Read more
Get our weekly email