There are many ways of expressing one's inadequacy with respect to the 'normal cycle' of things: one way is to give expression to the contradictions that we sought to expose during the intense days of reflection on space at the Spatial Struggles event at Teatro Valle: a tent in an (occupied) theatre... A sign on top of another sign, an occupation within the occupation!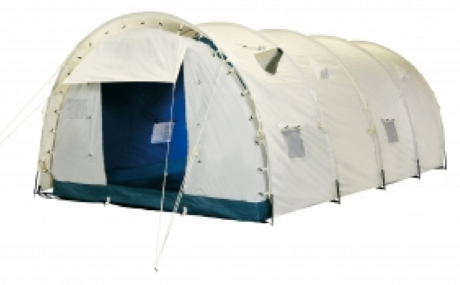 The tent also expressed the provisional, the fragile, the disquieting force of the wind... 'Settled' above the stable marbles of an ancient theatre, like a GPS, it allowed for movement, whilst tracing the invisible trajectories that keep different worlds together.
A tension inspired the impulsive decision to drag the tent with us on trains and buses to Teatro Valle. It was brought there without any intentions other than that of being here as a sign speaking for itself.
This was the action: setting up a light emergency tent.
We had brought it with us and used it as a 'place' for sleeping and thinking about works in progress. It then came to be pitched in a different path, in the foyer of the theatre just outside the rehearsal space… hence following the invisible lines that crossed the tangle of wild ideas of those days at Valle. A trajectory, a path, a journey crossing a point, a referent, an expression of solidity (even if unstable). This metaphor nervously solved what passed through us right there. Two instabilities conquered by completely different journeys, yet connected: one, which was more permanent (because it had heroically been founded, cheers!) and another, which was nomadic. A little bit like watching a documentary in a movie theatre...
The tent tried, in its own way, to contribute to the discussion; a simple object, yet representative of a 'doing' without foundations. We prefer to live in a tenda mobile (mobile tent) than dying in a teatro stabile (stable theatre)! This could have been the slogan to be displayed outside.
But we were also there to state that Teatro Valle is a space where you can set up your tent and stay for a while: living in the moment, sharing 'time-space' and nourishing one another. This is how we do things... to unroll a carpet, to set up a tent... to have a base, even if it falls apart, a distance underlining our identity without actually unzipping the tent… To give air to sharing, to come through...
A video from the contemporary art group motus, as they prepare to perform their work 'Caliban Cannibal'.
Read more
Get our weekly email