Job vacancy: managing director
9 November 2021, 12.07am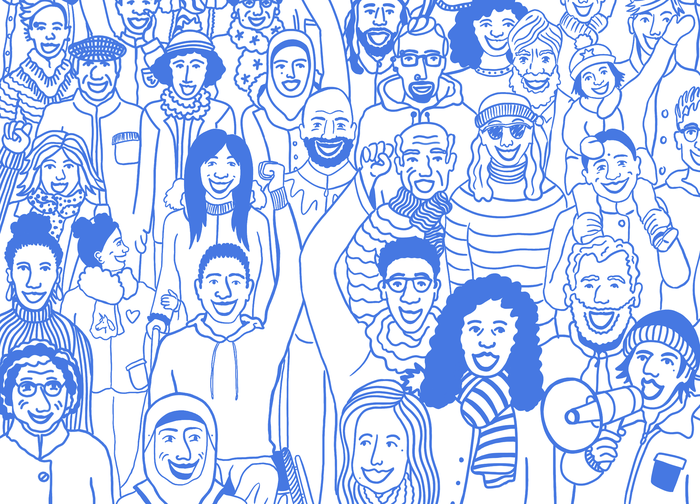 Title: managing director
Reports to: editor-in-chief
Location: Dalston, London, preferably, though remote working may be possible depending on individual circumstances
Term: full-time, permanent
Remuneration: £85,000 – £95,000, depending on experience
Get one whole story, direct to your inbox every weekday.
openDemocracy is a non-profit global media outlet producing high-quality journalism which challenges power, inspires change, and builds skills, capacity and leadership among groups underrepresented in the media. Its headquarters are in London, with team members across four continents.

You'll be joining our team during an exciting period of growth – building on a strong recent record where our journalism has triggered legal changes, parliamentary probes, lawsuits, criminal investigations, and has lifted a rich diversity of voices and perspectives from across the world. We often take voices otherwise excluded from the media to larger audiences, and we campaign on some of our key stories, pushing for a more open, democratic, and egalitarian world. Our journalism frequently gets picked up across the global media, including by The New York Times, Washington Post, The New Yorker, The Guardian, Daily Mail, CNN, BBC, Deutsche Welle, Al-Jazeera, el Pais, Mail & Guardian, and many more. Our site attracts more than 13 million visits per year, and we provide a vital space for analysis, comment, and debate on issues ranging from democracy and human rights to economics and climate change. We have projects publishing in Russian, Arabic, Spanish, French and Portuguese as well as English.

We're looking to appoint a MD to support our new editor-in-chief and team in realising our ambitious strategy, by shaping an organisation structured, resourced and purposed to facilitate our brilliant staff in delivering world-class content.

One of our core priorities is to help build a more inclusive international media ecosystem and we are keen to boost diversity in our organisation, too. We strongly encourage applications from all groups that are underrepresented in the media.


Following the appointment of a new editor-in-chief in September 2021, openDemocracy is seeking to further strengthen its senior leadership by appointing an ambitious and enterprising managing director. The managing director will be a key partner and critical friend to the editor-in-chief, responsible for ensuring the organisational performance and sustainability of openDemocracy, and focused on optimising its business, operations and impact at an exciting moment of growth.

The managing director will play critical internal and external roles. You will oversee operations, HR, finance, fundraising, and business development – ensuring effective facilitation of our strategic objectives, as well as providing an essential voice in defining the future direction, strategy, and income streams of the organisation. You will report to the editor-in-chief and will also be a member of the board of directors, accountable to the board for the operational performance of the organisation. Externally, you will represent openDemocracy to a wide range of stakeholders, in the UK and overseas, including donors and strategic partners.

As a proven leader, you will be experienced in the creation and delivery of effective organisational infrastructure, necessary to support a dynamic organisation with multiple workstreams, a global reach, and freelancers, contributors and fellows based around the world. You will have excellent interpersonal and communication skills and will be comfortable engaging proactively and inclusively with colleagues within the context of a progressive organisational culture. You will be enterprising, solutions-oriented, and pragmatic, able to engage constructively with the operational complexities of a values-led organisation which has undergone a period of rapid growth and development.

The role will be based at openDemocracy's HQ in Dalston, London, preferably, though we may consider more flexible or remote working options. Given the global reach of openDemocracy, there may be some requirement to undertake travel as part of the MD role.
Strategy

● Work closely with the editor-in-chief to review, adapt and implement openDemocracy's strategy and business model to ensure the organisation continues to thrive and adapt to a changing external environment.
● Develop and grow openDemocracy's business: diversifying and increasing income streams (including reader donations, partnerships, grants, and donations) and identifying new opportunities to innovate openDemocracy's model in order to realise its ambitions.
● Support and advise the editor-in-chief in the development of openDemocracy's audience and digital strategy.
Organisational leadership

● Build strong but nimble organisational systems, structures, and communications across a globally dispersed team.
● Ensure that openDemocracy's operations, structures, policies and processes - including pay, appraisal and development - are clear, transparent, and optimised to deliver on our ambitious plans.
● Work closely with the editor-in-chief, head of finance, and head of development to set the organisational budget, oversee robust financial planning, and ensure that ambitious income targets are met or exceeded.
● Working closely with the editor-in-chief, take responsibility for the development of a skilled Senior Management Team which promotes a dynamic, open, and inclusive working style, with an active approach to achieving increased diversity in all areas of the organisation.
● Oversee overall team development, fostering a positive, open culture in which colleagues are facilitated, empowered, and motivated to deliver effectively, with sufficient opportunities to develop and thrive.
● Lead on governance, compliance, legal and regulatory standards, and ethics in all areas relevant to our organisation, ensuring we work to the highest ethical standards and do our best to live our values.
Board

As a member of the board, work closely with other board members and committees to develop and deliver openDemocracy's strategic planning, development, oversight and reporting.
External

● Working closely with the editor-in-chief and board, provide high-level support for external relations, partner and donor engagement, and represent openDemocracy with a variety of stakeholders.
● Co-ordinate revenue generation, fundraising, and donor engagement activities and future strategy for optimum impact.
Essential

● Senior leadership experience in an organisation of analogous scale and complexity, with experience of managing people and resources, and of operationalising strategy. Change management experience gained within a growing, mission-driven organisation would be particularly valuable.
● A proven track record in managing values-motivated, diverse, and sometimes challenging colleagues with emotional intelligence, ambition, and optimism.
● An unwavering commitment to openDemocracy's mission to challenge power and inspire change.
● A strong commitment to practising a non-judgemental and empowering approach to support diverse women, LGBTIQ people, people of colour, and other groups underrepresented in the media.
● A demonstrable track record of building and leading core operational functions of an organisation or large business unit.
● Keen business and financial acumen and understanding of relevant HR, risk and legal compliance issues.
● Experience working with boards.
● Strong interpersonal skills, empathy, and ability to communicate effectively and proactively with a wide range of internal and external stakeholders ● Ability to oversee and manage multiple workstreams in a pacy organisational context, solving problems and responding swiftly and on deadline to new or unplanned demands.
Desirable

● Experience working in an international, globally dispersed organisation, ideally with experience of leading teams and/or projects across time zones.
● Demonstrable track record of successful fundraising, donor engagement, or enhancing organisational income generation.
● Experience in feminist and anti-racist organisations.
● Experience in campaigns or digital marketing
● Experience in journalism or news organisations
● Experience working with trade unions
To apply for this role, please submit a CV and cover letter outlining your motivation and suitability for the role to: [email protected].
The closing date for applications is Wednesday 1 December 2021.
Read more
Get our weekly email