Ghassan's memories
By Yasir Tineh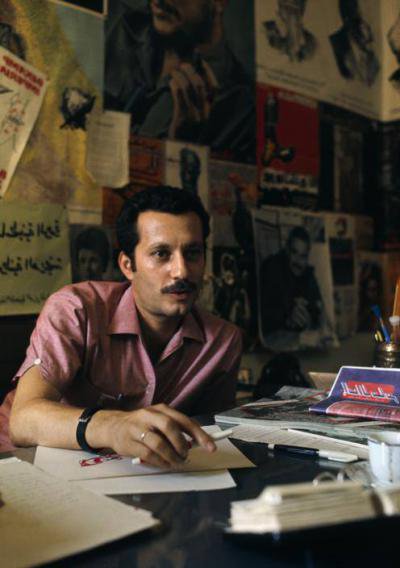 Ghassan at his desk, 1970. Bruno Barbey/ the Palestine poster project archive.Ghassan Kanfani, is undoubtedly one of the most famous and renowned Palestinian writers. Born in Akka in 1936, forced into exile along with his family in 1948, and assassinated in 1972. Ghassan didn't lead a long life, he was only 36 years old when he was assassinated but his life was filled with the lust for freedom and the word of resistance.
My connection to Kanafani was first a geographical one. As a member of the Palestinian diaspora in Kuwait, my introduction into literary resistance and creative resistance was through the writings of Kanafani and Naji Al-Ali's Handala. As I grew older my father would speak of Kanafani's work in Kuwait editing Al-Rai newspaper and how he had along with Al-Ali, who was the paper's cartoonist, left their mark in Kuwait and how they were examples for the diaspora to follow.
My family was also exiled and had moved to Kuwait in search of a better life. Being a third-generation Palestinian in Kuwait, I had a glimpse of what life must have been like for those Palestinians who had first came to Kuwait but I had no way of understanding the true depth of their plight. I was only truly enlightened into their struggle after reading Kanafani's Men In The Sun.
Kanafani was not assassinated for his involvement with the PFLP. Kanafani was a target because his writings engraved the desire for return in the hearts of many Palestinians in the diaspora. He was assassinated because he was a symbol of resistance, a symbol of creativity despite oppressions. Kanafani said "In blood we write Palestine." That sentence describes his birth, his life, and his passing.
"Of course death means a lot. The important thing is to know why. Self-sacrifice, within the context of revolutionary action, is an expression of the very highest understanding of life, and of the struggle to make life worthy of a human being. The love of life for a person becomes a love for the life of his people's masses, and his rejection that their life persists in being full of continuous misery, suffering and hardship. Hence, his understanding of life becomes a social virtue, capable of convincing the militant fighter that self-sacrifice is a redemption of his people's life. This is a maximum expression of attachment to life."
- Anni Kanafani on her late husband Ghassan Kanafani.
To me it seems impossible to read the works of Kanafani and not envision the beauty of Palestine. He was and remains one of the strongest and biggest inspirations to Arab writers and to the Palestinian diaspora. His face is one that begs us to return to Palestine, to visit Akka, to write for Palestine.
"I went out into the streets of Gaza, streets filled with blinding sunlight. They told me that Nadia had lost her leg when she threw herself on top of her little brothers and sisters to protect them from the bombs and flames that had fastened their claws into the house. Nadia could have saved herself, she could have run away, rescued her leg. But she didn't.
Why?
No, my friend, I won't come to Sacramento, and I've no regrets. No, and nor will I finish what we began together in childhood. This obscure feeling that you had as you left Gaza, this small feeling must grow into a giant deep within you. It must expand, you must seek it in order to find yourself, here among the ugly debris of defeat.
I won't come to you. But you, return to us! Come back, to learn from Nadia's leg, amputated from the top of the thigh, what life is and what existence is worth.
 Come back, my friend! We are all waiting for you."
 -Ghassan Kanafani, Letter From Gaza. 

When asked about what I want to become, I say that I wish to one day be considered a writer. I could have decided upon a million career paths, a doctor or an engineer, but I was drawn into writing and literature because of Kanafani. I find it hard trying to describe what Kanafani means to Palestine as a whole because his writing was unique in the way it relates differently to every Palestinian. Kanafani can make you dream of a free Palestine in a multitude of ways. A Palestine freed through writing, through song, through poetry, through art, or through a rifle. He was a writer yet it did not define him, nor did it make him dictate resistance through one path. Kanafani wrote resistance and wrote of it, he put pen to paper and highlighted the Palestinian narrative through fiction and reality.
"Your mother was still silently gazing at the oranges, and all the orange trees your father had left behind to the Jews glowed in his eyes... As if all those clean trees which he had bought one by one were mirrored in his face. And in his eyes tears, which he could not help hiding in front of the officer at the police station, were shining.
When in the afternoon we reached Sidon we had become refugees. "
-Ghassan Kanafani, Jaffa: Land of oranges.
It has been 42 years since Kanafani was stolen from us. Yet if you look for him he has not gone, he is around and inside everyone that remembers him. He is an immortal symbol of resistance. His writings remain some of the greatest works by a Palestinian, by the oppressed, by the exiled. His fragrance emanates every time you open up one of his novels. "In blood we write Palestine." And in Palestine we write Kanafani.  
Palestinian resistance, the necessity of three fronts
Resistance in Gaza, Shoufat, Naqab and Haifa. Courtesy of the Qawim (Resist) movement. All rights reserved.
"When people saw what had happened to my son, men stood up who had never stood up before."
This famous quote belongs to Mamie Till-Mobley, after her 14 year old son Emmett was brutally murdered in 1955 Mississippi. An all-white jury acquitted his murderers. Nearly 60 years later, the lynching of a 16 year old Palestinian boy by Israeli settlers took place in Jerusalem. Mohammed Abu Khdeir was kidnapped, forced to drink gasoline, and was burned alive. 
Mainstream media similarly acquitted the state of Israel, conveniently ignoring the racist, ethnocentric, and colonial ideology the state is premised upon. Reports circulated that Abu Khdeir's murder was a 'revenge killing' after three settlers, reported missing for three weeks, were found dead on June 30. Palestinians took to the streets in outrage, yet the reaction of the de facto president of the Palestinian Authority, Mahmoud Abbas was at the very least insipid. His response came almost a week after the lynching, when he announced he had sought help to form an international committee to investigate Israeli crimes against Palestinians. Such a dry proposition is in stark contrast to his words when it came to the three missing settlers. Then, he stressed their humanity and openly defended the security coordination with Israel, during the latter's biggest incursion into the West Bank in over a decade. 
With the mainstream media labelling Abu Khdeir's killers as 'extremist,' this has sought only to absolve the Israeli public and the state from the crime of what they represent: a colonizing, occupying, bigoted entity. As Palestinian writer Khaled Odetallah pointed out, using the word 'extremist' to describe an unruly pack of settlers is nothing but a mechanism for regarding the other Israeli population as natural, and discounting the blatant racism that is inherent in all colonizing entities.
Jerusalem and '48
Mohammed Abu Khdeir's lynching released an unprecedented wave of angry protests that has quickly spread from his hometown of Shuafat to other neighbourhoods in Jerusalem, and to Palestinian towns and villages in modern day 'Israel.' Since July 3, thousands protested across the Galilee, as initial confrontations took place between Palestinians and Israeli police in Nazareth, Arara, Umm al-Fahem, Taybeh, and Qalanswa. Tires were burned, tear gas and rubber bullets were fired, and chants resonated with the cry "The people demand the demise of Israel."
As the days stretched out to complete one week since Abu Khdeir's death, protests sprung up in other villages in the Galilee, referred to as the Triangle, such as Tamra, Deir Hanna, Kufr Manda, Baqa al-Gharbiyeh, Shifa Amro, Iblein, Sakhnin, Arraba al-Batouf, and Jadeeda al-Makr. The cities of Haifa and Akka also held protests, as well as Bi'r Sabe' and Rahat in the southern Naqab desert. On Saturday, hundreds of Palestinians took to the streets in Yafa after Israeli settlers attacked a few Palestinian homes in the old city. Palestinians are in the throes of direct protests against the state that has allocated Israeli citizenship to the 1.6 million Palestinians, but which systematically discriminates against them and regards them with a mixture of fear and suspicion. Hundreds have been arrested, including dozens of minors, and more than one hundred remain in detention.
Gaza assault
On Monday night, July 7, Israel announced its incursion into Gaza, the most densely populated territory in the world. This came after it had already killed ten people the day before. In the first 24 hours of the bombing campaign, called Protective Edge by the Israeli army, 24 Palestinians were killed, including eight children. Civilian homes such as the Hamad family home in Beit Hanoun and the Kaware' and Abadleh family homes in Khan Yunis were targeted by air strikes and destroyed with "surgical precision", a phrase popular with warmongers and military officials.
The resistance in Gaza, comprised of the military wings of the various political factions, responded with a barrage of rockets that for the first time proved their long-range capabilities, hitting Khadera, which is 113 kilometers away from Gaza. Gaza's resistance tactics have surpassed the imagination of Israel, with a navy commando unit storming the Zikim military base after swimming there from Gaza. The Israeli government ordered the bomb shelters for its citizens to open, as air sirens went off from Sderot to Isdoud to Jerusalem to Tel Aviv and further north, near the city of Haifa. 
Abu Obeida, the spokesperson for the Hamas resistance al-Qassam brigades, listed in a brief press conference last Friday the conditions Israel must fulfil in order to stop the rockets. The first is for Israel to cease its aggression in the West Bank, Jerusalem, and the '48 occupied territories. The second demands that Israel release the former prisoners who were released in the 2011 prisoner swap deal but who were re-arrested in droves during the recent massive military raid on the West Bank last month. The Israeli government is already pushing for a bill to approve that these prisoners should serve out the remainder of their original sentences once they get re-arrested. Hamas will decide when to start and when to stop, not anyone else, despite Israeli prime minister Netanyahu declaring that he will "intensify attacks" in Gaza, and despite the support of western governments such as that of David Cameron, who promptly reiterated the UK's staunch support for Israel. 
Israel has boasted that it has launched air strikes on more than 400 sites in Gaza, where 1.7 million people, 75 percent of whom are women and children, reside in an area that is 365 kilometers squared. The strip has been targeted with 4000 tons of explosives, with an Israeli air strike occurring on average every four and a half minutes. The death toll has already surpassed 120. The last large scale attack on Gaza was in November 2012, where 173 Palestinians were killed, including 38 children. 
Outsourcing the West Bank
In the middle of all of this, the West Bank remains conspicuously quiet. The protests by the shabab last month against the Israeli army as the latter swept through towns and villages, wreaking havoc, arresting hundreds, and killing six have subsided since the army nominally withdrew. It is well known that the resistance rockets from Gaza are no match for a heavily subsidized, professionalised, and technologically developed military, which forms the standing pillar of the state of Israel.
Rockets are part of the resistance, as are the protests in the '48 territories. Yet without depriving Israel of its number one ally, the Palestinian Authority, what we are witnessing today will be merely another flare-up as opposed to a turning point for decolonization and the beginning of an end to the occupation. Mahmoud Abbas' conduct and reaction has done him no favours as regards the recent events, and his speech at the normalizing Herzliyya "peace conference" where he begged Israelis to not miss his outstretched hand for peace is nothing but grovelling to the enemy, in the very same moment that homes in Gaza were being destroyed with their families still inside them. On Friday, Abbas' interview with PA-run Palestine TV insinuated that the resistance rockets from Gaza were pointless, and that he prefers to fight with politics and wisdom. 
These events represent a period of escalated action, yet for the status quo to be truly smashed, the West Bank must rise up against the Palestinian Authority, effectively getting rid of the infamous security coordination with Israel, and replacing neoliberalism with a representative anti-occupation programme that is intolerant of oppression and colonization.
Otherwise, Hamas and Israel will sign another empty truce after the former incurs heavy losses on its side with no formal guarantee that Israel will not immediately violate it as it has in 2008 and again in 2012, and the demonstrations within the '48 occupied territories will be hijacked or co-opted by the older generation of "Israeli-fied" Palestinians such as Ali Sallam (member of the Nazareth municipality who described the protesters as hooligans and thugs) and will fizzle out.
What cannot be ignored is that the PA has created an entire sector of society that benefits from its relations with Israel, and the fear barrier regarding its notorious intelligence and security services has not been broken. The West Bank has been reduced to a shadow of its self as the Palestinian cause was transformed into coffeehouse conversations, rather than actions targeted at the oppressive force of Israel and its collaborators. Yet as the resistance rockets are met with gleeful support by Palestinians across the country, the PA are already caught up in irrelevancy. The PLO as the sole and legitimate representative of Palestinians has been exposed as toothless, since the Palestinians in "Israel" resisting against the occupation serve as a reminder that their identity first and foremost, despite the passport imposed on them, will be Arab Palestinians. Widespread support among Palestinians across the country for the resistance is mounting, leaving the PA's fallacious and empty rhetoric of peaceful negotiations and security collaboration in a very tight space indeed, not to mention a strong sense of the inappropriate.
The Palestinian Authority has once again shown that it exists solely to maintain Israel's security over and over again. This physical domination is coupled with a disastrous neoliberal order used to pacify and oppress Palestinians who demand to live with dignity. This is not the place to discuss strategies and plans on how to resist the PA; it is primarily crucial to acknowledge that precisely because of its deep entrenchment in Palestinian society in the West Bank, any movement aimed at dismantling it will constitute a social, economic, and political revolution in itself.
Already recent protests in Hebron, Jenin, Nablus and the outskirts of Ramallah have been suppressed by the Palestinian Authority security forces, an extension of the Israeli army. Protesters in an apparently planned attack on Friday night descended upon Qalandiya checkpoint with molotovs and fireworks, catching the Israeli soldiers there by surprise. Yet the PA apparatus must also be simultaneously targeted in order to achieve and affect real change.
As the popular quote goes, "If I had ten bullets I'd fire one at my enemy, and nine for the traitors."
Rejecting victimhood: the case for Palestinian resistance
By Rana Baker
'We die like trees, standing up'. Courtesy of the artist Nidal El Khairy. http://electronicintifada.net/blogs/nidal-el-khairyI wonder whether, when the settler-colonial army of Israel is pounding Gaza, Palestinians should grab guitars, pianos, and white ribbons, look up at their oppressors flying over their heads in apaches and F16s, and sing a lullaby of peace. Perhaps, then, we can impress Middle East "experts" and "non-violent resistance" -mind you, I am using the V word- butterflies. I wonder, moreover, what authority, defined by what experience, entitles these experts and butterflies to ask us, the Palestinians, to put down our arms. Nonsense.
The question here is one of privilege, one which must be fought and broken down to its innermost core. Like the Jacobins of the French Revolution, whose "radical" demands fell short of demanding freedom for black slaves in Haiti and elsewhere in the French colonies, the Jacobins of today advocate a version of freedom which involves asking –actually telling- Palestinians to sit by and not only sing for peace just as they are being lynched, but to denounce armed struggle as well. Lest I not do the French Jacobins justice, they did demand equality, but only to free mulatto owners of black slaves. Ironically, this latter demand of equality resembles, in more than one way, calls by "progressive" elements in the Israeli Jewish society and around the world to "elevate" the second-class citizens of Israel, the Palestinian minority, to the privileged position of their Jewish counterparts. This elevation or integration, which I prefer to call assimilation, regards the state as the ultimate protector of its citizens, the source of justice, rather than as the genesis of racist colonial ideology and practice, as is very clear in the colonial State of Israel. In other words, this proposition presumes that the Palestinian community's problem is with the laws of the state rather than the state per se. In fact, the liberal distinction between "state" and "law" is questionable itself.
Resistance rockets fired from the Gaza Strip provide a necessary counter-discourse. The Israeli Jewish public must understand that there shall be no security so long as they do not turn their anger and frustration at their very supremacist privilege and ideological system which is embodied in the Israeli government, left-wing, centrist, or right-wing. No one is asking them to leave, but they must accept Palestinian resistance insofar as they accept the arrogance which characterises the Zionist ideology. The radical potential of Palestinian rockets, of sirens going off, lies in these rockets' ability to disrupt a system of privilege which Israeli Jews enjoy at the expense of colonised and displaced Palestinians. Rockets, in other words, are a radical declaration of existence and unmediated expression of self-determination. Jacobins, too, must learn to understand this.
The Jacobins of today, some of whom are Palestinian elites who probably suffer from the Stockholm Syndrome, use –consciously or not- very similar rhetoric to the Israeli official line, which is deployed to incite the population against the resistance. Hamas, they say, is responsible for civilian casualties in the Gaza Strip. Hamas rockets, they opine, are futile and only cause Israel to retaliate; Hamas flourishes at the expense of the civilian population which it lets be pounded to death while its leaders hide behind them. This is a non-argument precisely because it misses the point. Israel cannot retaliate. Retaliation by Israel is a Kantian impossibility. Israel was born in May 1948 after a mass wave of ethnic cleansing which led to the expulsion of more than half the native Palestinian population. This is the aggression to which every Palestinian rocket, demonstration, and burned tire, is a response. Until Palestine is liberated, and by Palestine I mean historical Palestine, Palestinian resistance cannot be expected to wane. To be clear, Palestinians fire rockets into what belongs to them in the first place.
On a slightly different, but related, note, observations about the "futility" of rocket fire are short-sighted; Palestinian resistance did not start yesterday and will not end tomorrow. The path to liberation is, as "path" suggests, a process rather than a point that exists in the singular. Rocket fire, like civil disobedience, is part and parcel of this process which began well before Israel came into existence. The 1921 Yaffa (Jaffa) Riots, Great Revolt of 1936-1939, and first and second intifadas are all examples of events in a larger process which Israel, supported by the US and European Union, does its best to eliminate from Palestinian political consciousness.
Defeatist and apologetic discourses resurface each time Israel bombards the Gaza Strip or conducts a military operation in the West Bank, usually invoking civilian deaths as moral grounds for anti-resistance condemnation. These discourses are confused at best and hypocritical at worst. Like any colonial power, Israel needs no reason to attack civilians. Indeed, whether or not Palestinian armed groups launch rockets, the colonial state of Israel beats up, murders, arrests, and discriminates against the Palestinians on a daily basis. For instance, Tariq Abu Khdair, a 15-year-old Palestinian boy who was severely beaten by Israel's settler-colonial soldiers, was subsequently arrested, put under house arrest, and made to pay a fine of $900 all without charge or trial for, basically, doing nothing. Mohammad al-Durra, who was murdered in his father's arms on 30 September 2000 in Gaza is yet another example of ruthless aggression committed by a colonial power which systematically dehumanises its subjects.
Palestinian armed fighters must be placed in this wider context; they are colonial subjects of Israel who, like Sans Souci of Haiti, the FLN of Algeria, and IRA of Ireland, reject the subjugation of their people under colonial rule. Blaming the oppressed, to which Palestinian fighters belong, for fighting their oppressors is a moral question which pacifists, defeatists, and apologists fail to address. The murder of civilians will not end when the Palestinian resistance refrains from fighting alongside its people, but when Israel decolonises Palestine.
Finally, the al-Qassam Brigades of Hamas has never been the only armed group in Palestine. Al-Aqsa Martyrs Brigades of Fatah, Abu Ali Mustafa Brigades of the Marxist-Leninist Popular Front for the Liberation of Palestine (PFLP), and al-Quds Brigades of the Islamic Jihad, though to varying degrees, remain active in the anti-colonial struggle in Palestine. Homogenising Palestinian resistance as "Islamist" is, therefore, counterfactual and only allows Israel to fuel Islamophobic hatred already rampant among its Jewish citizens.
Back to Haiti, a certain Jean-Baptiste Sans Souci, mentioned earlier, was a black slave under French colonial rule. During the Haitian Revolution of 1791, Sans Souci, having been abandoned by Toussaint Louverture, a Creole revolutionary leader who gave in to the French, rebelled against Louverture's submission, took up arms, and fiercely fought the French. Having seen the moral zeal of Sans Souci and his troops, Louverture, who aligned himself with the French following his defeat, joined revolutionary ranks again. Though Sans Souci was assassinated in 1803, Haiti gained its independence one year later in 1804. There is much more to be written about the Haitian revolution than space allows me to do here, but in this excruciatingly brief account I wish to underline a couple of points. First, Haiti gained its independence not by striking a peace deal with France as Louverture had done, but through the moral force of arms which obliged the French to submit to the will of the people it enslaved. Second, Sans Souci's arms achieved more than a military victory against the far superior army of France; the morality of the cause for which Sans Souci fought knocked out inferiority complexes –exemplified in Louverture- and undermined privilege structures.
The Palestinian revolutionary model must be 1791 Haiti, not 1789 France.
Operation Firm Cliff and another point of view
In the words of Yogi Berra, the famous New York Yankees baseball player, "It's like déja-vu all over again".
I don't know who comes up with the names for Israeli military operations but this time they seemed to be extra creative. The Hebrew name for the current conflict with Hamas-ruled Gaza is "Mivtza Tzuk Etan". It can be translated as Operation Firm (or steadfast) Cliff. That has been transformed for the English language news media as "Operation Defensive Edge", which sounds to me like something from a razor blade commercial.    
The other day I found myself with my wife in Tel Aviv at a frozen Yoghurt café when the Color Red sirens went off announcing another rocket attack from Gaza. We were not used to sirens as an alarm because in our village there are loud speakers which call out the words "Color Red" when rockets are detected heading our way. It took us a few seconds to realize what was happening when about a dozen people who had been walking outside came through the doors of the café and were directed by the staff to the safe area of the structure. Safely tucked away next to the bathrooms, we could hear the iron dome rockets exploding high above us and knew that we had to wait a few more minutes in case pieces of rocket fell in our area. Soon it was all over and everyone went on their way. My wife and I, who had been through more than a score of rocket attacks over the years, were pleasantly surprised at how the people who had come in displayed very little nervousness and no panic. In fact they acted as if it was a normal everyday inconvenience and when it was over, continued with their lives as if nothing much had happened.
At about eight that evening, Hamas announced with great fanfare that they had prepared a special attack that would happen at 9:00 PM and would leave Tel Aviv in flames. At the appointed hour Hamas launched a large salvo of rockets at Tel Aviv which were all fended off by the Iron Dome system and no damage was done. Three Hamas rockets came down on the West Bank, one each in Ramallah, Bethlehem and Hebron. At least one Palestinian home was hit and suffered damage but there were no fatalities. Once I determined that the Hamas big surprise was just another big dud, I turned on my computer to see what the world was thinking. I read some pro-Palestinian articles most of which complained about the lopsided score of casualties. There just didn't seem to be enough dead Israelis to suit the sensibilities of these humanitarians. Most made the false statement that Gaza was the most densely populated place on Earth. In fact, that distinction belongs to Macau, with Monaco, Singapore and Hong Kong listed before we get to Gaza. What is ironic is that the Greater Tel Aviv area, the prime target of Hamas rockets, has a higher population density than Gaza. Of course there was no mention of this in response to the Hamas announcement of their intention to smash Tel Aviv with their rockets.
As it happens I am more than a little familiar with the reason why the Israeli civilian casualties have been so low and it is not that Hamas hasn't tried very hard to kill us. It all started with the first Gulf War when Israeli cities, for the first time, were subjected to Scud missile attacks from Iraq. After the war, a study was done and it was determined that public bomb shelters were located too far away from most civilians to offer much protection from rocket and missile attacks. So changes were made in the building codes and all new housing units had to have a room constructed so that it could withstand the blast of a rocket warhead. Over the years many older structures were replaced by new ones with the required safe rooms.  When the Kassam rockets first made their appearance in Gaza, the people with newer houses were prepared. However those with older homes had no protection. The government launched a building program to attach a secure room for each home. In addition, mass-produced protective structures were placed by all bus stops and other places were the public gathered.
I live in the Eshkol Regional Council which shares a 40 kilometer border with Gaza and another 12 kilometers with the Egyptian Sinai. For several years I served as our village's representative to the regional council. As a council member I served on different committees including one committee which reviewed and approved public tenders for construction and other projects in our area. So I was well aware of the money that the Israeli government was pouring into the construction of secure rooms for older homes that did not have them. Roughly speaking the cost of these secure rooms was well over $100,000,000.  There are several regional councils bordering Gaza and the government spent similar sums on them as well... This figure does not include the supply of mass produced protective structures in public places such as bus stops, sports fields and children's playgrounds.  In addition the government developed the Iron Dome system with the financial backing of the United States. All in all there was probably close to one billion dollars spent by the government to protect the populace from rockets fired from Gaza. 
In the end the system of shelters, secure rooms, early warning systems and the Iron Dome defensive system has worked. Israeli numbers of killed and wounded are extremely low especially in comparison to Palestinian killed and wounded. Of course, the Israeli government's efforts to protect Israeli citizens seems quite immoral to some and has been grist for the Hamas propaganda mill. But I would give up some debating points if it meant less civilian casualties on our side, which leads me to the main point of this essay.
I came home this evening to find an email from an overseas acquaintance in which she asked two thought provoking questions; do I support the Israeli government's approach and do I see a way forward.                   
As to the first question I have to admit that Israeli Prime Minister Netanyahu has crafted a set of policies that seem to me to serve Israeli national interests very well. He has announced that his goal is to create a situation where quiet from Hamas will be reciprocated with quiet from Israel. He is not talking about peace with Hamas but at the same time he is pointedly not talking about removing the Hamas government from Gaza. Not only does his limited goal seem reasonable to European and American foreign policy decision makers but it puts the onus on Hamas to reply in kind, something they proved unable to do when they rejected an Egyptian brokered cease fire yesterday.
Netanyahu's policy combined with the Israeli shelter program for its citizens and the Iron Dome system has resulted in Hamas pressing on with nearly ineffective rocket attacks on Israeli civilian targets. The Israeli response brings death and destruction to Gaza which have an increasing probability as being seen as justified by the significant European and American foreign policy making elites. Moreover, Netanyahu is creating an image of himself as a moderate by using his volatile foreign minister Avigdor Lieberman as a foil. At this point in the conflict, Netanyahu's policies cannot be faulted.
As for a way forward, that requires something that has so far not appeared on the scene. Usually I refer to it as a Palestinian leadership more interested in creating a Palestinian state than in destroying the Israeli state. But instead I would call attention to something else. For whatever reason the Israeli government values the lives of its citizens enough to expend a billion dollars on their protection. A way forward will appear when a Palestinian government values the lives of its citizens as something more than propaganda cannon fodder. Until then I suppose that we are condemned to having déja-vu all over again.        
Google Maps in Palestine
By Quinn Coffey
Google maps does not work in Palestine -- i.e. they have not mapped it. However, the settlements are mapped. The Israeli 'security wall' is conveniently absent from these maps. Numerous Palestinian villages and cities across the West Bank are labeled and appear as grey blobs, with only major roads and settler roads appearing (and labeled). Some Palestinian hotels and restaurants appear on the map, but only if they are verified by Google, for which you must have a mailing address.
Given that there isn't an infrastructure in place to have a mail service here, most companies have P.O. boxes and cannot verify their physical address. Those who somehow can get verified are placed onto random locations within the grey blobs. Looking at the map now, it would appear that if I walk from my apartment (in the eastern part of the grey blob) up the unlabeled white squiggly line, I will eventually be in Jerusalem. In reality, I would walk quite a distance and then run into the Israeli wall, go through the gigantic Checkpoint 300, cross the ever-expanding armistice line, hop on an 'Arab bus' and take that into the center of Jerusalem. At no point in time would I have any sense of direction or point of reference because the proper maps simply don't exist or if they do, I haven't found one detailed enough to make any sense.
The other night I walked home to Bethlehem from Jerusalem. To be sure, this was ill advised, but I missed the last 'Arab bus' -- they stopped running early because the drivers were too afraid to be out at night due to recent tensions. I also had a very hard time finding a taxi to take me back to the checkpoint. As a person who doesn't mind long walks (and this one takes about two hours), I began walking. First along the western border of the Old City and continuing on Hebron road. The thing is, in any other city I would have known, more or less, exactly how to get to where I was going. The landscape of Jerusalem, however, is some of the most confusing and fractured in the world. Various armistice lines, illegal annexations, settlements, the 26ft Israeli wall, etc. have made it nearly impossible to make sense of the landscape in any coherent way.
Walk the wrong way and you encounter a group of heavily armed soldiers, walk another way and you get harassed by heavily armed settlers, walk with your head down to avoid confrontation and end up somehow surrounded on three sides by the Wall. You can certainly find Bethlehem if you walk from Jerusalem--there are occasional signs, but retracing your route on a map afterwards would be very difficult. You could certainly trace the route along Hebron road as far as Ramat Rachel, south of Jerusalem, but then the map changes from labeled streets, to unlabeled squiggles--unless of course, you veer to the east and want to drive to a settlement, in which case I'm certain that it is all very well-lit with plenty of signs--oh and you could just punch it into Google Maps. If, in the future, someone asks me to point out the settlements in the West Bank, I will suggest they just look for the places on Google Maps that actually have street names and details.
With all the recent trauma happening here, I can't help but think of the rhetoric continuously put forth by Israel and most of the western media...'Palestinians deny Israel's right to exist'...yes, this is certainly true in some contexts, but the rhetoric of Israel, the US, Google, etc. denies the very fact that Palestine and Palestinians exist at all.
As a people, a nation, a culture--they are treated like blank spots on a map. They are the unnamed other who are caged behind a wall. If we cannot physically see them or interact with them, who's to say there is anything over there? But sure enough, whenever I cross the wall I see friends chatting, families eating dinner together; humans just trying to get on with life. Not blank spots on a map at all.
It is a tragedy when any human life is taken. If both sides could look one another in the eye and meet on equal terms (given that the context is structurally unequal), I don't believe that this cyclical violence would continue. But right now there is 26 feet of wall between them and politicians/media who have absolutely no interest in challenging that.
Instead the focus is on pointing fingers, revenge--eye-for-an-eye. The fact of the matter is that there are tens of thousands, if not millions, of people that are fed up with it all. What scale of tragedy has to befall us before it becomes enough to satiate the blood feud? Admit fault where there is fault, reconcile, and move on. The world is tired of this bloody narrative.
Life must go on in Palestine
On Sunday the leaders of several Palestinian religious institutions and other organisations on the West Bank announced that a national strike would take place on Monday in protest at the situation in Gaza. Stores and workplaces were expected to close down as a symbol of solidarity with victims and their families, so as to enable those outside Gaza to attend rallies or demonstrations.
However at first glance it would seem that the message may not have been received.
Walk down any street in Ramallah and you can clearly see that there is life. Some shops remain open. People go about to make their purchases of fresh bread, fruit and vegetables from those stores that have remained open. After all, despite the conflict in Gaza, Ramadan continues and thus that time in the evening when families come together to break the fast is not far off, making it appear as if solidarity has been placed on hold.
Look more closely and you can quickly see that the situation in the streets is far from uniform. The more commercial businesses, those trading in electronics and similar non-essential items are closed. 
Then there are the shopkeepers who try to find a middle ground, trying to demonstrate their solidarity and observe the general strike whilst at the same time, meeting the demands of their customers. Thus whilst the shop may appear closed for all intended purposes from the outside, it remains open so as to enable customers to make purchases. Customers simply have to walk up and knock on the shop's doors.  
Outside the shop there are a few that stand holding posters that express their condemnation for the situation in Gaza but not enough to block the streets or cause any real problems. The police can afford to simply sit back and just watch. But if that is all the day brings, then can it really be said that the Palestinians of the West Bank have acted in solidarity with their compatriots in the Gaza Strip? 
There is no doubt that the Palestinian population outside of Gaza feel deeply for those who are trapped inside Gaza. However for those outside of Gaza life must go on. Unfortunately death, destruction and discrimination are the norm in Palestine. As much as a general strike may sound appealing as a strong demonstration of solidarity and protest, 70 years have taught many Palestinians they should not dwell for too long. Otherwise, shops would more or less remain forever closed and the streets blocked in protest. 
However does that render the call for a general strike as nothing more than an empty gesture?
The Palestinians in the West Bank are not indifferent either to the situation in Gaza or to the call for the general strike.  A strike can take many forms; it can result in shops and workplaces being closed, people taking to the streets and protest posters and flags being mounted around the city. Or it can result in an internal strike, the registering of an internal consciousness if you like. It is the latter that has taken hold of the Palestinians in the West Bank.
Whilst the only chanting that can be heard in the streets is that coming from the vendors at the fruit and vegetable market, the strike continues. People move about the city, attending to everyday tasks, yet the strike can be seen. It can be seen with the missing normal hustle and bustle that brings life to the streets, the lack of jostling as people make their way between cars and taxis and the blank faces of people as they walk on by. Spirits are clearly dampened.
In attending to their daily routine, Palestinians in the West Bank are on strike. It is not the type of action that a westerner might normally comprehend as constituting a strike, but taken in the context of Palestine it is a strike nonetheless. In Palestine the call for a strike is not made carelessly, it is done in times of (greater than normal) turmoil. It acts as a public reminder to Palestinians that they must not allow themselves to become overwhelmed by the situation at hand, no matter how grim the circumstances. It is a reminder that life must go on in Palestine.
Read more
Get our weekly email