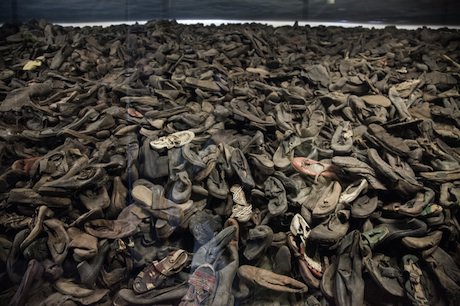 Nazi guards removed camp prisoners' shoes - these images have become iconic of Holocaust remembrance. Credit: Demotix/Amador Guallar.
Today, 70 years after the liberation of Auschwitz-Birkenau, survivors will once again stand outside 'Death Gate', where over a million people were brought to their deaths. 
This year's commemoration marks a turning point in Holocaust remembrance. Ten years ago 1,500 surviving victims made the visit to Auschwitz to remember what happened. This year just 300 will travel. We are rapidly reaching a point where living memory is sliding into historical record and as time moves on, so does the possibility of rethinking how we relate to it. 
For an event so horrifying, the Holocaust can be a difficult thing to comprehend and remember. It occupies a strange, almost contradictory place in modern Jewish life: dwindling in one sense, utterly dominant in another. We feel the need to constantly remember but–with so much political manipulation–also to move on. What we want is to honor the dead and empower the living, but often we end doing neither.
I remember sitting in a rustic cafe in the old Jewish quarter of Kazimierz last summer. Located in the South West of Krakow, the district is a weird, idealized pastiche of a Jewish way of life, just 70 km from Oswiecim, where Auschwitz and Birkenau still stand.
It's a place where Poland's interest in Jewry has outpaced the growth of actual Jewish communities. The result is an ugly, sometimes unsettling simulacra of Jewish culture: a place where cheap figures of orthodox Jews line the markets, where Jewish themed cafes sell pork, and where Holocaust tourism lads chug specially-branded 'Kosher' vodka.
I'd come to meet a man called Konstanty Gebert, one of the leading figures in Poland's post-communist Jewish revival. To Gebert, a man dedicated to building a positive image of Polish Jewry, the way the Holocaust is remembered can be deeply frustrating.
Around 70 percent of the world's Ashkenazi European Jews trace their ancestry to Poland. For 2000 years it was the place where Ashkenazi Jewish life developed and matured, spawning movements as diverse as Hasidism, Bundism and Zionism and figures as influential as Moses Mendelssohn and Baal Shem Tov.
But despite this deeply rich past and despite a resurgence of Jewish life in Warsaw and Krakow, there is often a collective refusal to see the country as anything other than a graveyard; little interest in its active communities beyond tours of Nazi extermination camps and visits to Oscar Schindler's factory. 
The worst part of this takes place every year when a stampede of young, ideologically vulnerable Jews hold "The March of the Living", an event where they learn about the horror of the Holocaust as the ultimate vindication of Zionism.  
On these marches Poland becomes nothing but a place of death, its history, including the Holocaust, reduced to an Israeli redemption narrative. For Polish Jews like Gebert, that have lived openly in the country for decades, the spectacle is both grotesque and hurtful.
"There is a master narrative that views Poland as the epitome of everything that is wrong with the diaspora," Gebert told me. "And I view it as an insult. The idea is that if you have any doubts about the validity of a strong, patriotic Zionism you come to Poland and look at the alternative. It's an extremely distorted vision of diasporic history where the only thing that matters about Polish Jewry is that the Germans came in and killed us all."
Poland may be the starkest example of the Holocaust being used to delegitimise the Jewish diaspora. But the same struggle for identity is repeated around the world. Only two and half weeks ago in Paris, four Jews shopping at a kosher market ahead of Shabbos were gunned down. As the Jews of France mourned, the Israeli President called for their immigration to Israel.
Remembering the Holocaust and Jewish suffering without undermining the legitimacy of living diaspora communities is a crucial task as fears of anti-Semitism surge across Europe. Equally pressing though, is the need to end the political exploitation of those that died, the abuse of European Jewish history by those that wish to shield Israel from all possible criticism. 
Doing this won't be easy. Many Israeli Jews suffer from what Israeli social psychologist Daniel Bar Tel has described as a siege mentality: the experience of the Holocaust–the most lachrymose moment in a history of repeated suffering–lies at the centre of that.
As Avraham Burg, former leader of the Knesset, has argued in his book The Holocaust Is Over; We Must Rise from Its Ashes, its primary consequence is Palestinian suffering: "All is compared to the Shoah" he says, "dwarfed by the Shoah, and therefore all is allowed—be it fences, sieges, crowns, curfews, food and water deprivation, or unexplained killings."
The Holocaust remains a very genuine trauma for many Jews–both in Israel and the diaspora–and this shouldn't be forgotten. But neither should it enable Jews to hold a monopoly on suffering which blinds them to the pain of others.
Today, first and foremost, we should honor those who were killed 70 years ago. All 11 million. Jews. Roma. Gays. Dissidents. Poles. The mentally and physically disabled. But once the memorial is over we should also remember that however united we are around its unique horror, the Holocaust's lessons remain deeply contested. And as it becomes more and more distant, we need to learn to remember it in ways that respect both the living and the dead.
Read more
Get our weekly email