You may be the last woman standing. After a brutal period of civil war, your country was gripped by a military dictatorship that brought a modicum of stability. Then the people rose up against the regime's injustice. The government has fled, the military have abandoned their posts, there is a power vacuum at the centre of your world.
You pick up the broadcast of a journalist who is calling out to other survivors to find him in the abandoned town hall: "we will create a government, a country, whoever you are and whatever you've done". In the background, gunfire; an informal governance structure is already developing, one of criminal gangs. You and your fellow survivors must act fast, to establish the rules you are going to live by after the revolution.
This is the opening premise of a show being developed by a radical British theatre company called Coney. Early Days (of a better nation) takes the moment of revolution and asks the audience to step up and answer the question "what would we do if we did things differently?"
Madeleine Kludje with Michael Cusick in Early Days (of a better nation). Photo: Ryoko Uyama
I met the directors, Annette Mees and Tom Bowtell and their assistant Joost Bos, after a series of scratch performances at the Battersea Arts Centre in London, the "abandoned town hall" of the rolling broadcast described above. I had just experienced one possible future for the fictional country of Colonia.
Since the audience control what happens, the future of Colonia is wildly different each night of the show: 'your audience was almost death by committee', says Annette; we had found near consensus, but only by good-will-washing over a lot of cracks. On other nights, the regions of the country had been far more polarized, with some calling for interim totalitarian measures and others torpedoing the proceedings through song.
A brief history of Colonia. Photo: Ryoko Uyama
The audience receive the journalist's call as an audio clip via email. We are separated into regions – islanders, people from the plains, the coast, the city – and each meets another survivor, one of the few actors who guide the piece. The walls are covered with articles, maps, photographs highlighting aspects of the country's recent history. In each region, different aspects of that history are accentuated or downplayed, arguments for what the future Colonia should look like given a subtle steer to suggest a particular ideological background. 
We make our way to a general assembly, equipped with the political tools we've been handed, our own reactions to them, and – perhaps – a manifesto.
My region had come up with an anti-manifesto – an iteration of complete personal autonomy which saw us fully support the right of one of our number to denounce it. Which he did, before leaving to join another region (no one had policies on migration within Colonia yet).
Out of hope
To Coney, theatre is a space where people talk about how they want society to be: "What could the world look like if we don't do it like we do it" – as Tom puts it – not in a pragmatist mode, but in the blank slate of fiction.  
Citizens of Colonia crowd round their manifesto. Photo: Ryoko Uyama
The idea for Early Days (of a better nation) was born in 2011, out of Coney's interest in giving the audience total control, and the particular excitement of that historical moment.
"It was when the Arab Spring happened, and then Occupy happened, the Indignados happened, Spain, Greece," says Annette, "Anonymous was growing, there were loads of different movements in the world exploring alternatives to established systems".
So how does it feel now, three years on, to be making a show born out of a space of hope, of the bravery of people facing down guns?
"Syria's been interesting and difficult to watch", Annette says carefully "For me this show has to retain a little bit of that space. For me there is a hope in people coming together and talking about this – "
Tom breaks in - "And caring as much as they do, they cared a lot in that room. Everyone was having a conversation that wasn't about going to the bar, or how bored they were, everyone was talking about this fictional country".
The point is nothing to do with didacticism, but to "crack something open", to create a space where politics really can be debated at a fundamental level.
Creating a blank slate
Annette and Tom are keen to stress that Early Days is not about solving real-world problems. Their interest lies in the interactions between real people each night, and it is fiction that gives space for those interactions.
"The chemistry of an audience totally dictates the atmosphere in that room", says Tom. "This cloak of fiction allows people to step just a little bit away from themselves, it allows people to say something controversial."
Violence too played an interesting and ambiguous role in that fictional world. We were invited to make a new nation 'whatever we have done'. And what have we done?
"It's towards the tail end of a conflict," explains Tom, "it's almost the death of a state". Why? "We were interested in the blank slate idea. There's something appealing about "this is gone now, we can't salvage what there was, we have to start again". By creating a fictional ruin, "the audience can be a little less pragmatic" continues Annette. It's a "theoretically realistic fiction, but not a realistically realistic fiction".
The theoretical realism of the blank slate has held a specific appeal in recent decades, as it did once before when a New Man was meant to arise out of the French Revolution. Underlying the 2003 invasion of Iraq by the US and the UK was the idea that by violently deposing Saddam Hussein, a 'blank slate' could be created in the Middle East, ready to receive democracy. Shock and awe would be somehow cleansing, de-Baathification would get rid of tiresome pre-existing bureaucracy, out of the ruins could rise a phoenix.
But whether it is a foreign invasion or a civil conflict, war doesn't create the ideal conditions for the ideological fresh start that Coney are seeking. And that's because there is nothing clean about the destruction of war. It creates new, messy and forceful realities; the shifts of power in the fighting determine the kinds of political – and economic – power created afterwards. As Professor Christopher Cramer puts it, the interaction of groups in war 'fosters an evolving linguistic register of violence'. 
It is the interplay between the details in the fiction and the nerves it strikes amongst the audience each night that makes for the most charged – most theatrical – moments. My London audience reacted in a multiplicity of ways to the understanding that 'gangs' were closing in on the assembly, from "we need to find our more about them, who they are" to "but the gangs are us, they're not coming from outside".
The most real-time intense moment of my night came when a man stood up to explain what a Truth and Reconciliation Commission is, and why Colonia should have one. The room went still as he struggled to articulate those most difficult and terrible of concepts: shame and forgiveness.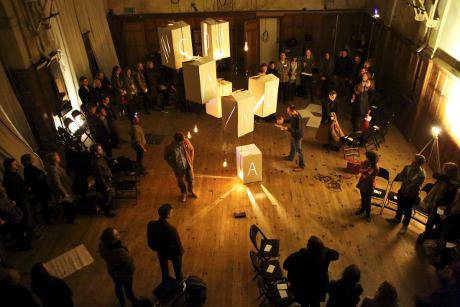 The general assembly at Battersea Arts Centre, London. Photo: Ryoko Uyama
Act three
Early Days (of a better nation) is a brave, bold swipe at creating an inclusive and galvanizing political experience, where "exploration is the end point". The sheer complexity of it is breathtaking.
And it is not yet complete; more needs to be teased out. "I think the word gangs was a bit overused" says Annette, "we needed a clear and immediate danger that meant people couldn't go on talking all night, but we need to understand more about what that means".  
The third and final act will put the audience's nascent set of political decisions to the test, by placing the consensus created on the eve of peace under some kind of stress. Coney want to move fast – their ambition is to have tried the show in England, Scotland, Wales and Northern Ireland as we approach Scotland's decision over independence.
And their ambition doesn't end there. The version I saw mostly relied on verbal discussion. Tom and Annette are keenly aware of the greater inclusion more visual and digital aids would allow, but, as Annette says, "text is cheapest". To go further they need material support.
Eventually they would like to build in funds to take the show to people who don't ordinarily go to the theatre: a lot of Coney's other work has taken place in schools or through community groups. One of their most exciting scratch performances of Early Days was to an audience comprised jointly of teenagers and people of their grandparents' generation.
The title of the show is taken from a line of a long poem by Dennis Leigh: 'Work as if you lived in the early days of a better nation'. The fictional world of the show proposes an exceptional moment – the success of a revolution – offering the allure of a clean break with the past.
But the show itself is an interruption in our daily and ongoing lives, a reflection more moving than ever as activists in Egypt continue their decades long struggle beyond the hallucinatory clarity of the 'Tahrir moment'. It is a continuation of the "space of hope" – the daring to imagine how things could be different – past the historical cataclysm and into whatever lies beyond. As elsewhere, Britain too needs that exhortation now.
Coney are looking for partners to take the development of Early Days (of a better nation) to the next stage. To find out how you can support their work contact [email protected]
Read more
Get our weekly email