What's behind anti-migrant feeling in Russia's arctic republic of Yakutia?
In Yakutia, crime and nationality intertwine in the latest wave of anti-migrant feeling in Russia.
2 April 2019, 12.02pm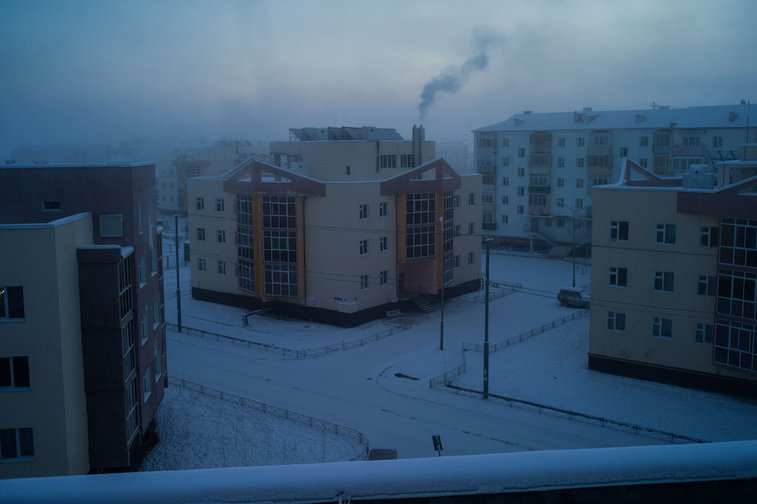 Overnight on 17 March, a Kyrgyz citizen raped a resident of Yakutsk, in the Sakha Republic in Russia's Arctic. Though left in a car repair shop on the edge of the city, the woman managed to escape and inform the police. The 23-year-old man detained by police admitted to the charges against him and, on 18 March, he was charged with rape and abduction.
In response, angry residents of Yakutsk started gathering for spontaneous protests, destroying fruit and vegetable stands run by migrants from Central Asia - and then uploading the videos online. The "results" came quickly: a few days later, all the city's fruit and vegetable stands were closed, it was harder (and more expensive) to call a taxi, or, indeed, to get anywhere on public transport.
The situation has now calmed down, but the head of Yakutia Aisen Nikolayev has now signed an order banning employers in 33 professions from employing migrant workers.
"Owners of our own land"
One of the most surprising moments in this story was a public meeting held at the city's Triumph sports centre on 18 March. Thousands of people gathered, and Yakutsk's opposition mayor Sardana Avksentyeva, as well as Aisen Nikolayev, spoke to the angry crowd. Their message was as follows: it's time to be the "owners of our own land" and conduct unplanned inspections of migrant businesses. The officials did not explain what prevented the crowd from being "owners of their own land" previously.
A weekly summary of our latest stories about the post-Soviet world.
Video of public meeting at the Triumph sports centre in Yakutsk, 18 March. Source: YouTube / Nikolay Pavlov.
Having received what was almost official permission for violence, several residents of Yakutsk did not pass up on the opportunity. You can still find videos on social media where unidentified men visit shops to harass migrant workers with phrases such as "we're going to kill you soon".
The police reacted quickly to these incidents, detaining the unruly persons. The republic's Investigative Committee reminded the public that "crime doesn't have a nationality", and that foreign citizens are not responsible for the vast majority of sexual offences in Yakutia: in 2017, there were 117 sexual offences committed in the republic, of which six were committed by foreign citizens. In 2018, there were 296 sexual offences, of which four were committed by foreigners.
Meanwhile, Yakutia has no shortage of official organisations working to "preserve interethnic harmony". Over the past few years, the republic's pro-government media has built up a healthy archive of articles declaring the absence of any kind of interethnic tension: "More than 120 ethnicities live in Yakutia in peace and harmony, and this is possible only thanks to the selfless work of numerous state agencies."
Yet after this incident the authorities have now decided to declare that there is, in fact, a problem. In a recent interview, mayor Avksentyeva stated that there are too many migrant workers in the city and that they often cause problems.
"In principle… it would be fine, if they [migrant workers] behaved normally and observed Russian laws. The same suspect [in the rape investigation] committed 13 administrative offences in January-February. When you get cheated over 100-150 grammes at the fruit stand, when you're in a taxi and the driver doesn't know the city – at a minimum, this is scary… What I mean is, these small things have built up..."
oDR tried to contact Mayor Avksentyeva, but she refused to comment on the story.
"We were like distant relatives to them"
Daniyar Baituguyev, chairman of the Kyrgyz Community of Yakutia, largely agrees with Avksentyeva's position. "Public concerns about migrants have been building up for years, and this incident set them off, triggered them. The reason is that we have too different a culture from that of the local population."
"When I first started working in Yakutsk, I didn't see a single Kyrgyz here – I only heard that few other people live here. Back then, local residents received us warmly"
Baituguyev moved to Yakutsk in the early 1990s after serving in the army. He could not find a job in Kyrgyzstan, many factories were closing down – so he worked seasonal jobs in Novosibirsk, Almaty and elsewhere.
"When I first started working in Yakutsk, I didn't see a single Kyrgyz here – I only heard that few other people live here. Back then, local residents received us warmly – we were like distant relatives to them, representatives of a related people with common Turkish roots. People really liked the fact that we had a lot of similar words in our language." In 2003, Baituguyev married a Kyrgyz woman whom he met in Yakutia. Today he is a businessman and father to six children.
According to Baituguyev, the breaking point in attitudes to migrants in Yakutia came in the mid-2000s. "For a city with 300,000 people, there are too many people coming in [according to official statistics, 73,000 people were registered by the Yakutsk migration services, and 42,000 of them live in Yakutsk]. You could even say that we are, in one sense, pushing people out in terms of work. Working as a driver on public transport, taxi or in the service industry is desirable for many - there's serious money to be made there. But the competition in these spheres is so high that there's really no jobs."
For Baituguyev, the reasons for coming to Yakutia for work are predictable: good wages and higher living standards. But each year local residents express their dissatisfaction more openly, he says: "In a private conversation you can hear things like: 'Oh there's so many of you now. Why don't you want to live at home? Why do you leave your homeland? We'd never do that. We're connected so tightly to our homeland that we can't break from it. Though the conditions are tough.'"
Threat of the Other
Valerya Vasilyeva, a researcher at the European University at St Petersburg's Center for Arctic Social Studies, highlights the position of the authorities in this incident.
"It's worth noting that all the representatives of the administration - Aisen Nikolayev, Sardana Avksentyeva - are talking about the problem of illegal migration. But when we talk about 'illegal' migration from Central Asia to Russia, we're not talking about crossing the border illegally - which, for example, would be characteristic of Mexican migrants in the US. Instead, we're dealing with an absence of a work permit, which is often hard to receive and then retain. The [authorities' discourse] might be connected to the fact that a campaign against illegal migration would, on the one hand, calm down Yakut ethnic activists and, on the other, act as a legal justification for further official action. The statistics [on sexual offences] might testify to anti-migrant moods rather than the problem of 'ethnic criminality'."
Vasilyeva calls what happened in Yakutsk one incident in a pattern of national anti-migrant feeling in Russia, but one that has its own dynamics. "Several large migration flows converge in Yakutia: here you have migrants both from Central Asia and China. And then you have local ethnic minorities who live in the republic (Evens, Evenks, Dolgany, Yukagirs, Chukchi, sometimes also the RussianStarozhily), a strong Yakut national consciousness, Soviet-era 'newcomers" from across the Soviet Union, seasonal workers, let alone the Sakhalyary - descendents of mixed marriages, who often have a complex ethnic self-identification. It's hard to imagine ethnic tensions not arising with this heterogenous population, and the Republic's focus on raising national consciousness."
Responding to Daniyar Baituguyev's comments on "cultural differences", Vasileva suggests this explanation of "ethnic conflict" does not explain much. "It's impossible to say whether this happens in reality. Cultures cannot be measured via formal indicators and then compared. Each moment of interaction in which ethnic self-identification is actualised is individual - for example, Kyrgyz and Yakut languages are both part of the Turkish group. Although it's wrong to say that they are mutually understandable, they are related. This can be a positive factor or not: for example, in the case of another Turkish language ethnic group - the Dolgans, who tend to have more marriages with Central Asian peoples than Russians."
"When I get on the bus, I don't want to see the flag of another republic hanging there"
Representatives of radical Yakut nationalist groups Us Tumsuu and Uraankhai refused to comment. It's likely that it was these groups recorded the videos of attacks on fruit and vegetable stands in Yakutsk. In January, for instance, they organised nationalist raids on nightclubs in the city, with a similar rhetoric and methods.
Kseniya Baishiyeva, a Yakut representative from the Tulagino suburb of Yakutsk and chairperson of the Sakha Omuk organisation, agreed to speak to me about these groups' motives. "We live in Russia after all. When I get on the bus, I don't want to see the flag of another republic hanging there. We live in Russia and we should live according to the laws of our republic and Russia."
Baishiyeva also shared her personal attitude to the events. "It's really bad when someone is raped. So when the men [from the nationalist groups] said that this shouldn't happen, I think they were right. They did the right thing. Why do people always think that our men have given women complete freedom."
Baishiyeva looks on the official presence at the anti-migrant protest favourably. "I support our president, he's together with the people. Now he will request that the law enforcement agencies ensure that the laws are enforced. Aisen Sergeevich [Nikolayev] is a good man, I support him very strongly in this case, because usually when we have a spontaneous protest, he can be uncontrollable. And everything happened in a controlled way."
Baishiyeva recognises that the information circulating online is fake. WhatsApp has long turned into the main media platform in Yakutia - any significant news in the region instantly gains a media echo. First, there is a hysterical report about what happened, then a call for "maximum repost" and then, finally, a wave of fake news reporting.
This is what happened with the "news" that the city's fruit and vegetable stands were giving away their produce for free as an apology to local residents. Ksenia Baishiyeva believes that the source of this news is located outside of Yakutia. "There's often fakes on WhatsApp. People are already asking us, who is sending these messages? I think these fakes come from outside the republic. Law enforcement needs to check who is sending these messages and from where, and stop them."
When I ask Baishiyeva how to solve the problem of social and ethnic tension, she presents a simple solution - pretend there is no problem: "Personally, when I get too many messages on my phone, I just turn it off and don't look at it. People work most of the time, they don't have time to read messages. We're a Northern people, we work hard."
Russian aggression is driving Ukrainians into poverty. But the war could also be an opportunity to reset the Ukrainian economy – if only people and politicians could agree how. The danger is that wartime 'reforms' could ease a permanent shift to a smaller state – with less regulation and protection for citizens.
Our speakers will help you unpack these issues and explain why support for Ukrainian society is more important than ever.
Read more
Get our weekly email