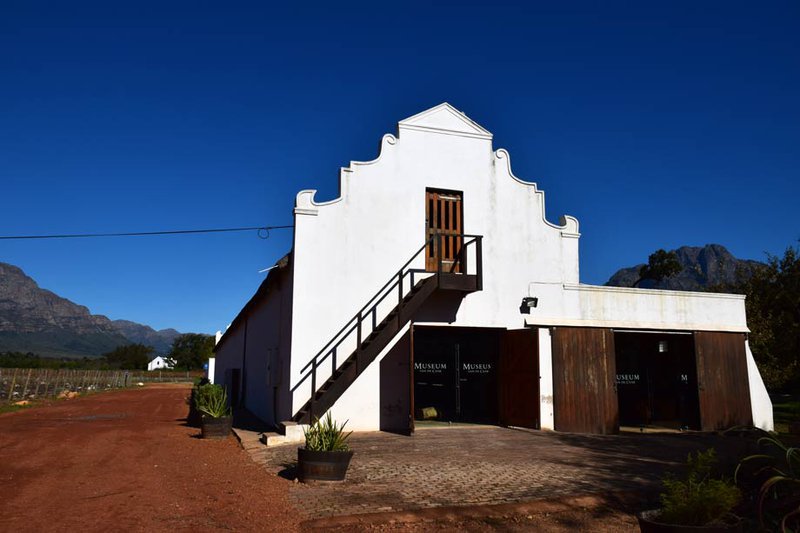 Once a former wine cellar, the Museum van de Caab at Solms Delta explores the slave past of the vineyard. Photo by author. All rights reserved.
October 2016 saw the release of a documentary titled Bitter Grapes – Slavery in the Vineyards, directed by a Danish journalist named Tom Heinemann. The documentary, which initially aired on Danish, Swedish, and Norwegian television, alleged that by paying low wages – at times below minimum wage requirements – providing unsanitary living conditions, and depriving workers of human rights in other ways, farmers in South Africa's wine and fruit producing Western Cape were guilty of upholding conditions amounting to slavery.
Such claims are not necessarily novel and have appeared in the media before. Most notably, a 2011 report from Human Rights Watch provided comprehensive evidence of human rights degradations, issues around pay and living conditions, the active obstruction of unionisation, and even the illegal eviction of staff. Both Bitter Grapes and the HRW report posited these contemporary phenomena as the latest manifestation of a historical continuum of exploitation originating in the time of slavery. Slave labour, which became illegal in 1834, was the backbone of early Cape wine farming, and the suggestion is that the economic interests of the former slave owning class continued to be served by unequal labour relations. To fully understand the issues discussed by Bitter Grapes and HRW, we must therefore look into the past.
These links with the past are crucial for understanding how exploitation in the South African wine industry perpetuates itself, yet they are often difficult to see in a country frequently reticent to include the legacies of slavery within the national discussion. Perceptions of shame, a history of rule by a white minority, and state-led efforts to promote anti-apartheid history as the national narrative have until recently combined to prevent slavery from receiving much attention outside the South African academy.
The paternalistic legacies of slavery, which continue to define labour practices on numerous Western Cape wine and fruit farms, have consequently passed almost without comment. That is starting to change, and a handful of new museum exhibitions in the Western Cape Province have started to open up that history and to explore what it means for today's workers. Arguably, it is only by discussing the intergenerational trauma embedded within this perpetual exploitation that it can be challenged, and new, more equitable labour policies can begin to emerge.
The legacies of slavery in the South African wine industry
Around 60,000 enslaved people lived at the Cape – which was one of four territories unified by the British to form South Africa in 1910 and includes the modern area defined as the Western Cape – between 1658 and 1834. They came from East Asia, Madagascar, and Mozambique, and many bore children into slavery after their arrival. At various times their number marginally outnumbered that of the colonists. Wine farming, then as now, was a staple of the Cape economy under both the Dutch (1652-1808) and the British (1808 onwards), and slave labour underpinned that industry.
Following the abolition of slavery in 1834, the asymmetrical balance of power at the Cape in favour of the former master class was preserved through the 1841 Masters and Servants Ordinance and 1856 Masters and Servants Act. These measures essentially gave increased rights to white settlers by criminalising workplace desertion, strikes, and behaviour deemed drunken, negligent, or insolent. Although these measures in theory covered everyone, in practice the authorities only applied them to unskilled workers – mainly the formerly enslaved and their descendants. This legislation was not repealed until 1974, over 20 years after apartheid was first implemented.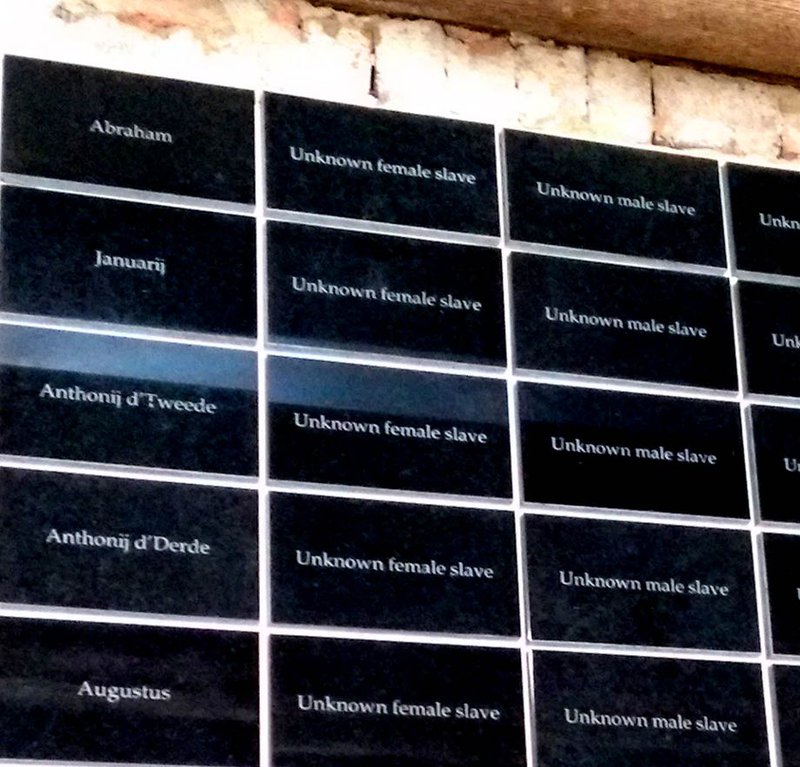 A memorial wall at Solms Delta. Photo by author. All rights reserved.
The relationship between slavery and later racial segregation in South Africa is complicated. Slavery itself was not strictly bi-racial, although there are no records of a white person being enslaved. Race in fact became a greater signifier of social and economic identity post-slavery. Certainly, slavery cemented a mindset among white elites in certain areas – the wine industry being a prominent example – who came to expect a cheap supply of black labour. As revisionist historians writing during the 1970s first claimed, subsequent racial segregation was increasingly focussed on maintaining this supply to maintain white economic hegemony.
Beyond labour organisation, there are more visible legacies of slavery which continue to influence the professional and social lives of farm workers. As both Bitter Grapes and HRW claimed, the illegal dop system of payment in alcohol continues to be practiced in places. The substitution of money with wine has its origins in the time of slavery, and has been posited as central to problems of alcoholism and foetal alcohol syndrome which bedevil poor rural communities and increase their dependency on farmers.
Elsewhere, these paternalistic legacies of slavery are being eroded by new economic models. Eviction from on-farm housing represents a departure from a way of farm organisation rooted in the era of slavery, in which the manor house-dwelling farmer functions as a figurehead with dependent workers living in more modest accommodation. Post-eviction, workers – many of whom may have lived on farms for generations – are replaced by migrant labourers who are billeted in hostels to reduce costs. Whilst the semantics evolve, the end goal of access to a cheap labour supply remains prominent.
Exhibiting the past
The wine and fruit producing regions of the Western Cape are now a fundamental part of South African tourism. A number of farms have expanded far beyond wine production to offer visitor facilities ranging from restaurants and wine-tasting rooms to luxury guest accommodation and conferencing venues. These additional commercial activities, together with returns derived from land speculation, are now of greater importance financially than the basic act of producing wine.
Both contemporary and historical forms of exploitation go largely unnoticed by tourists to the Western Cape. They are also almost entirely ignored by the tourism industry. There is little discussion of a traumatic past as a means of understanding contemporary labour practices. Histories of exploitation are an uncomfortable truth for the wine industry, particularly in cases where it continues to benefit from easy access to cheap labour. History, when it makes an appearance, is usually used to bolster the wine's vintage, as it suggests techniques were honed over years to create the perfect bottle. My research carried out both on the websites of wine farms and by conducting site visits suggested that only six out of over 200 surveyed include any form of historical interpretation.
One of these six focused almost entirely on the elite history of past owners. A couple, such as Vergelegen and the state-managed site of Groot Constantia, reflect on their histories of enslavement through traditional museum displays, which pay similar levels of attention to historical owners. Others step up the critique with approaches that show an awareness of history's pertinence in the present. At Spier near Stellenbosch, an audio tour of the historic farm is narrated by the character of the ghost of a fictional enslaved woman named Sannie de Goede. Whilst walking the estate as part of the audio tour, attention is drawn to how Spier is attempting to improve the lot of its workers by investing in educational and training programmes, as well as providing new housing.
Solms Delta, near Franschhoek, takes this progressive approach much farther. There are two museums on site, one of which gives a history of the estate and surrounding area while the other offers a detailed exploration of music at the Cape. The history museum culminates with a series of oral history interviews conducted with present day workers who reflect on experiences of apartheid, and what the modern estate means to them. This is suggestive of a wider project at Solms Delta that has seen workers receive shares of the estate's land and profits, their accommodation upgraded, and the creation of cultural activities for workers such as a newly-formed estate band.
The use of a history museum to explore contemporary labour relations at Solms Delta reminds us that to understand the present we need to consider what came before. In Bitter Grapes, Henriette Abrahams from the union Sikhula Sonke comments on "atrocious bosses or employers … treating their people still as slaves". But why? Part of the answer lies in the continuing influence of colonial-era methods and mentalities on current labour practices. These connections, which for many years remained unexplored, are now fitfully being exposed as part of efforts to defend the human rights of contemporary workers. At sites including, most prominently, District Six Museum in Cape Town, cathartic memory work has powerfully been used to discuss painful memories. Work of this kind has aided people to come to terms with the past, and the project under way at Solms Delta suggests that such enquiry into history may prove a means of advancing worker interests in the Winelands.
Read more
Get our weekly email