Why I created the hashtag #ExposeChristianSchools
Private Christian schools in the US take public money to push a 'religion-centred, anti-science, anti-multicultural message'. It's time this stopped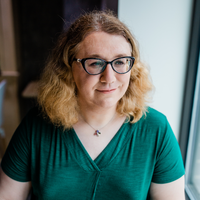 20 October 2021, 12.57pm
In February, I received an email from my high school, Heritage Christian School in Indianapolis, asking alumni, parents and other affiliates to urge our congressional representatives to oppose the federal Equality Act.
This expands on the 1964 Civil Rights Act to include protections against discrimination based on sexual orientation and gender identity – in public businesses such as restaurants, education, housing and employment.
Passing this bill (which the Senate is unlikely to do), the email informed me, "would threaten religious freedom" for the school. The email included a call to action from the Association of Christian Schools International, which represents more than 3,000 private schools in the US and more than 20,000 worldwide.
Get one whole story, direct to your inbox every weekday.
If you're wondering why the US has never ratified the United Nations' Convention on the Rights of the Child, this is why. American children have no federal right to an education at all – let alone to one free of indoctrination, bullying and discrimination. The country's right-wing Christians, the vast majority of whom are white, want to keep things that way.
They do so by vigorously defending an absolutist understanding of parents' rights, weaponising "religious freedom", and making bad faith arguments about "school choice", aided and abetted by major media outlets' 'bothsidesism' and unwillingness to seem critical of any large Christian demographic.
Reading the email from my alma mater as a queer alum, I was reminded why I launched the hashtag #ExposeChristianSchools in early 2019. It was in response to Karen Pence (wife of Mike Pence, then vice president), who hails from my home state of Indiana, taking a teaching job at a Christian school that had an explicit policy of discrimination against LGBTQ people in hiring and enrollment.
Her move – like so many actions taken by Donald Trump and her husband – signalled that she was not interested in trying to represent all Americans, but only those who fit into a Christian nationalist view of the nation.
The hashtag was tweeted more than 200,000 times in 2019, and it recently trended again. Alumni of Catholic, Mormon and especially evangelical educational institutions have used it to speak out against their experiences of misogyny, racism, queerphobia and abuse – not to mention being taught that the Earth is only 6,000 years old and other "alternative facts".
In promoting the hashtag, I hoped, and still hope, that it might help to shift the framing of the national conversation about Christian education, religious freedom and pluralism – by drawing the public's attention to systemic miseducation, discrimination against marginalised people, and anti-pluralist indoctrination in these schools.
Public funding for private Christian schools
All US Christian schools are mainly privately funded (through tuition and donations), but many also take state funding – via voucher programmes that, under the banner of 'school choice', allow parents to use the tax money that would go towards their children's education in public schools for private schools instead. Christian colleges, many of which have been granted federal waivers allowing them to discriminate against LGBTQ people, also have access to considerable federal funding.
A Huffington Post investigation in 2017 found that many voucher-funded Christian schools seriously distort history through their use of curricula published by Abeka, BJU Press and Accelerated Christian Education. A follow-up article this year revealed how these commonly used Christian textbooks exhibit the same rhetorical strategies as the Trump administration, sending a "religion-centered, anti-Democrat, anti-science, anti-multicultural message".
The article said that 2,400 private schools using these textbooks receive voucher funding, and there are probably "thousands more" that use the textbooks but do not take voucher funding. If we include homeschooling – largely deregulated in the US since the 1980s as a result of Christian Right lobbying – a conservative estimate is that hundreds of thousands of American schoolchildren are being exposed to an ideologically skewed education at any given time.
My own alma mater, Heritage Christian School, uses some Abeka books and takes voucher funding.
Heritage's statement of faith includes a paragraph on the "sanctity of life" that includes "pre-born babies" – a scientifically nonsensical term – but pointedly fails to mention the death penalty. It also states: "We believe that God has uniquely created us male and female, and we affirm that God's plan and benevolent intentions for human sexuality are found within the context of marriage between one man and one woman."
The school's core values include a commitment "to the United States of America, its founding documents and the protection of religious freedom in America" – code for a Christian nationalist outlook – while claiming that it "will not embrace or promote any political party or candidate". But the school's call for action against the Equality Act belies this claim to be "apolitical".
When I was a high school student there, we were taken on field trips to far-Right political conventions, then mobilised to distribute their voter guides. They didn't explicitly say 'Vote Republican', but all the candidates supporting the 'Christian' position on issues such as abortion and LGBTQ rights were – not coincidentally – Republicans.
Evangelical schools' understanding of 'religious freedom' entails the 'right' of Christian extremists to impose their will on others
Unfortunately, Heritage is a typical evangelical school in its understanding of "religious freedom", which entails the 'right' of Christian extremists to impose their will on others, a position that directly infringes on the religious freedom of everyone else, including progressive Christians.
What's even more unfortunate is that the US seems incapable of having a serious conversation about how to balance the rights of children and members of marginalised groups with proper religious freedom, which entails equal accommodation for adherents of all religions as well as the non-religious.
Ceasing to fund Christian nationalist indoctrination with tax dollars seems like an obvious place to start, but until a critical mass of the public cares enough about the issue to push back on the Christian Right, nothing will change.
Read more
Get our weekly email