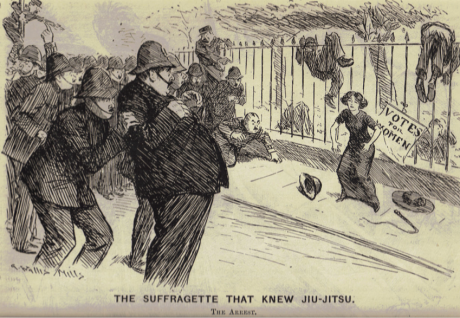 Illustration in satire magazine Punch by Arthur Wallis Mills, 1910
"Woman must not depend upon the protection of man, but must be taught to protect herself."
This was one of the many vindications of suffragist Susan B. Anthony at the conference of Seneca Falls in 1871, a founding moment of the white US feminist movement. Depending on men for safety curtailed women's freedom and made them more vulnerable to the violence of their protectors. A hundred years later, Susan Griffin called this combination of male chivalry and rape culture a "male protection racket". Women doing it for themselves took up martial arts.
The first to do so within a feminist perspective was British gymnastics teacher Edith Garrud. After learning jiu jitsu from a Japanese instructor, she opened her own dojo in London in 1905 where she taught women and children. Garrud was involved in several women's organisations and supported the suffrage movement. The radical wing of the WSPU movement embraced self-defence as a means of emancipation, and from 1909, Garrud trained activists in jiu jitsu to defend themselves against arrest and anti-feminist attacks. She drew on her creativity using newspaper articles, theatre and film, to communicate and developed original strategies to evade the police. In contrast to many feminists at the time, she also addressed domestic violence and promoted self-defence as a means to interrupt an assault. The main character in the film Suffragettes, played by Helena Bonham Carter, was called Edith in her honor.
The UK was not the only country in which women's self-defence took hold. It was practiced in the US in some sports clubs from the 1880s. But it took feminist social reformers to recognise its potential for women's empowerment, safety and independence. They brought self-defence to the White House lawn and promoted it in schools and YWCA's across the country. By the 1920s, the "new woman" embraced self-defence just as enthusiastically as trousers, short hair and economic independence. On the other side of the world, New Zealand actress Florence Le Mar included self-defence demonstrations and workshops for women in her vaudeville routine and wrote a fictive autobiography detailing many self-defence techniques.
During this first golden era, women's self-defence was controversial. Proponents associated women gaining in physical strength and abilities with women's political empowerment. However, as with participation in other sports, there was strong resistance from the clergy, educators and the media women participating in boxing and jiu jitsu: they sought to maintain traditional gender norms and the social order. This resistance was framed as necessary protection of the weaker sex.
Edith Garrud demonstrating a jiu jitsu technique on an actor dressed as a police man. Health & Strength, December 1913
There was a hiatus until the emergence of the women's liberation movement at the end of the 1960s and, in its wake, a resurgence of feminist self-defence. Around the world, the same process repeated itself, leading to the creation of different methods: women participating in male-dominated martial-arts training, as students or instructors, tired of the sexism in those spaces, left. They took their knowledge and created women-only self-defence classes. Based on their own experiences and feminist theory on violence against women, they included consciousness raising and assertiveness training to provide women with new tools for strong body language and verbal self-defence. Highlighting that most violence was from known men was a means to deconstruct myths about stranger danger.
The first such group was Cell 16, a women's collective in Boston established in 1968. After some hostile encounters during direct actions in public space, the group realised that they needed to learn to defend themselves. They took classes from a male instructor, but left due to his paternalistic attitude and created a single-sex training group that later organised workshops for other women. During the 1970s, women's self-defence was an important part of the feminist actions against male violence: feminist martial arts magazines were published for networking and information; rape crisis integrated classes in their services; feminist pamphlets, resource books and conferences routinely included self-defence information. The demand was such that new trainers were needed and long waiting lists had to be managed. Homegrown self-defence schools  emerged in the global South, such as Shefighter in Jordan, and travelling and migrating activists brought feminist self-defence to countries in the global South including Brazil and India, and, after the fall of the Iron Curtain at the end of the 1980s, to Eastern Europe e.g. Serbia and Croatia.
Women's self-defence class at the Brooklyn Women's Martial Arts Center, 1981.
More recently, following intense ambivalence and criticism, there has been a disconnection between many Rape Crisis Centres and feminists working on violence against women, and women's self-defence. Concerns centred on the potential that if women were assaulted this would accentuate victim blaming and possibly mean women would not seek support. Critics also argued that training individual women to defend themselves individualised and depoliticised the issue of violence: putting the onus of prevention on women took the focus away from men and the need for them to change.  Some of these objections can be seen as misconceptions, mistaking feminist self-defence for widely marketed mainstream self-defence methods such as Krav Maga.  All feminist self-defence teachers ensure that survivors feel comfortable in training groups, victim blame is addressed explicitly and responsibility for any attack and its outcome is firmly placed with the perpetrator. Many instructors have worked in rape crisis centres or women's shelters and some offer survivor-only classes.  There are research findings which show that that self blame decreases following self-defence training. Self-defence participants also are more likely to disclose violence and therefore are enabled to access support.
Regarding the political and strategic objections, feminist self-defence practitioners have never claimed to be the only or even best means to stop violence against women, and many trainers across the globe are involved in other actions and organisations that provide support and advocacy to women who have lived through violence.
Feminist self-defence is about creating a collective space to think and practice the potential for resistance to rape culture in general and to incidents of violence in particular. Women setting their boundaries, challenging gender stereotypes and gaining more freedom creates change in individual lives and in their social networks. An example of how individual and social change are connected is Tahrir Square in Egypt: male and female activists learned self-defence techniques to protect themselves and other women against the sexual violence used to discourage women from participating in the protest movement.
Lancashire County Council poster by Kate Clements, 1990s.
Feminist self-defence is alive and well, despite limited recognition and funding. It depends in many places on the personal commitment of individual teachers and is a precarious practice. The past 110 years have honed its practices and made it more accessible to women and girls, including those with disabilities.
Let's hope that it won't take another 100 years to end violence against women.
Read more
Get our weekly email