Photo: Nicolas Armer/DPA/PA Images. All rights reserved.
At the end of the summer, the front pages of Italian newspapers were filled with morbid and tabloid-like accounts of two high-profile cases of sexual violence. The first occurred in Rimini – a city on the Adriatic coast – on the night of 26 August. Four men of foreign origin assaulted and raped a young Polish tourist and later abused a transsexual woman from Peru.
The second case was in Florence, on the night between 6 and 7 September. Two female American students accused two officers of the carabinieri police force of raping them after giving them a ride home in their patrol car.
Media coverage of the rape in Rimini focused on the nationality of the rapists and their legal status (some of them had obtained asylum in Italy). Little or no attention was given to the victims. "Rimini rape, the inhuman Butungu was in Italy for humanitarian reasons" was one of the headlines of the regional newspaper Secolo XIX.
In reports on the incident in Florence, attention shifted to the victims. Journalists said that the young women had been drinking and smoking marijuana, and that their accounts were marred by inconsistencies – as if to justify the officers' conduct and blame the women for what had happened.
Some newspapers – including La Stampa, Il Messaggero and Il Mattino – even declared that in Florence police receive 150-200 rape accusations every year, but that 90% of them are false. This claim was later retracted but it still reinforced the stereotype of the woman who 'provokes' sexual violence.
The mayor of Florence, Dario Nardella also focused on the victims and their origins in his comments, saying: "It is important for US students to learn, also with the help of universities and our institutions, that Florence is not a city of perdition."
This "extremely serious" case, Nardella continued, had "shone a light on the way foreign students live in our city. I would like for them to be more integrated in the cultural and collective life, instead of considering Florence a Disneyland to get drunk and high in."
In both cases, Italian newspapers abandoned their fact-checking role and gave in to the political exploitation of immigrants, a sensitive issue in the run-up to next year's elections.
"Italian newspapers abandoned their fact-checking role and gave in to the political exploitation of immigrants"
Journalists should have carefully pieced together the facts, verified the news, and put the incidents in the appropriate context of Italy's high rates of violence against women. Instead, they stressed the nationality of the rapists in Rimini and that of the victims in Florence.
There are unfortunately precedents here. In May, governor of the northeastern Friuli Venezia Giulia region, Debora Serracchiani of the centre-left Partito Democratico, said: "Sexual violence is always a hateful and repugnant crime, but it becomes socially and morally even more unacceptable when it is carried out by someone who requests and receives asylum".
Serracchiani's statement, reacting to an incident of sexual abuse by an asylum-seeker in Trieste, was controversial, and it was criticised including on social media. But it bolstered two dangerous theses: that there are more heinous rapes (committed by foreigners) and less heinous rapes (committed by Italians) and that asylum is a concession and not a right.
The majority of Italian newspapers reported on the cases in Rimini and in Florence in exactly the same way, pushing us further away from an honest analysis of both migration and sexual violence.
Instead of reflection and analysis on these complex issues, too often we receive simplistic interpretations that make it difficult to understand our reality and possible solutions.
Sociologists have spoken of a 'mirror function' whereby we project our deepest fears onto those who come from abroad and arouse our distrust.
In other words: our accusations against migrants can say more about ourselves than about them; more about our dysfunctions and our crises than about theirs. This mechanism then fuels a vicious cycle because a phenomenon that is misunderstood and exploited for political gain can generate even worse problems and deeper crises.
What's new is not so much that xenophobia, the fear of foreigners, is widespread, and that politicians use it to create consensus. What's new is how the press has abandoned their role of spreading verified news and framing facts in social and historical context while scrutinising the statements and opportunisms of politicians.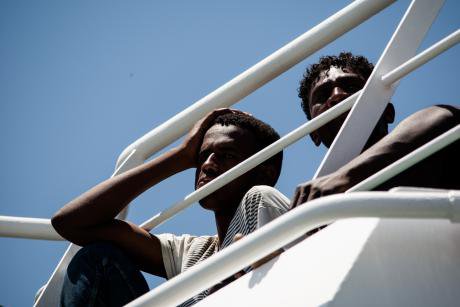 Migrants on a boat near Salerno, Italy, June 2017. Photo: NurPhoto/SIPA USA/PA Images. All rights reserved.
Immigration has become a main topic in the electoral campaign already underway, leaving the inside pages of newspapers and moving to the front pages and prime time TV.
Worrying trends include a schizophrenic back-and-forth between the criminalisation and victimisation of migrants, and the lack of articulate debate that is representative of different stances on migration (all political parties express similar positions on the issue).
There is a gradual dehumanisation of migrants, who have become a broad and vague category in which people who have just arrived in Europe are mixed without distinction with people of foreign origin who have been living here for many years – including refugees, legal and illegal residents, and Italian citizens of foreign origin.
"migrants are portrayed both as victims and as criminals"
Migrants are portrayed both as victims – who must be saved, fed, helped, protected and welcomed – and as criminals. These equally toxic narratives can appear on the same newspaper page.
Behind this is the spread of 'fake news': that migrants earn 35 euros a day from the government, that they live in five-star hotels, that they are all economic migrants, that they carry illnesses, that they take jobs away from Italians, that they're all Muslim, that they don't respect women.
Misleading links between migration and terrorist attacks are also to blame, along with the 'ethnicisation' of crimes – whereby the nationality of the accused is highlighted if he is a foreigner, and the crime is explained on this basis – and growing distrust of associations and people who help migrants.
It's a cycle: inflammatory statements by politicians are picked up and amplified on social media, where they are reinvented and perfected in their communicative effectiveness and end up in newspaper headlines and televised debates.
Such statements are used to measure and shape common sense and popular belief – and they become claims that politicians, in turn, say that they cannot ignore. Meanwhile, the same politicians draw up policies that are less and less capable of effectively integrating migrants and refugees into our society.
Read more
Get our weekly email