Picture by Sari Khoury. All rights reserved. Wine is not usually what springs to mind when thinking about Palestine. As Lebanese, Turkish, and Cypriot winemaking flourishes and the controversial Israeli wine industry booms, Palestinian wine has received far less attention in recent history, overshadowed by news of occupation and bloodshed.
Israeli vineyards often use native Palestinian grapes on land stolen from farmers during the 1948 Nakba. Similarly, many newer Israeli wineries come from illegal West Bank settlements but are labelled as 'products of Israel.'
With the exception of Latroun and Cremisan monasteries which both run on foreign funding and instruction, the rich Christian heritage of winemaking in and around the famous Palestinian cities of Nazareth, Bethlehem, and Jerusalem as well as the northern Galilee region have been relegated to the domestic market until recently. Now, a new wave of entrepreneurs and winemakers are reviving Palestinian wine not only as a source of livelihood but also as a way of reminding Palestinians and the world of the rich cultures and history that is often obscured by focus on the conflict.
Nemi Ashkar and Sari Khoury are two such examples showing they can make a high quality product despite the choking restrictions of the Israeli occupation. They both produce a range of great wines from historic Palestinian sites: the village of Iqrit inside present-day Israel, and Bethlehem's picturesque mountains in the occupied West Bank.
Returning home: Nemi's story
Nemi Ashkar comes from the northern Galilee village of Iqrit which was occupied in November 1948 by the Israeli army and its inhabitants dispossessed. He grew up in the region but was exiled from his village, whose population is forbidden from returning except to visit their church and graveyard. Iqrit has since been under the control of the Israeli Land Authority, which manages 93% of Israeli land and ensures that it can only be rented and cultivated by Jewish citizens. 
Picture by Nemi Ashkar. All rights reservedNemi recalls making wine at home with his mother and grandmother, using grapes from their garden. It was upon visiting his church one day that Nemi discovered that part of the village's land was being used to farm grapes by a Tunisian Jewish settler. The sight of the grapes inspired Nemi to extend his passion for winemaking to a large-scale project, "to prove that I can also use my land even in an indirect way." 
Nemi buys the harvest from the settler who grows them to his specifications, and turns the Iqrit grapes into wine in the cellar of his home in the nearby village of Kafr Yassif. Although an original image of Iqrit from before 1948 adorns the label of his product, he is forbidden from labelling his product as Palestinian. For Nemi, the wine is "Palestinian because I am Palestinian. And [even though] the owner [of the winery] is Palestinian and the grapes are from Palestine and the production is in Palestine, we must put it is Israeli." He circumnavigates this by highlighting the family name as the name of the winery: those in the know will understand that Ashkar and Iqrit are Palestinian.
The Galilee region has a wine-making tradition going back to the Crusader period, but the Ashkar family were among the first to make a Palestinian wine available commercially. When he decided to make the commercial step, Nemi first studied wine making in Akka, and uses the help of his family, brothers, sisters, and whoever is around to pitch in making the wines in the cellar of his house. Because the wine is not kosher he cannot sell it in Israeli national institutions or hotels. It is, however, currently available in a few high-level restaurants in Tel Aviv, in Palestinian areas of Israel, and widely across the West Bank. Unable to commit to a marketing campaign while he still works in the high tech industry by day, Nemi relies on word of mouth to promote his products. Despite this, he sells around 12,000 bottles annually, increasing every year. While Israel has plenty of boutique wineries, including several controversial settlement wineries, business for the Ashkar family is good and they are looking to export their wines internationally, where they hope to be able to label it as a Palestinian product.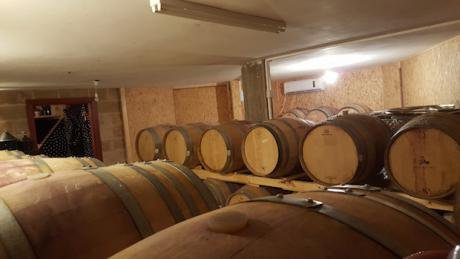 Picture by Nemi Ashkar. All rights reservedHis dream is to build the winery in Iqrit. I ask him if he thinks this is possible. "Sure" he says. Nemi is an optimist, but a pragmatic nonetheless, given the current political situation and the sustained ban on Palestinian Iqrit residents returning to their village. His spirit is Palestinian and he believes in the future of Palestine, and is part of the Palestinian industries that may one day fuel an independent state. After all, he says, "it is our land, [when] we return back, we are returning to our land so we can build the winery and make the house and return everything." 
Grapes of wrath: Sari's story
Sari Khoury, a Palestinian architect and entrepreneur, had the idea of setting up a Palestinian winery with his friends Nasser Soumi, a Palestinian artist, and Pascal Frissant, a French wine maker, while completing his MBA in Paris. Sari, a Christian from East Jerusalem, grew up with his grandfather making wine at home. He never had aspirations to produce his own until the year Nasser gave him a book about wine as a Christmas gift. Sari discovered wine as a way to travel and explore other cultures and has since spent years learning about wine making in France, traveling around the best French and Italian wineries. "Behind every exceptional wine there is also exceptional people," he explained, an idea he attempts to convey in his own product. 
Picture by Sari Khoury. All rights reserved. The high quality of the indigenous grape varieties, the terroir, and the seasonable climate, not to mention the power of the Bethlehem brand name led Sari to establish his winery, Philokalia, in his Bethlehem home. Sari works one-on-one with individual farmers, learning their traditional organic methods. "This country is the cradle of the vine and wine making, and this heritage has been lost somehow," he tells me, "[the farmers] have this heritage and this knowledge that hasn't been documented in books so…it's transmitted through this project." Sari named his wine Philokalia; "the love of the beautiful and of the good, where beautiful means the radiance of truth", after a series of writings under the same name begun by Orthodox monks in the 4th century here in Palestine. 
Bethlehem, a large city in the southern West Bank, is surrounded by Israeli settlements so any investment in agricultural ventures is a high-risk endeavor. "One of our vineyards is close to a settlement, and the settlers sometimes decide to come out and destroy the vines. This also means that we cannot work comfortably; I prefer to harvest at night when the grapes are cooler, but farmers are scared to go out at night and be discovered by the settler patrols who will shoot first before asking questions." Another vineyard uses a 70-year-old Palestinian vine that was destroyed by the Israeli Occupation Forces (IOF) to make a road to a settlement. They used large stone boulders to crush the vines and then paved over them with asphalt. Miraculously, "the vines grew back between the rocks, so I called the wine we made from them "grapes of wrath". [However,] because this vineyard is in such a tense area, the farmers are afraid even to approach their land. I don't know if I'll be able to harvest this year."
For commercial scale projects the World Bank can supply 'political risk' insurance "but it's a very expensive means of protecting your product, and only compensates you financially, not for the loss of a 70 year old vine." He adds, "such insurance doesn't reflect the spirit of the project, which serves as a vehicle to protect the vines." 
Picture by Sari Khoury. All rights reservedSari prides himself on producing natural and organic wines that reflect Palestinian farming methods. The local wine tradition, Sari explains, goes back centuries. If you search in the Palestinian countryside around Bethlehem, in the Galilee, even Gaza, you can find Canaanite era wine presses. Under the ancient Egyptians, Gazan wine was held in high esteem and was hugely important. The Canaanite god of fertility, Baal, is still a daily reference for these farmers, who refer to certain plants as baal, meaning they haven't been watered other than with rainwater. Olives are baal, figs are baal. Grapes too, are baal. 
Both winemakers aim to highlight the prosperity of Palestinian land and its products – as Sari explains: "the land is not poor, it's wealthy – but do you see that wealth? Nature is capable of creating beautiful things. This abundance is there and it's ignored."  
Unlike West Bank ID card holders who must apply for permission from Israeli occupation administration, Sari is able to move between Bethlehem in the Occupied West Bank and Israel through military checkpoints to access his vineyards. He may not, however, export his finished product without registering it with the military administration and paying a large fee. Similarly, as a Palestinian, he will incur lengthy delays and large customs costs should he try and import his equipment from abroad. It is by such means that Israel prevents Palestine redeveloping its once thriving agricultural economy from its wealth of native product species. He adds that "the roads in Palestine are bad so it's difficult to even transport the wine without shaking it up." He would like to take it to Jerusalem, the Galilee, Haifa, and Nazareth, but for now it cannot pass the checkpoints.
Picture by Sari Khoury. All rights reservedHaving sold out of his first vintage of 700 bottles, Sari is apprehensively awaiting this year's harvest. He's not interested in selling the wine in shops but instead wants to work closely with people who he feels understand and capture the spirit of the project. He prefers to develop links with local restaurants, with their food and clientele. "The wine project has been very interesting in the sense that I am trying to make wine but at the same time the wine is making me." Without a Palestinian wine industry, or the infrastructure for it, the future is uncertain, but Sari is enthusiastic. The challenge now is to focus on the quality of the wines and to let the project continue organically. "Every year has it's own story and it's own merits. We try to stay in that spirit."
Read more
Get our weekly email