It's on Vladimirsky Prospekt in St Petersburg – a flat in a five storey building dating from the time of the last Tsar. There's the standard steel door faced in wood, a doormat to wipe your feet, a peephole. The only thing that's different from the other flats in the building is the hidden camera that gives a clearer picture of whoever is on the doorstep. Plus the fact that 50-70 people, sometimes more, and all of them men, wipe their feet on the mat every day. Because this is St Petersburg's largest 'salon for intimate services'.
It's on Vladimirsky Prospekt in St Petersburg – a flat in a five storey building dating from the time of the last Tsar.
There's the standard steel door faced in wood, a doormat to wipe your feet, a peephole. The only thing that's different from the other flats in the building is the hidden camera that gives a clearer picture of whoever is on the doorstep. Plus the fact that 50-70 people, sometimes more, and all of them men, wipe their feet on the mat every day. Because this is St Petersburg's largest 'salon for intimate services'.
Or, as its employees put it more bluntly, brothel.
Ukraine's military conflict and economic crisis are affecting the country's sex workers. Read how these women's lives and concerns are changing, in their own words.
From a bundle of straw to a 'yellow card'
In the old days prostitution in Russia worked in much the same way as it did in other parts of Europe. The authorities and public opinion condemned the trade in human bodies, but were less bothered about stopping it or punishing its perpetrators than they were about other offences. For example, a bundle of straw on a stick outside a house meant that a passerby might avail himself of sexual services there. Clients would recognise the sign, but the police turned a blind eye to this blatant advertising.
By the time of the Bolshevik Revolution, prostitution was regulated, at least in the bigger cities. The women had regular medical examinations and were issued with so-called 'yellow cards', although the police confiscated their ID papers so their movements were restricted. Prostitution as such was not a punishable offence, although pimping was.
The public were generally sympathetic towards prostitutes. We meet them as characters in the work of many major Russian writers - Dostoevsky, Tolstoy, Kuprin, Leskov – where they are treated as the victims of harsh social circumstances. Lev Tolstoy's last novel, 'Resurrection', tells the story of a peasant girl who turns to prostitution after being seduced by a young aristocrat, and is then condemned to hard labour in Siberia on false charges of poisoning a client.
The Bolshevik revolution of 1917 officially put an end to 'the exploitation of man (and woman?) by man'. Prostitutes started talking about their rights and even tried to set up trade unions. The communist authorities, however, refused to accept workers in the oldest profession as members of the working class on a par with seamstresses or weavers. In one incident Lenin sent a telegram to Nizhny Novgorod suggesting that several hundred prostitutes be shot for allegedly getting soldiers drunk on vodka.
At the same time, Revolutionary Russia almost pioneered a sexual revolution, half a century before the West. Young revolutionaries enthusiastically embraced the 'glass of water' theory, which stated that sex was humans' only basic need and should be satisfied as simply and easily as thirst by a glass of water. It would throw the prostitutes out of work, of course, but again, the Bolshevik authorities weren't keen, and Lenin declared that 'our young people have quite lost their minds to this theory'.
It's easier to find a prostitute than a lawyer
There is, of course, no sign on the house on Vladimirsky Prospekt. Clients learn that eight qualified prostitutes await their pleasure on the fifth floor only from the internet and specialised magazines and newspapers. In the 90s and the first years of the new century more than a third of the small ads in free newspapers were for sexual services, but then these were banned and the internet took over.
Now in any large Russian city you only need to visit a few websites to find what you are looking for, whether your needs are simple or rather more upmarket. In Petersburg there's one site that offers the services of prostitutes on just one, not very long, road, Kommendantsky Prospekt, where it's much easier to find a prostitute than a doctor or solicitor. But we're talking about the facility on Vladimirsky Prospekt. The customer chooses a 'girl' and phones her either on her mobile number or through a supervisor. The meeting usually takes place in the 'salon'. Sometimes a client can be visited at home, but that costs twice or three times more and it's not just a question of travelling time, but also the prostitute's safety.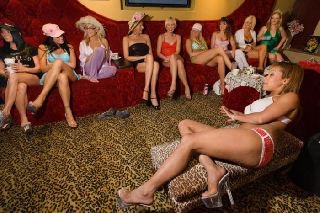 These days, few Russian prostitutes work on the street. Many work in sex salons such as this one whose rooms are traditionally furnished with a large bed, wall mirror and a plasma screen.
The salons take safety seriously. New clients get a thorough look-over on the camera monitors and are refused admission if they seem to be high on something. The client is then met at the door by a supervisor who takes them to the prostitute's room, and if the young woman doesn't measure up in person to her photo on the site, he can choose another.
The salon also offers more specialised services: one room is equipped as a BDSM chamber with a whipping bench, a bondage chair and a small rack. Offering the services of a dominatrix marks a salon out as high class. The rest of the rooms are pretty standard – a large bed and wall mirror and a huge plasma screen. Some of these show erotic movies on a loop, either to help the client get aroused or teach him new tricks.
For particularly sophisticated clients there is a room with a Jacuzzi, and a small bar serving champagne. Customers can also order a video of their fun and games (with the prostitute's face pixilated, of course). An hour long session on Vladimir Prospekt costs between 2,000 and 5,000 roubles (£40-100) depending on the age, qualifications and attractiveness of the sex worker involved. Some have their own list of 'regulars' and know in advance who they will be meeting, but for most it's a lottery.
The salon is run by an older woman, Vera Ivanovna. She sets the prices and deals with the police, but she can't really be called its boss – the salon operates more like a workers' cooperative.
In the USSR prostitutes didn't exist – but they could still be sent to the gulag
According to secret research carried out in the late 1920s, almost 60% of urban Soviet men were using the services of prostitutes.
However, unlike other 'evils' of pre-revolutionary life, such as private enterprise and religion, the Soviet government's battle against prostitution was never publicised and never became the subject of a mass campaign. And as time went on it was thought that at a certain stage in the building of socialism, prostitutes would have given up their trade for something more socially acceptable, such as factory work. When in 1954 the USSR signed up to the UN convention on combating human trafficking and the exploitation of prostitutes, its accompanying declaration stated that 'in the USSR the social pre-requisites for the matters dealt with by the Convention are no longer in existence'. And in one of his popular songs, the Soviet Union's most famous singer-songwriter Vladimir Vysotsky tells us how a working man, about to go on a work trip abroad, is instructed by a Party apparatchik to particularly beware of prostitutes out to spy on him, and to tell them that 'we got rid of that kind of thing long ago'.
So as prostitution didn't exist, no one could be prosecuted for it. But the lifestyle of a 'fille de joie' made it difficult to hold down a conventional job, so in the 30s and 40s she could be prosecuted for 'parasitism' and exiled from her city or sent to a special prison camp. 'You'll be sent off to fell trees', was the usual threat of police officers to women they caught soliciting. There was also a popular rhyme about a girl who worked in a gold mine in the gulag and owed her survival to granting the guards sexual favours. In the 50s and 60s, post-Stalin and supposedly post-gulag decades, residence controls could be used against women caught working as prostitutes, forcing them out of the large cities.
The Soviet government continued its anti-prostitution campaign up to the end, but it had no support from the public. In the first place, it was again very low-key compared with the high profile campaigns of the time against the Church, currency speculation, hooliganism and alcoholism. Only a very clued-up newspaper reader, reading a court report, would guess that a given woman had been prosecuted not just for parasitism and a weakness for wine. And in the second place, the public had no particular problem with prostitution: women were more critical of other women who 'stole' men from their families and married them. A husband having a quick fling with a hooker on holiday was a minor and forgivable sin.
Prostitutes were the subject of jokes, and myths about their high earnings, and there were, of course, no brothels. A man looking for sexual services could find them in a few cafes - or at railway stations. Taking a bunch of keys from his pocket and jingling them around would be a signal to a prostitute that he had a room or a flat he could take her back to – a rare enough thing at the time, given cramped Soviet living conditions.
Each city had its known places where prostitutes could pick up punters. In Leningrad, for example, one of them was the tram stop next to the 'Officers' House' on Liteiny Prospekt (and only two stops away from the 'Big House', the city's KGB headquarters). There was even an expression, 'a Liteiny girl', and a phrase reportedly repeated by 'decent' women: 'That's not what I am; I'm just waiting for the tram'.
There was also a separate category of prostitutes, the 'intergirls' who worked in hotels for foreign tourists and accepted payment only in foreign currencies. Women who worked in ordinary hotels and at stations often had protection from the local police, but those in the luxury hotels were under the wing of the KGB.
There was also, of course, the lowest caste of prostitute – those who serviced long distance truck drivers in the cabins of their vehicles, sometimes just for food and a free lift.
'The most valuable thing in the flat is me'
Marina is thirty. She was born in Vologda Province, in north eastern Russia, and came to St Petersburg for her university studies. But she never graduated, having found a new profession during her course. She started by just meeting young men in nightclubs and sleeping with them for cash, and then she realised that this was the career for her.
Marina is a tall, well-built blonde with a slightly enigmatic look; she is intelligent and sensible. For a while she shared a flat with another young woman doing the same kind of work, but after her friend was badly beaten up by a client she started working at a 'salon'. She earns less than she would as a freelance, but it's regular work and it's safe.
Half of the prostitutes in Russia's major cities work on their own. They have their own safety rules and often offer services which aren't available in salons.
In fact at least half the prostitutes in Moscow and other major cities work on their own, as so-called 'individuals', and often emphasise this in their online ads, believing that many clients prefer to avoid the sexual conveyer belt of the salons. And 'individuals' offer services, such as unprotected sex, which are often unavailable in the salons. They also have their own safety rules: they work in pairs, and only see one client at a time. Often a friendly cop or Mafioso provides them with protection – a 'roof', as it's known in Russian. And some end their online ad with the words, 'And thieves – forget it. The most valuable thing in the flat is me'.
Brothels of course can also be victims of robbery. Local criminals usually leave them alone – with their friendly police 'minders' it's too big a risk. But there are travelling gangs who will do two or three successful jobs in one city and then move on to the next. They are often people from the Caucasus: the salons refuse them as customers, but they hire an ethnic Russian accomplice who gets in and then opens the door to the others.
Ban, legalise – or ignore?
The early 90s, immediately after the collapse of the USSR, saw a real boom in prostitution in Russia. This was highlighted by the writer Vladimin Kunin's novel 'Intergirl: a hard currency hooker', about the adventures of a young prostitute working for foreign clients. But it was also a dangerous time for both prostitutes and their customers. On the one hand, criminal gangs would hire a woman and organise an 'orgy' – in other words a gang rape. On the other, there were prostitutes who would slip a customer a Mickey Finn and rob him. It was not the best of times for the general public either: criminal gangs would attack ordinary young women, taking them for prostitutes who wouldn't pay protection money, and hotel guests were prevented from sleeping by constant phone calls from hookers asking, 'Would you like a good time?'
And while in Soviet times prostitutes tried not to advertise their services independently, in the 90s some streets in the large cities turned into a living exhibition of their wares. In Moscow their initial haunt was the historic Tverskaya Street (Gorky Street in the Soviet period), running from the Kremlin past the City Hall, but after the politicians complained the police moved the hookers on and they relocated to Bersenevskaya Embankment, beside the Moscow River.
These days very few prostitutes actually work the streets – what's the point when you've got the internet? And anyway most of them realise that they'll never become 'intergirls', sipping wine with foreigners under the watchful eye of an FSB officer. Marina from Vologda, who chose prostitution as a career, is a pretty rare exception to the rule. Many prostitutes are simply young women who wanted to work in a big city and have ended up literally as sexual slaves.
As soon as it was admitted that prostitution existed in Russia, both parliament and the public began to discuss what to do about it. Some politicians (the most prominent being Vladimir Zhirinovsky, the controversial leader of the Liberal Democratic Party) have argued that it should be legalised. Others, especially the Communists, take the opposite view, and believe it should be criminalised. But all this talk is likely to remain just talk. None of today's politicians, not even Zhirinovsky, are going to push for the legalization of prostitution, but it's also clear that even a totalitarian government won't be able to get rid of it.
Russian cities will never have a red light district, but there will always be flats where lonely men will find sexual comforts. There always were, and probably always will be.
Read more
Get our weekly email