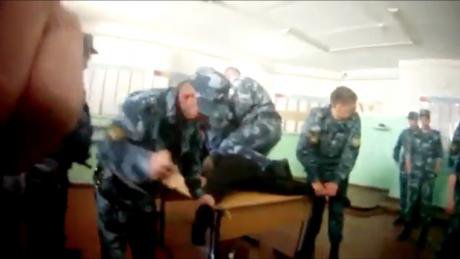 Russian independent newspaper recently released footage of how Evgeny Makarov, a prisoner in Yaroslavl Colony No 1, was brutally tortured in June 2017. Source: Novaya Gazeta.
Everyone knows that torture is an everyday occurrence in Russia's prison system. Even the UN. But while domestic and international organisations write about torture cases in their reports, it seems that no one can take any concrete action to solve this problem.
In 2010, a number of staff members at Prison Colony No 1 in the Urals town of Kopeisk, outside of Chelyabinsk, found themselves in the dock. They included the regional prison service director, Vladimir Zhidkov, and were accused of beating four prisoners to death – provoking a prison riot to cover up these murders in the aftermath. On the orders of the regional prison service management, evidence of these murders was destroyed; prison officers tore their uniforms, faked injuries to themselves, photographing and drawing up reports on these "injuries" in the process. These fake documents on this "prison riot" were sent to Russia's central prison service management in Moscow.
Some two years later, Denis Mekhanov, the head of the same town's Colony No.6, was also convicted – in this case of extortion. The world found out about Mekhanov's crime after inmates held a protest action over the torture and inhuman treatment taking place there. The prisoners were later punished by having long extra stretches added to their sentences, while the colony boss was later amnestied.
Today, Russia has been shaken again by news of torture in its prison system – this time in Yaroslavl Colony No 1. Immediately afterwards, the Metallurgichesky district court in Chelyabinsk, one of the country's largest cities, held a closed session to try a number of prison officers accused of the 2015 beating and killing of a Chechen inmate, Sultan Israilov. Back then, 500 detainees went on hunger strike in demand of a proper investigation into Israilov's death.
21 December 2015: prison officers at Chelyabinsk Prison Colony No 2 take Sultan Israilov to a punishment cell. Source: ADV-TV.
Human rights campaigners and legal experts believe that the Chelyabinsk trial is a farce, an attempt by the penitential system to defend itself from public opprobrium inside and outside Russia over the torture practices embedded in the system for decades – and to call attention to the fact that the perpetrators will yet again get off scot free.
In July 2017, Russia's Investigative Committee completed their investigation into the death of Sultan Israilov at Chelyabinsk's Colony No.2. According to their findings, on 21 December 2015, prison officers Vladimir Malinin, Alekcandr Dontsov and Viktor Podkorytov beat up inmate Sultan Israilov in a punishment cell. They then faked his suicide, leaving him to die a slow death by hanging him from the cell window.
This case involves a second victim, another prisoner by the name of Andrey Chernikov, who was also beaten up by Dontsov, Podkorytov and another warder, Viktor Zaviyalov. Evidently Israilov tried to protect Chernikov after he was beaten up: the court papers say that the prison officers beat Israilov, who was handcuffed, with a rubber truncheon and then tied one end of a scarf to a high window bar and the other end round his neck.
Prisoner Anzor Mamayev, a witness at the trial, was afterwards transferred to Prison Colony No.7 in Karelia, where he and another inmate, political prisoner Ildar Dadin, would later report their experience of torture in November 2016. Mamayev later asked human rights lawyers who were trying to defend him to stop assisting him, saying he was fine and could look after himself. Another prosecution witness was prison officer Vladimir Zorin, who worked at Colony No.2, and whose truncheon was used to beat the victims. Immediately after giving detectives evidence against the officers, Zorin was found hanged.
Anzor Mamayev. Source: Oksana Trufanova.
"He gave evidence against the two prison guards, confirmed that they had actually entered Israilov's punishment cell," lawyer Andrey Lepekhin told MediaZona, a website focusing on Russia's justice system. "The three of them took Israilov into the cell, Zorin went out again and the other two stayed inside. He doesn't know what they did there, but then they found Israilov's body."
All the officers accused of killing Israilov and beating Chernikov were released on bail, on written agreements that they would not leave the region. Today they visit the courthouse on their own steam, sitting in the corridor next to the victims' lawyers.
"You should see how brazen they are," says Dmitry Gromovoy, an ex-inmate of the same colony who has attended the trial as an observer. "They laugh in our faces, as though they know they won't be found guilty."
Immediately after his own release, Gromovoy decided to help Andrey Chernikov and represent him in court, but the court refused him entry, saying that he wasn't a professional defence lawyer. In fact, Russian law has nothing to say about reasons for refusing entry to a representative. The very next day, the court sessions were closed to journalists and observers.
"On 23 July 2018, the lawyer for one of the defendants requested that the court proceedings be closed to all visitors, because of the widespread negative feedback on social media," Chernikov's lawyer Anna Dunayeva tells me. "It seems that Judge Sirotin has taken the function of defence lawyer on himself, although he should be impartial. He claimed that the case should be tried in camera because the accused and their families might be in danger, given the active discussion around it online."
So, for the moment not even members of the press can enter the courtroom in this Chelyabinsk district court. Kheda Saratova, a member of Chechnya's Human Rights Council, is also dissatisfied with the judge's decision.
"When this terrible crime was committed, I personally went to see the Prison Service deputy director Anatoly Rudoy, who assured me that the guilty men would be punished and the investigation would be thorough," she says. "But now we see them at liberty, arriving at court on their own two feet while Sultan Israilov, whom they mercilessly tortured, is dead. People who have been arrested on mere hooliganism charges are left for years in pre-trial detention, whereas here prison officers accused of abusing their authority with force get away with just a travel ban… And this inexplicable court secrecy is also worrying. But everyone needs to realise that we won't let the case be dropped. We'll shout it from the rooftops."
Today, making the fact of torture in Russia's prison systems public – even at the international level – doesn't necessarily lead to results. On 25 July, the Russian Federation once again reported on its fulfilment of international obligations via the UN Convention Against Torture. The UN Committee Against Torture stated that the Russian delegation did not answer all the committee's questions, and does not use good quality statistics on the number of violations.
The fight against torture is focused on closed trials. The tendency to arbitrarily hold trials in camera can lead not only to perpetrators being judged not guilty, but to even more dangerous repercussions. Any judge naturally feels more at home without observers and dictaphones: they can then just mutter another platitude about "legality and well-founded judgements", as a colleague at the Agora international human rights association recently remarked. Many members of Russia's human rights community agree that the country's uniformed and robed mafia will remain untouchable for the foreseeable future.
Read more
Get our weekly email