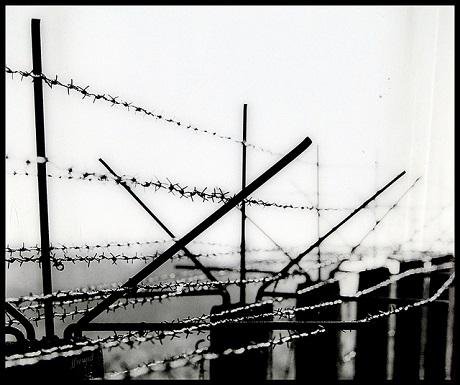 Flickr/ Jackfre2.Some rights reserved.
World War Two prisoners of war were often half starved having to live on as little as 1,100 calories a day and were lucky to get some horse meat to eat with their bread. In the periods where the rations given to the prisoners were exceptionally low, they would all share their food with each other regardless of how hungry they were.  You might then be forgiven for thinking that after the war such prisoners would welcome a return to the land of capitalism where men can eat as much as they want and not have to share with anyone. However, that is not what happened with William Ash an American World War Two Spitfire Pilot and the man who became the inspiration for the Steve McQueen character in The Great Escape nicknamed the Cooler King.
William Ash grew up in Texas during the Depression, the son of a travelling salesman who, through no fault of his own, never seemed to hang on to a job. Money was always tight, sometimes non-existent. He was forced to work almost as soon as he could walk. He paid his own way through university only to find it impossible to get a foot on the rung of a proper career. In the end, Hitler chose his future for him. Unlike most of his fellow Texans he had followed events in Europe closely, and was determined to join the fight against Fascism as soon as he could. Long before the United States entered the war he headed north to join the Royal Canadian Air Force, renouncing his American citizenship in the process. He was posted to Britain and was flying Spitfires with 411 Squadron when his career came to an abrupt end, shot down by a swarm of Focke-Wulf 190 fighters when returning from a raid on the town of Comines, which lay on the Franco-Belgian border.
After crash-landing his Spitfire in a field close to the church in the village of Vieille-Église in the flat lands of the Pas-de-Calais, he spent several days wandering the countryside avoiding German patrols before being rescued by a French family who passed him on to a resistance network. He was taken to Paris where he spent a few weeks in hiding. Then one morning, he was woken by the sound of the door being kicked in. He was dragged off for interrogation by the Gestapo, who, after getting nothing from him, announced their intention to shoot him as a spy. The Luftwaffe somehow learned he was in the hands of the Gestapo. Air-force pride demanded the prisoner be handed over to them. The Gestapo reluctantly handed him over. He was then sent to the prisoner of war camp called Stalag Luft III.
Ash spent the rest of the war being shuttled among various prisoner of war camps. He went on to plan many daring escapes. In one, he attempted a breakout via a tunnel dug in the latrines of the Oflag XXIB prison camp in Poland. In another, he and a fellow prisoner hid in a drain in the camp showers. He even attempted a new type of tunnelling that was nicknamed 'mole tunnelling'. Instead of excavating the dirt as they dug, they passed it along behind themselves sealing the tunnel behind them as they went. This special tunnel required bore holes to be made in its ceiling to prevent suffocation. The amount of time that men could work in such conditions was limited. A mole tunnel would also have to be a rapidly executed "blitz" tunnel – started close enough to the camp wire to make the feat possible. Despite his multiple escape attempts ironically, when the escape featured in the film, Bill couldn't take part as he was in the cooler.
Ash had always had a left-wing outlook. Growing up in fiercely patriotic Texas, steeped in a tradition of red-blooded capitalism, such views were considered at best eccentric, at worst akin to treason. In a modern, forward-looking service like the RAF, there were plenty of young men of progressive views. Bill was unusual in the depth and sincerity of his commitment, not just to socialism but to something more radical. That was to set him apart from some of his fellow prisoners, especially those whose ration trading activities he considered little more than racketeering. The more time he spent as a prisoner, the more his politics became 'wilder and redder'. Many years later he would remember how 'whenever things got bad for us like on the march, everybody would become socialists. They helped each other. If anybody had any food at all they were sharing it with everybody else.' In times of plenty, though, the reverse happened, and entrepreneurial prisoners traded Red Cross parcel items to benefit themselves. Bill knew which system he preferred.
Bill was also greatly influenced by the sight of the less fortunate Russian prisoners of war. His travels around occupied Europe had given him plenty of exposure to the realities of fascist rule. When at Schubin prison camp, he was moved by the sight of the Russian prisoners who were used as slave labour around the camp, fed a quarter of the rations that were given to the other prisoners and literally worked to death. He learned that when one of them died, the others would hide the body for as long as possible in order to keep getting his bread ration.
He returned to Britain in the late 1950s and later applied to join the British Communist Party, but was rejected for being 'too quirky and individualistic'. Eventually, he co-founded a breakaway organization, the Marxist–Leninist Communist Party of Britain. Many of his fellow prisoners seemed to share a desire to build a better world after the war. Before it, Roger Bushell had lived a privileged life and seemed to share the assumptions and prejudices of the upper-class circles he moved in. The war changed him. By the time of his death, he had developed a radical streak. At one of the camp's mock parliamentary debates he had taken the role of a Labour Party leader and announced the nationalization of all the country's major industries. Tom Kirby-Green, who had grown up as the son of a colonial civil servant, wanted to dismantle the British Empire.
After the war having lost his American citizenship on joining up with the Canadian air force, he became a British subject. He married Patricia Rimbaud, a beautiful Wren whose affections he had nurtured in monthly letters from the camps, and in time they had a daughter, Juliet, and a son, Francis. He won a place at Balliol College Oxford, to study Politics, Philosophy and Economics, rubbing shoulders with the bright new generation of budding politicians, academics, and journalists. After graduating, he joined the BBC's External Services and before long was sent as BBC correspondent to India and Pakistan, just as they took their first steps as independent nations. The job perfectly suited his talents and sympathies. Freedom was in the air, and with it the aspiration to build a modern, equitable society. He admired the Indian leader Jawaharlal Nehru as a fellow socialist and the two became friends. His relationship with the BBC; however, didn't last as his employers grew increasingly disturbed by his Marxist views. His Marriage to Patricia also failed, but he got married again to a left-wing academic called Ranjana Sidhanta, and was also reemployed by BBC as a freelance script reader in the drama department. 
William Ash never lost the innocence that he carried with him since his earliest days as a wide-eyed boy in Texas, seeking adventures wherever they might pop up.
He died in London on 26 April 2014. He did not believe in God but he believed in the goodness of man, despite all the evidence he had witnessed to the contrary in his ninety-six years of life. His prisoner-of-war experiences convinced him there was a noble side to everyone, which would flourish if only it was allowed to. It was the great paradox of war. Conflict assuredly brought out the worst in mankind. But it brought out the best as well. 'In peacetime we only tend to see the differences,' he wrote, 'not realizing that what united us then is still there now'.
Patrick Bishop's The Cooler King: The True Story of William Ash, Spitfire Pilot, PoW and WW2's Greatest Escaper(Atlantic) Is available now in all good bookstores.
Read more
Get our weekly email