As some conventions might suggest, political parties and the state have, for quite some time, considered themselves to reign supreme over South Africa's youth. This might be changing as the youth demographic has become diverse; in politics, attitudes (as polls show), ideas, youth culture and so on. In their new era of enlightenment, the youth are growing independent of the state. However, as we will discover, this group (aged 14-35) remain ambivalent and, for that reason, they will need to fix their relationship with the political establishment. 
With the 2014 general election approaching, the country is thought to be falling short on youth political participation, particularly in chambers of power. The most youthful and perhaps best recognized face in South Africa's parliament, might be that of the Democratic Alliance's (DA) parliamentary leader, Lindiwe Mazibuko. Unfortunately, her influence and political status have not really attracted a solid base of support among many of South Africa's young, who are outside the corridors of parliament. In light of imminent elections, Ms. Mazibuko will need to address perceptions of her and her party.
One very common perception is that of the DA as a "white" or "apartheid" party. Consequently, the deficit has been filled by a charismatic and youth-popular former African National Congress Youth League's firebrand leader, Julius Malema, who has just re-emerged with a recently registered political party of his own, the Economic Freedom Fighters (EFF). According to some recent polls, the EFF is seen as the favoured alternative for many African youths. Such backing presents a strong case for the EFF to declare their electoral run in the 2014 poll, as they continue to grow in popularity, particularly among this group. 
Julius Malema pays a visit to Nelson Mandelas home in Houghton, December 2013/Demotix/Antonella Ragazzoni/All rights reserved
First, and perhaps the most delicate area of concern, is the state-youth relationship. Unfortunately, post-apartheid South Africa's so called "born free(s)" youth, are not that free of problems and challenges. Yes, a few do prosper, but a much bigger number continue to encounter serious challenges such as high unemployment and other social ills, leading to friction between the country's youth and its state. If left unattended, these challenges could pose major roadblocks for South Africa's way forward. Youth attitudes towards the state and its institutions, appear to be complicated, resulting in what we might identify as a state-youth wedge issue. 
A growing number of the youth are now politically self-sustaining – a surprising but well understood and vibrant shift that is, albeit slowly, now pulling away from the state and the African National Congress (ANC). While it is too early to tell, preliminary signs would suggest the newly formed EFF to be seriously attracting this disgruntled youths' vote. The movement will be interesting to watch, as it will also reveal what proportion of South Africa's youth does indeed favour a far-left political ideology, or whether the current shift is merely one of political convenience, popular politics, or indeed one that is reflective of everyday struggles.
EFF supporters at Nelson Mandela's home, December 2013/Demotix/Antonella Ragazzoni/All rights reserved
Moreover, the governing ANC might still sway the young vote their way; through policy changes and accommodations, perhaps. However, the youth's continuing path to self-sustainability cannot be taken lightly. The failure of the state to address at least some youth grievances could ignite a swing vote. Yes, they are that powerful. It must be remembered that it was the youth, led by Julius Malema, who helped oust Mr. Thabo Mbeki from office, propelling Mr. Jacob Zuma's presidential victory. This is a reminder that the young do indeed have political capital. The question is, how damaged is the youth-state relationship at this moment in time? According to one youth survey, President Zuma remains a trusted possessor of "good qualities" and as such implies the possibility that appeasing policy diversions could bring Mr. Zuma's party the youth vote.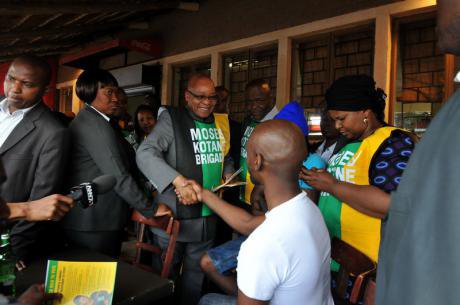 Protests as South African President Jacob Zuma goes on election campaign, June 2013/Demotix/Ihsaan Haffejee/All rights reserved
Finally, some might ask, what has the government delivered to South Africa's youth, so far? Despite some criticism, the government has, for example, through its National Youth Development Agency, invested millions (R392 million for 2013-2014) in youth development. Notwithstanding this fact, other pressing issues such as the persisting high youth unemployment might explain the disgruntled youth movement – away from the state and the ANC. Perhaps the challenge for president Zuma then, will be the weighing of youth voter appeasement against his currently active and preferred state policies. With the trust shortfall so noticeable, it remains to be seen if the state will win any of the youth's confidence back.
Meanwhile, self-sustenance, in the absence/presence of the state, would also seem logical, particularly for a struggling upcoming generation. It is the responsibility of the youth to gather and compile their own building blocks to assist them in paving their own way. While the state might be criticized for some of its actions or policies, they have delivered in other areas. Some criticism has also been levelled against the youth. For example, a disturbing government report revealed that South Africa's youth might not be as keen, on sexual health matters, as they should be. According to the report, an estimated 94,000 (in 2011) teenaged students were pregnant. Clearly, under these circumstances, we see government action on the one hand, and youth inaction, on the other. Of course, it is up to the youth not only to collect those building blocks, but conduct their lives responsibly also; especially when aspiring to self-sustain. President Barack Obama, on his recent visit to South Africa, also placed emphasis on a youth with vision. A youth vision shall not only require independence but self-discipline too. 
Picture of the dead Hector Pieterson (Hector Pieterson Memorial in Soweto)/Creative Commons Attribution Share Alike 3.0 Unported
As revealed, the relationship between the state and youth is complex. It is incumbent upon both sides to find a way forward. However, with all signs and projections considered, it is only this spring's election that will truly help clarify what each side's role, within a democratic South Africa, ought to encompass. Whether the state will cow-tow to youth demands, or the youth will survive on the hope that things will get better, remains to be seen. What is clear, so far, is that both the state and youth hold the keys. 
Above all, South Africa does have the resources, tools and knowledge, which allow the fixing of such breakdown. Questions do also remain: will the youth emerge to vote en masse? Will the EFF emerge victorious and claim parliamentary space, or consequentially buttress ANC power? It is hard to say. Historically, South Africa's youth has defied widely held conventions and trepidations, choosing instead to claim their own path into their future. The need for both the state and youth to work together is highly evident. Of course it is political season in South Africa which might slow things down a bit. Nonetheless, plenty of work remains to be done on the state-youth relationship breakdown.
Read more
Get our weekly email