Ukrainian refugees need security. EU's temporary protection can't give it
I'm an immigrant as well as a researcher, so I know well why the EU's emergency response scheme isn't as generous as it looks
11 March 2022, 1.12pm
Do you want to carry a temporary identity card in your pocket, live in temporary housing, or work on a temporary contract? Permanent insecurity is what that means: I know this both as an immigrant and as a researcher into the experiences of Syrian refugees living in Turkey, Jordan and Lebanon.
European countries – overwhelmingly Poland – have accepted millions of displaced Ukrainians in the past two weeks. It's a genuine, timely and much-needed humanitarian response and gesture of solidarity. On 4 March, the European Council (EC) agreed unanimously to introduce temporary protection for the masses fleeing the war.
This scheme has its legal basis in the 2001 Temporary Protection directive, drawn up in the aftermath of the Balkans conflicts of the 1990s to prepare an emergency response when a large number of asylum claims make individual processing under the 1951 Refugee Convention impossible.
First, the good news: temporary protection will give Ukrainians the right to stay for one to three years in an EU member state and get work, plus access to education, housing and medical assistance.
A weekly summary of our latest stories about the post-Soviet world.
It is wise that the EU quickly decided to grant a group-based legal status to Ukrainians. It means that member states will not ask each individual Ukrainian to undergo a lengthy asylum process. The temporary protection decision will bind all member states, providing harmonised rights while also impeding potential resistance from members or divergent categorisations regarding Ukrainians. It may also alleviate potential pressure on national asylum-processing systems. The temporary protection system is just what Ukrainians need right now.
Now the bad news: we don't know when this temporary protection will end. We don't know whether people will be sent back to Ukraine or allowed to stay permanently in their host country. The best we can do is to look at what has happened when this temporary protection instrument has been used before.
Related story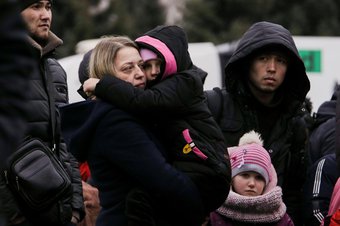 9 March 2022 | Adam Bychawski
TLSContact had 'sole focus' of making money while 'human aspect' was 'not at all valued', Home Office watchdog was told last year
EC-funded research on the mass-migration processes of nine European countries between 2015 and 2020 shows that after the so-called European refugee crisis of 2015 temporary protection mechanisms replaced permanent schemes. The same happened in Turkey. In 2014, it copied the EU temporary protection directive in its own national asylum legislation. That allowed it to identify almost 3.6 million Syrians who had arrived in the country since 2011 as beneficiaries of temporary protection. This insecure status became a crucial aspect of the country's official response to Syrian mass migration. To be fair, as the largest refugee-hosting and transit country, it shoulders an important responsibility – as Poland is doing now.
But for asylum seekers, temporary protection status makes a huge difference. It means they live with constant ambiguity about their future and it makes for challenging encounters with local people and officials of the hosting state. Temporary protection means that migrants live under the constant fear of repatriation when the host state – or the EC – decides the country of origin has become safe and secure.
European states also used a temporary protection regime in the 1990s, during the Balkan refugee crisis that followed the outbreak of war in the former Yugoslavia. Some 3.2 million people were displaced within and outside the former state's borders. European governments offered temporary protection to Bosnian refugees between 1992 and 1995, and Kosovan refugees in 1999. In 1997, however, Germany lifted this temporary protection status and repatriated 300,000 people to Bosnia, even though the United Nations High Commissioner for Refugees said that conditions were not right for return. Other countries followed, resulting in the return of 700,000 people overall to Bosnia.
Repatriation of Kosovans was even faster. By the summer of 2000, a total of 841,000 of the asylum seekers residing in the region and EU member states had been returned to Kosovo. However, research shows that the returns of Bosnians and Kosovans have not been sustainable: they often resulted in people re-migrating or having to move home within the country.
What we have learned from past use of temporary protection schemes is that they serve the interests of the host states, not those of the people fleeing danger. Temporary protection makes it easier for states to repatriate asylum seekers because they do not grant refugee status and do not commit to hosting or integrating asylum seekers permanently.
Unfortunately, the war in Ukraine is likely to become a proxy war like those in Syria and Libya. Long-term instability will probably mean that Ukrainians will continue to flee their homes in large numbers, just as Syrians, Afghans and Bosnians have done. Temporary protection is not the right scheme in the medium to long term. To avoid protracted displacement we need to create a sense of permanency for all displaced Ukrainians. This requires – immediately – thinking beyond the current three-year horizon.
Read more
Get our weekly email