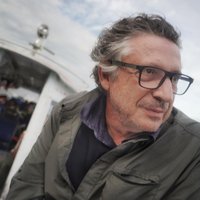 Francesc Badia i Dalmases is a Mexican journalist, a film producer, and the founder and director of democraciaAbierta, the Latin American associate section of openDemocracy.net, London. A political analyst, author, and publisher, Francesc specializes in geopolitics and international affairs. Francesc is a regular contributor to international newspapers like El País or The Guardian, a Pulitzer Center grantee, and was awarded the prestigious Gabo Prize in 2021 for his work in the Amazon.
Follow him on Twitter: @fbadiad
Instagram: francescbadiaidalmases3
Francesc Badia i Dalmases es periodista, productor cinematográfico, y es el fundador y director de democraciaAbierta, la sección latinoamericana aficiada a opendemocracu.net. Francesc es también analista político, escritor y editor, especializado en geopolítica y asuntos internacionales. Francesc publica regularmente en medios internacionales como El País o The Guardian, es Pulitzer grantee y recibió el prestigioso Premio Gabo en 2021 por sus trabajos en la Amazonía.
Síguelo en Twitter: @fbadiad
Instagram: francescbadiaidalmases3