Long read: How the Nordic model in France changed everything for sex workers
In 2019, 10 sex workers were killed in France in the span of six months. Critics say that the Nordic model and its criminalisation of clients is to blame. Here's why.
16 October 2020, 5.00am
In August 2018, Vanesa Campos died staring into the barrel of a police officer's gun.
But it wasn't the officer himself who killed her in the heart of Paris' Bois de Boulogne – a large public park on the outskirts of the city and one of France's most famous sites for sex work. A few nights before, his car was broken into in the same area. His gun – stolen by a group of men. A few nights later, that group of men, who now had the gun, decided to get some quick cash by robbing someone in the woods. They knew of Bois de Boulogne's reputation, and they likely assumed that lots of sex buyers would be walking around in the dark, alone, with cash on them. So they went there. When they came upon Campos and a client they struck. Campos called for help and tried to intervene. One of the men pulled the trigger.
The chain of events that led up to Campos's death opens up a host of questions. First and foremost: why has a dark and remote wooded area on the outskirts of the city become one of the centres of the Parisian sex trade? According to Thierry Schaffauser, a French sex worker and spokesperson for French sex workers' union STRASS, the answer is starkly clear. "When Vanesa Campos was murdered, we made a lot of noise because to us, it was so obvious that her death was due to the law."
The Law of April 2016 is the country's Nordic model-inspired framework for dealing with prostitution (This article uses both 'sex work' and 'prostitution' as specific terminologies. 'Prostitution' is only used to reflect the ideological position taken by governments and abolitionist feminists). Its key elements are a nation-wide 'exit programme' to help people stop selling sex, its continuation of France's well-established anti-pimping law, and its criminalisation of the purchase of sex. According to Schaffauser the last of these is the reason why Campos was working in a place where she could easily be killed. "She had to work in a part of the forest that has no light and is very remote," he explained. While sex work has taken place at the Bois de Boulogne for decades, it used to primarily occur on the outskirts of the woods –closer to other sex workers and roads full of light. "This is a place where nobody would go before the law, because it's known to be dangerous."
When Campos died, many European countries paid attention to her murder. France didn't. Despite the European sex worker community's outrage and the clear line they drew between the law and her murder, only one French politician even bothered to comment. The dynamic remains the same today, even though the situation has drastically escalated in the intervening two years.
In the six months between June and December 2019 at least 10 sex workers were killed in France. That's double the already startling rate of one sex worker death per month that France had in 2014, two years before the law was introduced. Schaffauser said that he has never seen such an egregious increase in violence like this throughout his entire career as a sex worker and activist. He blames the law, as do the majority of France's sex workers, multiple healthcare associations, and influential NGOs like Médecins du Monde. Yet no politican has publicly commented on the recent rise in sex worker mortalities.
In June 2020 the government published the Evaluation of the Law of April 2016, the first official assessment of the legislation since it was implemented four years ago. A beast of a report at 238 pages, it covers everything from administrative issues inhibiting effectiveness to the need to better protect minors from prostitution. But not a single page in this long-awaited report addresses the violence that sex workers have experienced since the law arrived. In fact, it doesn't mention how the law has affected sex workers at all. "The government interviewed our associations for the report, but nothing we said made it into the final result," said Sarah-Marie Maffesoli, a lawyer and sex workers' rights project leader at Médecins du Monde. "It's like we don't even exist." Indeed, the report's list of sources shows that its authors had a clear preference for speaking with anti-prostitution organisations during the research process. Of the twenty associations interviewed, fourteen are overtly abolitionist while only six are anti-abolitionist or more evasive in their positioning.
The French government's continuing commitment to the Nordic model falls in line with a global trend. Despite ample evidence that the Nordic model and increased violence against sex workers are correlated, sex workers and their allies are failing to convince the model's supporters of its faults. Why is that? And what have been the consequences of that failure for sex workers?
To find out, I interviewed five people who have followed this from the beginning – people who experienced the transition and witnessed the havoc it wrought amongst the community. These include a current French sex worker and activist, a former French sex worker with ample experience working before the law, an undocumented sex worker, a lawyer and sex workers' rights researcher, and the head of a grassroots organisation supporting trans sex workers.
Each of the people I spoke with had their own burning qualms with the law, as well as unique experiences in trying to navigate it. Some emphasised that the more the evidence mounts that the law harms sex workers, the more it's disregarded by the French government. Others struggle with the lack of federal interest in compiling data about sex workers' lived experiences, and what they see as the government's manipulation of existing research to prove an abolitionist point. But overall, a clear red thread exists between them. Together, the people I spoke to painted a picture of a piece of legislation oriented towards a single goal: looking like it's stopping prostitution, no matter the human costs.
How did we get here? From regulation to neo-abolitionism
First: a history lesson. In the early years of the twentieth century, France took a regulationist approach to prostitution. Sex workers were monitored by the state through mandatory medical checks, and the country tried to confine sex work to the more controllable quarters of indoor brothels. The Marthe Richard law, passed in 1946, signalled a change in approach: it closed 1400 brothels in a matter of months and created prevention and 'social rehabilitation' services for sex workers in large French cities. As a result sex work in France largely moved into the streets, but some enterprising sex workers sought to find creative ways around the law instead. A cat and mouse game had begun.
"After the Marthe Richard law, sex workers decided to buy studios in buildings on the streets," Anne (name changed) said. Anne is a French citizen who worked as a sex worker from 2002 to 2018, and who has been part of the activist scene in Paris for most of the past decade. "On [Rue Saint Denis] there are a few buildings with four/five floors. Those are entirely occupied by sex workers," she said. "Twenty years ago, in the building where I used to work, we were all sex workers. We owned the building."
But despite the continued presence of sex workers both in buildings and on the streets, social attitudes towards the industry began to change following the passage of the Marthe Richard law. The impluse to regulate prostitution had come from the idea that prostitutes are 'social deviants' who must be closely watched and dissuaded from their worst impulses. Abolitionist thinking, meanwhile, argued that prostitutes are victims of the violence inherent in their work, and that they must be saved and rehabilitated into 'normal' society. Abolitionists are also closely tied with a particular strain of feminism – one which views prostitution as "inherently abusive", and considers selling your body as one of the greatest enablers of misogyny and patriarchy in society. And it was this line of argument that was on the rise in France.
In 1956, the French government made soliciting on the street a misdemeanour. Four years later, the country ratified the United Nations Convention for the Suppression of the Traffic in Persons and the Exploitation of the Prostitution of Others. That year all state and medical records related to prostitution were deleted. More preventative programmes were created and the regulation of prostitution was prohibited. By the 1970s, sex workers were regularly being fined for soliciting customers; and in 1975, the country passed a law in which sex workers with repeated soliciting offenses could face prison time.
Yet despite the increasing strictures around sex work it remained legal – the buying and selling of sex were never explicitly unauthorised. In fact, until the 1990s the only officially criminalised aspect of prostitution was pimping, or profiting off of sex work as a third party – something that remains under the law that's in place today. This 'gray zone' created confusion, even for lawyers: simultaneously ignored by the law yet fought against by abolition, prostitution had no clear legal status.
In 1994, the country criminalised active solicitation of customers by sex workers. Then, in 2003, France passed a new Law for National Security (colloquially known as the Sarkozy Law after the former French president Nicolas Sarkozy), which criminalised passive soliciting as well as the procuring, trafficking and buying of sex from a prostitute of "particular vulnerability". Few sentences were issued under the Sarkozy law, but many people were arrested and held in custody. Under this policy of "institutionalised harassment", as the French Ligue des Droits de L'Homme called it, if someone was caught soliciting they could go to prison for up to two months and be fined €3750.
Anecdotal evidence from sex workers demonstrates that, even as the government made the environment around sex work more repressive, people continued to sell sex. The anti-soliciting law had failed to end prostitution. So, in 2011, the French National Assembly signaled a second shift in strategy by adopting a resolution that confirmed the country's neo-abolitionist position on prostitution. The subsequent law took over four years to draft, and in April 2016 it was finally passed.
The Law of April 2016 did the following:
Repealed the anti-solicitation clause of the Law for National Security

Criminalised the purchase of sex. First-time offenders are fined €1500, while repeat offenders are fined €3750.

Created a nationwide 'exit programme' for prostitution, administered by abolitionist organisations. Sex workers can, under certain conditions, apply for this programme; if they are approved they can obtain temporary residence permits.

Strengthened France's commitment to fighting human trafficking.

Continued the criminalisation of pimping, or profiting off of sex work as a third party.

Introduced a fight against the 'glamorisation' of prostitution under the premise that this targets young people and lures them into the industry.
"After the law the money stopped coming. I'd have two clients a day, I'd earn enough to live, but my wish is not to live – my wish, just like everyone else's, is to have a good life."
On paper, France implemented this law to beef up its fight against prostitution and save the "people who have found themselves in situations of prostitution" – a term that sounds almost equally bizarre in French, but serves to illuminate the government's view of sex workers as passive subjects who can't help but fall into a degrading industry. But Schaffauser suspects that the true motivation behind implementing the law is a tale as old as time: getting more votes. "The mayors and the local politicians want the votes of the people who complain about sex workers on the streets, and they know that sex workers don't vote," he said. "They're migrants, and if they aren't, they still won't vote because there's nobody to vote for." About 80 percent of street-based sex workers in France are migrants. Criminalising clients, he said, serves the same goal. "[Politicians] know that if you don't have clients in a certain area, you leave, because you don't make any money there. And to them, that's a good thing, because prostitutes in your neighbourhood can dissuade people from buying a flat."
Anne was successful as a sex worker. Moreover, she really liked her job. "The kind of life I had is not very easy, but it's the one I prefer as long as I have the best conditions to practice," she said. "This is how I want to earn my money." But working conditions changed for Anne and her colleagues when the law was implemented. She lasted two years under the new law before she called it quits. "I stopped working because I burnt out and I couldn't see any future. My body was tired and so was my mind," she said. "After the law the money stopped coming. I'd have two clients a day, I'd earn enough to live, but my wish is not to live – my wish, just like everyone else's, is to have a good life."
Watching the law's effects on her colleagues also took a huge psychological toll. In between 2016 and 2018, she gradually reduced her hours as a means of coping. "Before I became an activist in 2010, I used to work from 6 pm until 1 am. But by the end of my time as a sex worker, I was so tired that I wasn't in the mood. I would work from 8 pm until about 11," she said. "I didn't care about the money anymore because everything was so fucked up with this law. All I saw was my colleagues crying and saying they don't work anymore. It was difficult because we had lost the fight. By the end, I avoided going downstairs to the street. I just took clients over the phone."
In 2018, a study commissioned by Médecins du Monde found that since the law, 63% of sex workers said that their quality of life had deteriorated. The direct consequences of criminalising clients are perhaps the biggest reason why.
Criminalising clients: less income, less power, and more violence
"Since the law, things have really changed. Big time," said Ella (name changed), a street-based sex worker who has been living in Nantes in western France since 2010. "Before the law, we had good customers who would come regularly and pay 60 euros. The difference now is that they don't come to the streets anymore. They are all afraid of the law and don't want to take the risk of paying a sex worker on the street."
Less clients means that sex workers no longer have the luxury of choosing who they see. Even if a client is dodgy or their demands are unreasonable, a sex worker is now more likely to go along with them so they can earn enough to make ends meet. According to Anne, it wasn't like this before the law. "In terms of my relationship with my clients, I had the power," she said. "I was leading the exchange, from the beginning in the streets when the man asks how much to the end when he says goodbye. I would even tell them where they should put their clothes."
That power dynamic has now shifted. Clients who are willing to go against the law to obtain sex know that sex workers can no longer afford to be picky, and feel more empowered to bend the rules as a result. "The clients who remain tend to negotiate a bit more. The bargaining is in their favour," said Schauffaser. For example, he said that in the gay sex industry it has now become very difficult to get customers to wear condoms. "In Paris, at least, it is normal to have sex bareback. And if you don't want to do bareback… it's difficult."
The lack of willingness to wear condoms transcends the gay sex industry. "We see new infections, new cases of HIV, and other STDs, even amongst groups of sex workers who had never had problems in terms of harm reduction," Schaffauser said. Although data about the prevalence of HIV amongst sex workers in Europe is scarce, an Irish study from 2015 found that female sex workers have a 13.5 times greater chance of HIV infection than women in the general population. The same study found that sex workers working under the Nordic model are particularly at risk because of customer pressure to have sex without a condom – and because abolitionist associations are reluctant to hand out condoms in the first place since they see this as supporting prostitution. "The abolitionists in France don't agree with harm reduction," says Schaffauser. "They could give us condoms, but instead they offer us thoughts and prayers."
Rates are also being bargained down by the few clients who are left. In 2004, sex workers in Western Europe on average offered services ranging from €30 to €50. "I charged at least 50 euros for a blow job," Anne said. "For full penetration: if it was just one position and for 15 minutes, I charged 60 euros. If the client wanted more, they added more money. I charged 300 euros for one hour, and my rules were no kissing and no sodomy." Anne said she never had to lower her rates. "I used to earn a lot of money, so I could say 'no, go somewhere else' to customers who wanted to pay less."
These days, the base rate is much lower in France. "Today, at the Bois de Boulogne, you can earn 10 euros for a blow job," said Schaffauser. "The average price for full penetration is 20 or 30 euros. The law claims to be a fight against male power and domination, but in reality, it gives men more power." The lowered rates mean that sex workers often have to work longer hours to earn the money they need.
The most extreme consequence of the Nordic model's inadvertent empowerment of opportunistic men is the increase in violence against sex workers. "In 18 years of doing sex work, I've never been beaten by a client," said Anne. "We worked in groups. Since we never had contracts or worker protections, we had rules of our own to follow … We stuck to the rules in terms of what the price is, what you wear to work, the rank (whether you were an old or new sex worker), and the hours. It's an ancient way of working that was very disciplined and practical."
"The law claims to be a fight against male power and domination, but in reality, it gives men more power."
As Anne tells it, regardless of whether she picked men off the street or booked them over the phone, the experience was always more or less the same: they would enter the building and be noticed by all the other sex workers working in the same place. "We were never alone. When we were downstairs, colleagues would observe which customer we were with," she said. "Not because they were jealous or anything, but if the person seemed off, they'd say 'be careful' with their eyes. And when we'd take a long time with a customer, our colleagues would call us to check up on us."
Each studio in that building was equipped with an emergency alarm in case a customer interaction went awry. Anne said they felt safe and in control because the power dynamics were in their favour. "My colleagues and I felt very strong. When you feel secure because you are organised, the men don't do anything most of the time," she explained. "Instinctively, they feel that you are strong and organised. They accept the rules."
That changed with the law. "Since the law, some of my colleagues have been severely attacked," Anne said. Maffesoli, from Médecins du Monde, concurred. "Very quickly after clients became penalised in France, we – all of the associations and all of the sex workers – realised that sex workers started to experience more violence," she said. "We saw this change right away, literally the week after the law was introduced." In 2018, Maffesoli and her team released a report detailing what they had observed over the past two years. For their study on the impact of the 2016 law they surveyed 70 sex workers alongside 24 representatives from grassroots organisations or NGOs working with sex workers. They found that the law diminished the number of clients, fundamentally shifted the power relations between sex workers and the clients which remained, and led to an increase in all kinds of violence across the board.
The sharp rise in violence can be explained by a conflation of factors that has been extensively addressed by sex workers and researchers in relation to the Nordic model. On the one hand, the criminalisation of clients results in them not wanting to be seen buying sex – so sex workers are forced to meet them in darker, more remote locations and negotiate an exchange quickly before anyone sees. A turn towards more isolated locations partially explains why Campos was deep in the Bois de Boulogne the night that she was killed. Before the law, sex workers would often work out of vans on the edge of the woods. Some of them still work like this, but others have moved to more isolated locations in the woods to protect their customers from getting caught.
The precarious nature of the 'quick' exchange also limits a sex worker's capability to effectively screen each prospective client. Even if they get a bad feeling, they might agree to the exchange for financial reasons anyway. Anne says that this is largely the reason that her colleagues have been assaulted since the law. "Why have they been attacked? Because they agreed to go with a client that they felt was off," she said. "After the attack, they said that they knew they shouldn't have gone with this guy, but they needed money."
The assaults Anne's colleagues have experienced point to a saying that exists in the sex workers' rights community regarding the Nordic model and its criminalisation of clients: 'the good clients go away, while the bad ones stay'. "Before, we sometimes had good clients who didn't make trouble," Ella, the Nigerian sex worker in Nantes, said. "The good ones no longer come, so the ones we see now are more stubborn and don't care about what will happen to them."
Since 2018, the nature of the violence that sex workers experience has mutated. "Since we released that study, we haven't exactly seen more violence than there was before," Maffesoli said. "But what has changed is the severity of the violence sex workers experience. For example, before the law, theives would just steal sex workers' money. But today, they steal and violently assault them. And the sex workers don't resist the assault because they're afraid and don't want to die. But even when they don't resist, they get hurt." Maffesoli recalled the murders of 2019 as clear-cut evidence that the violence is getting worse. "We had never seen that before. And it's important to say that these are just the cases we know of! There are probably more that we don't know about."
Knowledge is indeed spotty in this area. Twelve murders were recorded in 2014, and ten in less than six months in 2019. In 2016 there were eight instances of violence against sex workers in the Bois de Boulogne; while in the first nine months of 2017, that number rose to 18. But besides these accounts, there isn't much trustworthy data about violence against sex workers in France. Part of the problem is what sex workers' rights activists perceive to be a lack of government interest. The other challenge is that sex workers can be reluctant to report incidents due to stigma.
Discrimination against sex workers is almost universal, and sex workers feel its impact on multiple levels. For example, deeply-entrenched stigma against sex workers affects their access to health services, worker protections, and housing; personal relationships; and ability to disclose their identities. So when it comes to reporting incidents of violence, sex workers may refrain from doing so if it means outing themselves as sex workers. And if they're migrants, they may not want to report anything for fear of getting deported.
Similarly, evidence about the measures sex workers take to protect themselves in an increasingly dangerous environment is anecdotal. For example, since Campos was killed in the woods, sex workers who work in the Bois de Boulogne have said that they've started hanging up lights in dark areas, photographing the license plates of aggressive clients, and increasingly communicating with each other over WhatsApp. As for Anne and her former colleagues, they tried to rely on the same system they'd had in place since day one: working together and screening clients as much as possible. "It's the best way of working," she said.
But even the best hasn't always kept out violence since the law has been implemented. "One year after the law was voted in, the usual clients – the ones who came every week or month – were very scared, so they stopped coming. So, some colleagues took some risks to earn some money; we were working alone a few times," she said. "And these risky guys – they know you are alone. If they see you're alone in a building working, they'll take the opportunity. But this is not a client – this is an assaulter. He comes, he fucks, and he takes back the money. It's like a rape."
The majority of sex workers in France are migrants, and out of the ten sex workers murdered in 2019 seven had come from outside the country. "It's really clear that migrant sex workers are even more exposed to violence now because for them, they have to deal with more cumulative conditions which invite violence," Maffesoli said. "That doesn't necessarily have to do with them being sex workers: it's more about our repressive migrant laws. They are worried about getting expelled from the country." Proponents of the Nordic model occasionally argue that the law communicates that since selling sex is legal, sex workers can now trust the police more than before. Maffesoli said that's a false promise. "In France, sex workers know very well that the law does not want to protect them. It wants to stop prostitution, which is not at all the same objective. So I don't think the law changed anything in terms of the relationship between sex workers and the police, to be honest," she said. "The police don't care about sex work in itself. But they care about maintaining order and ensuring that you don't actually see sex workers on the street."
Although the anti-soliciting law has been repealed on a federal level, each municipality in France has the jurisdiction to implement local laws – which sex workers say often look like the anti-soliciting law all over again. Many of them say that as a result, their work is criminalised in the day-to-day because it's left up to the discretion of individual police officers or municipalities. "It all comes back to the fight against migrants," said Maffesoli. "If you're a sex worker working inside, you're French, you're not seen, and your neighbours don't care or know, it's a different situation." That observation reflects Anne's own experience with the police. "Even when the law against soliciting was in place, the police never bothered us," she said. "They would only go and check migrant sex workers' papers and annoy them – but not the traditional sex workers. They'd even say hello to us on the street."
The criminalisation of clients has led sex workers to lower their rates, to work in more remote and unsafe locations, and to experience more severe violence. Sex workers, NGOs and activists have not kept this secret – they've told anybody who will listen. Yet the government has turned a blind eye. "I think there's a reason that the politicians don't care that there's more violence against sex workers and that we are losing money, and don't listen when we complain that we're in poverty," Schaffauser said. "Politicians say, 'well, that's just proof that the law works.' Because the point of the law is to make sure that you don't make any money. They think it's good that we are starving, because it means we have to do something else for work."
Increased mobility and a rupture in healthcare
Giovanna Rincon is a trans rights activist, the vice president of COREVIH and the director of Acceptess-T – a Parisian organisation that supports trans people in obtaining healthcare and social resources, and campaigns for trans rights. Many of the trans people Acceptess-T supports are also sex workers. Although there is a lack of studies demonstrating exactly how many sex workers in France are trans, trans people in general are more likely to be pushed into sex work due to transphobia and structural barriers which shun them from educational and employment opportunities. Moreover, out of the European population of trans sex workers, somewhere between a fifth and a quarter are believed to have HIV. So since 2010, Acceptess-T has successfully been assisting trans sex workers in entering into and maintaining a dignified healthcare process. That changed in 2016.
"A series of repressive factors and legislative reforms have created a huge problem for trans sex workers which directly affects our ability to provide healthcare for them," Rincon said. "Before the law, the trans sex workers whose health we monitored in Paris were pretty stable. We could see them quite regularly, especially at the hospital." In 2010 Acceptess-T set up an agreement with Paris's Hospital Bichat to provide healthcare for all the trans people they see – documented or undocumented. "But when the law came in, things changed. People who had been diagnosed a long time ago and had been living in Paris for 30 years lost income; as a result, they had to leave their apartments, as they could no longer afford them," Rincon said. "This provoked a sort of nomadism for trans sex workers: they left to look for places where they can find work. This increased mobility has ruptured their healthcare, even if they've kept their primary hospital in Paris."
The "increased mobility" Rincon refers to comes not only from a drop in income due to a reduction in clients, but also from the ways in which landlords react to the law's anti-pimping clause. Under this clause, a whole range of actions can be considered profiting off of sex work, including leasing an apartment to a sex worker. Some try to capitalise on this potential risk to themselves. "Most of the landlords will charge more from a sex worker because they say, 'I take a risk legally'," Schaffauser said. "So, sex workers have to pay two or three times the market price for a flat and end up having to share with many people." Even if a sex worker is lucky and can still afford to pay for his or her flat, the landlord may be quicker to kick them out because they're afraid of the law.
Trans sex workers cannot easily transfer their treatment to a different hospital when they move. "In cities outside of Paris, the healthcare system is absolutely not adapted to the specificity or the reality of trans people's needs or the needs of sex workers," Rincon said. According to Rincon, the special programme at Hospital Bichat is one of a kind; nothing even remotely parallel exists anywhere else in France. And even if a trans sex worker knows that this will be an issue before leaving Paris, they don't have the opportunity to adequately prepare. "Quite often, those who leave Paris have to do so without the ability to take 2-3 months worth of medication with them. That's because in France, the pharmacies and the healthcare providers don't give you the possibility to pick up medication for months in advance," Rincon said. (You can obtain medication to last you for maximum one month.) "As a result, people will leave Paris, they'll stop their medical treatment, and at best they'll call us to help consult with their new doctor in their new location."
The bottom line is that trans sex workers based in Paris are finding it more and more difficult to take care of their health. Since the law has led to a drastic reduction in income, they can no longer afford to live in this notoriously expensive city and must move out. Once out, they can no longer access the care they need. The resulting long-term healthcare implications for this community of sex workers remain to be seen. "For marginalised trans people, healthcare is important, of course," Rincon said. "But at the end of the day, earning money remains more important."
The exit programme: ideology over impact
The French government created the exit programme to provide a clear path for exiting prostitution, with the goal of helping 500 to 1000 female sex workers get out of the industry every year. If you're a sex worker – documented or undocumented – you can work with an approved abolitionist association to exit the industry. The association is tasked with presenting your case to the local prefecture, which is composed of police officers, politicians and other officials. This group is in charge of approving or rejecting your case. As your file is being processed, you get a monthly stipend in exchange for stopping prostitution; and if you're an undocumented sex worker and you've been approved, you can get a residence permit.
At least that is what is supposed to happen. But since 2016, only 341 people have made it through the exit prostitution programme. Maffesoli thinks that overall, under 1000 people have applied. The European Court of Human Rights estimates that there are in between 30,000 and 50,000 sex workers in France. So, why is the application rate for the exit programme so low – and why is the success rate even lower?
"When we tell them, 'well, actually, you need to have quit sex work weeks beforehand,' they say, 'how will I live?'"
The failure of the exit programme comes down to a fragmented bureaucratic system which renders decision-making discretionary. There are no federal standards for eligibility for the programme. The merits of an application depend on the perspective of each organisation tasked with bringing an application forward, as well as the prefecture evaluating the application. In addition, the programme's conditions don't work for the lived realities of the sex workers who'd benefit from it – and the rewards are often simply not worth the effort.
"Especially amongst migrant sex workers, many were interested in going through the exit programme because it would give them papers to live in France. And having papers is fundamental, because it would let them have more freedom in what they do," Maffesoli said. "But there are many who are dismayed by the fact that you need to stop sex work before applying for the programme. When we tell them, 'well, actually, you need to have quit sex work weeks beforehand,' they say, 'how will I live?'"
To enter the exit programme, you need to swear in writing that you'd stopped selling sex three weeks before starting the application process. Few sex workers, and even fewer migrant sex workers, have sufficient savings to keep this promise. Yet by signing this declaration sex workers put themselves into an even more vulnerable position. "This agreement forces the person signing it to lie about what they're doing for work, to work in secrecy, and to stay silent if they're victims of violence on the job," Rincon said. "The signee needs to continue to earn money – because even if he or she signs this thing and obtains an authorisation for a temporary residence permit, the state won't give them enough money to pay for rent and food."
Once you enter the exit programme, the state provides you with a monthly allowance of €330 per month. The government's evaluation of the law suggested that this be raised to €383 per month, but that has not yet happened.
The poverty line in France is 1026 euros per month.
"If a sex worker gets 300 euros a month of government aid in exchange for stopping sex work, how is she supposed to pay her rent, which is at least that sum but probably more?" Maffesoli asked. "If somebody isn't registered as living in their apartment and then can't pay their rent because they've lost income, landlords don't care. They just kick them out." In France many sex workers aren't registered because to do so you must have a bank account and a salary, whereas many sex workers are paid in cash. "And then, of course, sex workers in this position can't get help," Maffesoli continued. "They're just pointed towards the exit programme. But this isn't what they need. They need homes."
In addition to stopping sex work in advance, there's another significant barrier to overcome if you want to participate in the programme: the language. "You need to speak French quite well to go through the process," explained Maffesoli. But 'quite well' means different things depending on which organisation you're working with. "They don't follow the same rules at all. In some cases, if you don't speak French well but you're motivated, that could be good enough. But for example, in Paris, there is a minimum level of French for applicants – orally but also in writing." Maffesoli believes that this is particularly problematic for two groups: Nigerian and Chinese sex workers. For Chinese sex workers, the problem lies in how different the Chinese and French languages are; it's a particularly uphill battle for them to learn French fluently. For the Nigerian sex workers, it's more about education: a study found that 52% of Nigerian women aged 15-49 cannot read or write.
Even if a sex worker agrees to the conditions for participating and speaks decent enough French, there are more dissuading factors. These have to do with stigma. One concern is that applying for the exit programme exposes sex workers' personal data and reveals their status as sex workers to the state – something that many of them are suspicious of because they don't want their identity as sex workers to follow them around in life. Moreover, for an organisation to be certified to guide people through the exit prostitution programme, it needs to declare that it agrees with the fight against prostitution. The extent to which that statement is true depends on the organisation; some are hardcore abolitionists, while others just do it so that they can get through the hoops and move on with helping people obtain the right to live and work in France. "The type of experience any given sex worker will have with the exit programme and the discourse they're privvy to throughout the process depends on which association they're being accompanied by," Maffesoli said. "Some associations won't ask them to say that prostitution is the worst thing they've ever done. But some other associations will make you convince them that you really do want to change your work. If a sex worker were to tell them, 'I do sex work because it lets me pay for my life and I have no other options, but now I'd like to move on to other things'.... it wouldn't be a good enough reason."
This condition of agreeing with the fight against prostitution excludes many experienced organisations from participating in the programme, particularly sex worker-led organisations. Yet it's often those very organisations that most intimately know the lived realities of sex workers and how to assist them in switching jobs, if that's what they want to do. "If we had a law which allowed people to stop sex work on their own terms, it would be different," Rincon said. "If the process was autonomous and enabled them to choose the associations that they want to work with, it would be different."
If anyone knows what type of process fits sex workers trying to move on to other types of work, it's Rincon: since 2010 – six years before the exit programme arrived – Acceptess-T has successfully assisted people who want to stop doing sex work. "We've done this without forcing them to declare that they are sex workers, taking them to the prefecture and making them sign a contract about 'quitting prostitution'," Rincon said. "So, we are proof that there is no need for an exit programme. But when we ask the state to fund us so that we can continue to do our work, they turn their backs to us. They think we are less effective than the associations who have decided to be part of the exit programme."
As a result, applying for and going through the exit programme is like trying to win the lottery. If you're lucky, you'll work with one of the rarely-approved organisations that doesn't put too much pressure on the applicants. But if you aren't, you'll get an association that creates ideological as well as practical hoops for you to jump through. The entire structure is "heterogenous", as the French government itself attests, which extends to what it takes to actually get your application approved. "The law doesn't specify why people are accepted to or refused from the programme. It just says that it's up to the prefecture's discretion to agree or disagree with the case," Schaffauser said. "So really, they can choose any reason they want for denying someone. For example, we've heard stories about women being denied because they're pregnant, and the prefecture decides that they only got pregnant to get papers. We also know that many of the applicants who were refused ended up in the detention centre."
Stopping sex work weeks in advance. Speaking and writing in French near-fluently. Working with people who potentially stigmatise everything about you. Going through the exit programme takes a significant amount of physical and emotional effort – and for what? For many sex workers, the whole process isn't worth the reward.
"If you are French, you have no interest in the programme. You can already get welfare; it's a bit over 500 euros a month," Schaffauser explained. "So, why would you apply for something where you would only get 300 euros a month? And if you're a migrant, it's not strategic, either."
The carrot the programme dangles to undocumented migrants is a residence permit. It's true that if you're approved for the exit programme, you'll get one. The problem is that this permit is something called a 'provisional authorisation' – which only gives you the right to live and work in France for six months. "It's not long enough for the job centre to take you on," Schaffauser said. "The employers won't want to hire you, because they know it's not long enough to enable you to have a proper commitment to the job or even stay in France. Even in terms of professional education or training, a six month authorisation doesn't give you access. It's not strong enough as a residency permit." This permit can only be renewed a maximum of three times, for a combined total of residency for two years. "After the two years, you don't have any more rights. So, what happens? You become deportable again," Schaffauser said. "And after that, we don't know what happens to these people. The official reports don't say anything about that."
The limitations built into the exit programme make it unappealing for many sex workers, so they seek out other options. Maffesoli says that many sex workers will go through their own process with an association that can help them change their work or gain residence – following criteria that works for their lived realities. "For many migrant sex workers, sex work is a moment in their lives. These are people who might want to try doing something other than sex work, but perhaps not right now, and definitely not as radically as the exit programme demands. All of this was never taken into consideration as part of developing the exit programme because of the ideology underpinning it," Maffesoli said. "The state thinks that it can present an exit programme that completely strips dignity from the people who go through it – because even indignity must be better than prostitution, right? Well, you can bet that the people this exit programme is supposedly for don't agree with this at all."
The trouble with funding and the anti-pimping law
The Law of April 2016 has complicated sex workers' abilities to do their jobs safely, earn enough to sustain themselves, and work with local associations to exit the industry if they wish to. But it's not only sex workers themselves who have been negatively impacted by the law. Non-abolitionist healthcare associations and NGOs, too, find themselves increasingly limited from doing their jobs for two reasons: they've lost state funding since the law has been implemented, and the anti-pimping clause pushes some of their activities in a legal gray area.
"The government never actually says to us, 'we don't fund you because your ideological position is contrary to ours', but we can come to our own conclusions," Maffesoli said. Since 2015, Maffesoli has been leading a project at Médecins du Monde that focuses on fighting violence against sex workers. She has observed a clear difference in the government's attitude towards that project before and after the law. "In the first year of the project we received public funding. Ever since then we can't seem to get any public funding," Maffesoli said. "This is despite the fact that we submit applications quite often."
The French government's Evaluation of the Law partially outlines who has received funding since the law has been implemented. One table showcases that since the law was implemented, Mouvement du Nid, Amicale du Nid and ALC – all of which are abolitionist organisations – have had their funding doubled or tripled. No non-abolitionist organisations can be found in this table. On the page that follows, the report clearly states that harm reduction associations such as Médecins du Monde or Griselidis have not received any additional funding since 2016, or have had their funding diminished.
"Our access to funding depends a lot on the compromises in vocabulary that we are willing or not willing to make," Maffesoli said. For example, Project Jasmine is called 'a program to fight violence against sex workers'. It is a Médecins du Monde-initiated harm reduction platform: it aims to inform sex workers about their rights and alert them about bad clients, partly through an app that sex workers can use to communicate with each other. "If we had called Project Jasmine 'a program to fight violence which people who find themselves doing prostitution face', we might have had less problems. But we refused to do this," she said. "After all, we can't say to the sex worker-led organisations we work with, 'yes, we support you, but in order to get funding, we need to speak in a way that discriminates against you.'"
Médecins du Monde "can permit itself to take this position", as Maffesoli put it. It is an international NGO with its own funds, and does not rely on public money to form the bulk of its operations. "Other associations working within the field might not be able to afford taking such a radical position," she said. "Quite simply, that might make them lose all their funding."
"The law and the abolitionists turn solidarity into pimping."
One issue is that losing funding leads to losing the resources necessary to navigate the government's anti-pimping clause, which has long limited the operations of sex workers and their allies. Under this clause, aiding or assisting prostitution also counts as pimping – as does acting as an 'intermediary' between sex workers and their clients. The definition is wide, which is why landlords hesitate to rent apartments to sex workers; why sex workers can't hire accountants; and why sex workers can't work together in a rented apartment.
The wide definition of the anti-pimping law is also why many organisations and harm reduction initiatives are at risk of breaking it. There's a reason that it took an organisation as influential as Médecins du Monde to develop Project Jasmine: it has the credibility and global influence necessary to battle any accusations of pimping – a luxury that others do not. "The Project Jasmine app can technically count as pimping. But giving out condoms can also count as pimping," Maffesoli said. "The reality is that there is no organisation that's actually monitoring what counts as pimping or not. And I'm a lawyer, so I know that if we're ever accused of breaking the pimping law, I would finally have the opportunity to contest it in front of the European human rights tribunal. In my opinion, this is exactly why organisations 'in charge' of the pimping law never actually pursue cases against those supposedly breaking it."
Acceptess-T takes a different approach to the anti-pimping clause. Rincon says that the organisation is aware that some of their activities can be perceived as illegal – but ultimately, making a difference for the people they work with is worth the risk. "We assist them from a healthcare perspective. Sometimes, we also keep their documents at our office so that they don't lose them. Sometimes, we help them find apartments. So yes, the 2016 law could condemn us as a pimping organisation," she said. "But in reality, it's we who guarantee that there is a process for providing healthcare to this community. The law and the abolitionists turn solidarity into pimping."
The Law and COVID: A Sinister Union
"This is the most difficult time I've lived through. Things are going very badly and it's really affecting me," Ella said. "I don't know what to do or think. I can't support myself. Most days, I go home from work with nothing."
Since the coronavirus pandemic broke out, sex workers around the world have drastically lost income. The same situation applies in France, but it's been made worse by how hard France was hit by the pandemic. When France went into lockdown, it implemented some of the strictest regulations in Europe. During lockdown, you couldn't leave your apartment at all without a written explanation for why you were doing so. The twin risks of getting arrested and getting COVID caused many clients to drop off the map. "We are now facing twice the amount of stress than we did before, because customers are afraid of being close to us," Ella said.
The swiftness of COVID and the fear it instilled in clients has led to serious consequences for sex workers. "When the lockdown happened, many sex worker communities ended up with nothing from one day to another," Schaffauser said. "Even from the very first days, people were like, 'we are living in hotel rooms and we have to pay for the rooms every day. We have to work to get 50 euro to pay for the rooms.' So from one day to another, some people didn't even have money to eat."
Even after the COVID restrictions were lifted, things didn't improve much for sex workers in France because of confusion around lockdown regulations and government assistance. "There are lots of sex workers who don't know if they're allowed to start working again or not," Maffesoli said. "And, because of stigma, the sex workers who can legally work in France think that they need to have a lot more documentation or justification than other professions to be eligible for government help. That's not true: if you're declared in France, you have the right to ask for governmental aid."
Undocumented sex workers definitely weren't eligible for government assistance at the start of COVID. STRASS, the organisation Schaffauser helps run, asked France's then-minister for equality between the sexes and the fight against discrimination, Marlene Schiappa, to create a fund for sex workers affected by COVID. "She told us that since 95 percent of sex workers are trafficking victims, we can't just give away money to people who will give it to their pimps," Schaffauser recalled. "She told us we have to work with a few Christian, abolitionist organisations. The government would give money to them, and then they would give money to sex workers. The government wouldn't give money directly to sex workers, because we can't be trusted; we'd just give the money to our pimps." Schiappa's office declined an interview request for this article.
With government help off the table, the sex worker community in France began to mobilise their own resources. The results didn't fix the entire problem – but they helped. "People donated a lot of money; I think we raised 60,000 euros in one month," said Schaffauser. "And we have about 1000 sex workers in France who received aid from different organisations. That's about three times more than the government helped with the exit prostitution programme."
Ella hasn't received much help during COVID, and as a consequence she hasn't stopped working. Financial pressures have compelled many others to continue work despite the risks. "In terms of mental health, I think it's been catastrophic," Maffesoli said. "It's very stressful for sex workers to go to work and say, I might get COVID, but I don't have a choice: I must work. There are sex workers who've asked us if they're going to be monitored by the police for putting the lives of their clients in danger."
There are no statistics on sex workers and COVID in France, but Schaffauser paints a bleak picture based on what STRASS has seen and heard. "Some sex workers died – especially street-based ones," he said. "Given that they had to meet more people because their rates are so low, they had to do more clients to survive. And because they were in contact with more people, they were more likely to be infected."
Related story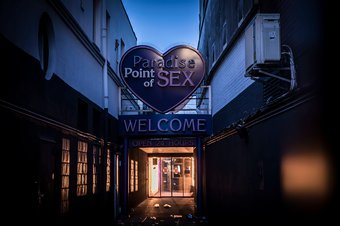 22 April 2020 | International Committee on the Rights of Sex Workers in Europe
European governments look the other way when we ask them how they will help sex workers survive the coming weeks and months. This has to change.
The social distancing brought on by coronavirus in many ways replicates and thus exacerbates the trends first set in motion by the implementation of the Nordic model in France. Criminalising clients led to less clients in general, and to a greater proportion of risky clients within the remaining pool. This lessened sex workers' bargaining power and thus shifted the power dynamics in clients' favour. COVID has done this all over again. "Every association is unanimous about the fact that violence has continued or even risen during COVID. This is troubling, because it means that a lot of sex workers simply haven't been able to afford to stop working during the lockdown," Maffesoli said. "And it's even more troubling because if a sex worker has experienced violence during COVID, how is she supposed to report it if she technically wasn't supposed to be working, anyway?"
Ella hasn't experienced any incidents since COVID. But she's isolated. While French sex workers have a pretty strong sense of community and solidarity, it's not quite the same for people working on the street. "Everybody is on their own," she said. "Me and the other girls, we all have different places for work.".
At this point, no one knows how COVID will play out over the next few months – especially now that most of Europe is facing a 'second wave'. For now, associations are trying to do their best to provide harm reduction information to sex workers and the overall community is continuing its advocacy work. "COVID's impact was similar to that of criminalising clients but much worse because we had no clients at all," Schaffauser said. "We used that to say to the abolitionist feminists, 'You got what you wanted. People stopped buying sex – and we are actually dying and starving. That's what you want, right?' But I don't think this message reached as many people as we hoped."
To change the law – we need to change France
The gulf in understanding between the sex workers' rights movement and the abolitionist feminist French government is neither new nor unique to France. But it comes with a human cost. Would Vanesa Campos have been killed if she wasn't pushed into working in an isolated place? Would some of the 10 sex workers who died in 2019 have survived if the government had listened to sex workers when they said this law would invite violence into their lives? And would sex workers struggle to survive during COVID if sex work was recognised as work, and the people doing sex work as regular workers in need of income assistance? "I don't have any more faith in the system," Anne said. "Before, I used to have hope. Now, I am very tired. The abolitionists have won and sleep peacefully while my colleagues die, commit suicide and fall into precarity."
But could there be a silver lining? Over the past few years, a spirit of revolution has been bubbling to the surface: it started with #metoo, and this year, it's exploded with #blacklivesmatter. Intersectional social justice is becoming a non-negotiable – especially for the new generation who will grow up to be policymakers and politicians. Despite the bleakness of the Law of April 2016, this alone gives people like Schaffauser and Maffesoli some hope for the future. "Although this institutional feminism that's very anti-sex work is still in power, all the movements that are more gassroots don't have the same approach," Maffesoli said. "There are many feminist groups which are much more intersectional and see the complexity around sex work. Perhaps we can hope that in the future, the feminist movement here will expand to fight for the rights of people – not against the rights of people."
Special thanks to Paloma, STRASS, Médecins du Monde, and Acceptess-T.
Read more
Get our weekly email