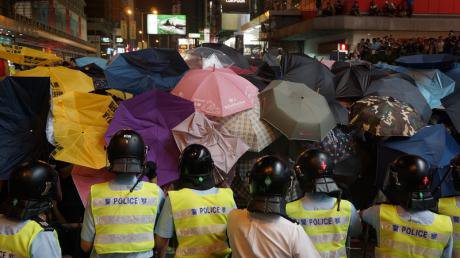 Police face a wall of pro-democracy umbrellas on Nathan Road, October 17,2014. Tom Grundy/Demotix. All rights reserved.The dramatic Hong Kong democracy movement caught­ the world's media by surprise, and even its student initiators did not expect the widespread participation that it has gathered. As the umbrella movement nears its one-month anniversary, it has already made several important achievements, but it also faces challenges inasmuch as the Chinese leadership appears unwilling to compromise and public protests take their toll on participants and their energies. Can the umbrella movement win and if so how? I try to answer this question as a scholar of social movements, following my trip to witness this historic movement during its second week (October 6-12).
Achievements of the umbrella revolution – so far
The umbrella movement has awakened many Hong Kong citizens to a new kind of political atmosphere and new ways of thinking about politics. Hong Kong enjoys a rather free press compared to mainland China, but as anywhere, most citizens were preoccupied with their personal lives, careers and obligations. Yet the umbrella movement changed political parlance in Hong Kong, has dominated the headlines, forced people to recognize that there is a challenge to authority, led them to think about basic political issues and to form an opinion, and generally it has brought a new level of political engagement into Hong Kong.

Even those who disagree with the movement and dislike its "inconvenience" and "social disruption" agree that the movement has "made its point" and has been "clearly heard". A change in political involvement of this magnitude is an important achievement with possible long-term implications.
Second, the movement showed that support for democracy is not a concern confined to a few naïve students. The movement consists of a wide array of people: young and old; school students and university students; working and retired people; ordinary men and women and civil servants. Despite evidence of a generational gap in attitudes, people of all ages and all backgrounds have been involved in this movement, even if the hardcore participants who sleep overnight are younger in age. This shows that the movement achieved wide appeal in Hong Kong society, and support for democracy will not disappear simply by removing the students from the streets.
Third, there was a high degree of street-level organization and inventiveness. At its height, the movement occupied four areas in the city: Admiralty, Causeway Bay, Mong Kok, and Tsim Sha Tsui. Of them, the first three still remain. Mong Kok was cleared over the nineteenth day but has been dramatically retaken by the protesters despite police efforts to clear the main Nathan Road. The ability to hold on to several sites, and block long segments of main roads for so long, with a rather small number of participants sleeping overnight is worth mentioning. It shows that both the police and the government were traumatized after tear-gassing the protestors at the end of September, and given the massive backlash demonstration, they did not dare challenge the movement for about two weeks.
The movement makes imaginative use of nonviolent tactics, effective organization at protest sites (including cleaning and recycling operations), protest art (including varied ways of using the umbrella symbol), comic and cynical political cartoons, and original political posters and art-work – all of which makes bystanders and ordinary citizens reflect on and even rejoice in the movement's goals and messages.
Possible ways forward
The umbrella movement also faces challenges as the police are under orders to remove street barricades, to limit protest areas, and to clear protesters from the main road in the highly vibrant protest site in Mong Kok. Also, the fatigue takes its toll on a limited group of brave protesters who need to guard the sites overnight. What could be the possible ways forward?
The outcome of the movement is a political goal that must be somehow delivered or conceded by politicians. There are two main ways that political figures in similar situations have given in to popular pressures. First, they either felt that they have no other option because they were losing their authority, the law enforcement forces would not obey them any longer, or a third party (court or upper level of government) forced them to do so. These results seem less likely at this point in Hong Kong, although social movements are always filled with surprises of this kind.
A second way that victories come is through splits within the ruling elite or other changes in the internal configurations of power. At times of pressure, hidden differences of opinion and personal rivalries between politicians rise to the surface. There are always politicians who may lose due to the movement, given its destabilizing effects. Sometimes these splits happen spontaneously and new political stances are suddenly heard from top officials. At other times they result from behind the scenes talks. The movement could benefit from finding moderate voices and encouraging splits within the seemingly unified voice of the elite, which is bound to have its internal differences and conflicts. The opening of the long-awaited negotiations between local government officials and protest representatives (on October 21) may signal the beginning of a political process that can create new opportunities for change.
Another political solution would be to apply enough pressure on the pro-democracy members of the Hong Kong parliament that consists of 70 members. Although Beijing has many supporters in that parliament, it still needs a two-third majority to pass its proposed reform. The existing pro-democracy minority of 23 members can stop this bill from passing. The movement can bring pressure to bear on members of parliament and make sure they vote the right way. They may even win over some independent or moderate members of parliament to abstain from passing Beijing's proposals. This alone will not bring democracy to Hong Kong, but it could reboot the process and open new opportunities to democratize the system in a new round.
The participants who occupy the street during the small hours of the night are courageous and deserve every praise for their amazing resilience in face of challenges and personal sacrifices. Maintaining sits-ins and sleep-ins on roads for many months, and in harsh weather, will become increasingly difficult, and will not necessarily bring more pressure on power holders. The movement will need to find new nonviolent ways to escalate and dramatize. So far, police actions and counter-movement actions by thugs have provided those natural escalation points. Dramatic blows to the movement boomeranged and brought more people into the streets.
Many movements have seen breakthroughs after dramatic or transformative events that increased protest motivation and brought new pressures on the ruling elite. Those breakthroughs can happen spontaneously or they can be planned and carefully executed like the famous US Civil Rights Movement confrontation with "Bull" Connor in Birmingham, AL. in 1963. The movement could benefit from another major event, like the tear-gas incident of the first week, to bring out more people to the streets and to speed up political processes.
Of course the struggle for democracy in Hong Kong could also be long, with setbacks and new unexpected openings and successes. The umbrella movement has indicated a clear path forward. The government is helpless in face of a popular non-violent movement that is sufficiently resilient to maintain broad participation and thus popular legitimacy. If the movement wins over more hearts and minds, and manages to bring a critical mass of people to the right places at the right time, it could reach its ultimate goal. Whatever the outcome, it has already made history. 
Read more
Get our weekly email