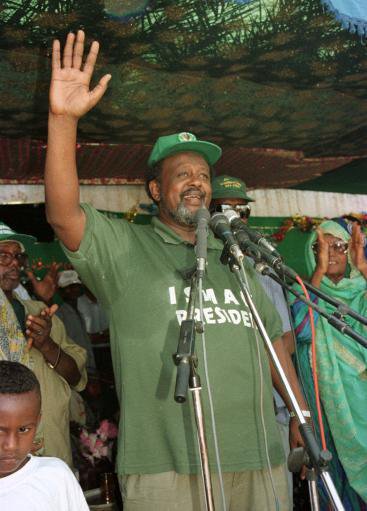 Djibouti presidential candidate Ismail Omar Guelleh campaigning in the Djibouti countryside April, 1999. Diana Cahn/ Press Association. All rights reserved.The 120,000 voters expected to turn out at today's presidential election in Djibouti might seem spoilt for choice with six candidates on the ballot paper. But the winner is already clear – President Ismael Omar Guelleh ('IOG'), in power since 1999 and running for a fourth term – while the man seen as the clean pair of hands who rallied those seeking an alternative to the regime, former journalist Daher Ahmed Farah ('DAF'), is boycotting the poll and permanently looking over his shoulder. He only leaves home for essential meetings to avoid harassment by the authorities, and eschews cafés in case someone tries to poison him. 
Reports on social media and from opposition activists suggest DAF's call for a "ville morte" public boycott of the polls was having some impact this morning, with near-empty polling stations, pro-regime activists hustling passers-by to vote, and the state TV broadcaster searching for a polling station with queues of people outside.
The last time Djibouti voted in legislative elections three years ago saw the USN, an opposition coalition newly brought together by DAF on his return from exile in Belgium, ride an unexpectedly large wave of enthusiasm. The next morning, the ruling UMP party proclaimed victory in Djibouti City with 49.4 per cent of the vote, giving it 80% of seats under the proportional system. The USN said there had been a fix and results from individual polling stations showed they had won a majority in the capital; a delegation of EU technical experts backed this up in a never-published report, recalls Dimitri Verdonck of NGO Association Cultures & Progrès. Months of demonstrations, violence and the detention of hundreds of USN members followed (DAF has been arrested more than 25 times since February 2013) and still the government wouldn't release the polling station returns. On 30 December 2014, the regime signed an agreement with the opposition to deliver an independent national electoral commission. It has proved a dead letter.
"What happened in the Arab world (in 2011) showed us that in similar countries to ours, people chase away the dictator" says DAF. "Ben Ali was a friend to Guelleh. The Tunisian people were considered as peaceful as Djiboutians". Rather than a fulfilment of the Djibouti Spring, however, recent months have seen the fragile coalition fall apart and the opposition revert to a jumble of ethnically-based groupings. IOG has driven a wedge in, welcoming the participation in the election of former civil servant Mohamed Daoud Chehem and colonial liberation struggle veteran Omar Elmi Khaireh as non-boycotting USN candidates, alongside two candidates with links to the regime and an independent, and condemning the "hardcore" around DAF as intransigent wreckers.
Djibouti is cursed and blessed by its geopolitical situation - beset by regional threats and facing a lingering insurrection in the north, yet shielded by the presence of seven foreign armies seeking a perch on the Mandeb Strait, four of which pay tens of millions of dollars a year to lease bases. Similarly, "it's impossible to compare Djibouti to the old democracies in the UK and France" says Houmed Daoud Abdallah, a member of the ruling UMP party living in Poitiers. "We're a young country" (independent from France in 1977). Never forget, one expert emphasises, what a small place it is, more like a UK constituency, and that it's run on patronage, with elections essentially a piece of political theatre.
Throughout the campaign, ruling party supporters have been pumping social media with pictures and videos of massive crowds in the emerald green shirts of the governing party carrying patriotic banners and "this district 100% for Guelleh!" placards, as the president, also in campaign uniform, goes on walkabout. Alongside are the political endorsements - last week from Djiboutian football internationals and footballer-turned-politician George Weah. Ministers have been performing feats of beneficence, such as doling out 10,000 mosquito nets.
The electioneering is palpable but the face-to-face intimacy of politics is a constant. "IOG doesn't wait until the electoral period to go and meet his fellow countrymen" says Daoud Abdallah. "He organises trips out to the remotest districts to lend an attentive ear". "Does IOG host lots of Djiboutians outside the election period? Yes, above all the young!" says Rachid Bayleh, a writer on the pro-government La Nation. A mass march through the capital on November 1 last year in support of a Guelleh re-election bid, 100,000+ people strong say government supporters, was organised by the National Council of Djiboutian Civil Society, a "completely independent body" from government, and no-one was forced to go, Bayleh observes. One Djiboutian in exile offers a different perspective: "Some are forced to wear the green shirt to preserve their salary because they have family. If you oppose the system you become a target - your salary will be cut, no electricity or water, even your wife will leave you because she can't cope with this hardship. Everyone talks politics and is unhappy… We do not know when this anger will explode."  If you oppose the system you become a target - your salary will be cut, no electricity or water, even your wife will leave you because she can't cope with this hardship.
Getting large numbers to turn out on a demonstration "is very simple" says Dimitri Verdonck – "65% live in high poverty. They come with khat every day for a week and give it to the people". While Djibouti has the foundations of a strategy to become another Dubai with the development of the oil and container ports at Doraleh, and it has $9.5 billion-worth of infrastructure projects under way to help supply trading partner Ethiopia, the bigger economic picture is dire. The UN calculates unemployment at 60% and more than half the population is illiterate. The World Bank's Doing Business report puts the country 163rd out of 189 for business creation and 180th for access to credit. Loans from China are set to drive public debt to 80% of GDP next year.
Former US diplomat and ex-senior manager at Dubai Ports World Ethan Chorin was "flabbergasted" when all deadlines were missed for a huge potential investment project last year, due he believes to inter-ministerial conflict. Nima, a midwife who has left Djibouti for the US, describes the misery of soaring inflation, high electricity prices and water that only comes on at 3am for those households that get a piped supply. The country's only public hospital has severe staffing and supplies shortages.
Infringements of human rights including arbitrary arrest, prolonged pre-trial detention and torture have been consistent features under Guelleh, and on top of this, undermining of rule of law. Me Zakaria Abdillahi is a former judge, sacked for defying the regime, who says he is the only advocate who will now represent people pursued for political reasons. "My phone is illegally tapped and my office and my movements are watched by the security police" he says. While friends plead with him to step back, he vows he will not stop denouncing arrests and arbitrary detention in Djibouti.
Answers are sought into the unexplained deaths in custody of 24 year old Sahal Ali Youssouf and French teacher Mahamoud Elmi Rayaleh, both of whose corpses showed signs of foul play. In February, a young port worker died of injuries apparently inflicted during torture by the gendamerie of Tadjourah. Since 25 March, nine women have been on hunger strike in Paris, protesting 246 cases of rape by the Djiboutian military, allegations which the regime dismisses because of lack of proof. Reporting on any of these issues is hampered by the regime's media censorship, which has earned it 170th out of 180th place in the Reporters Without Borders press freedom list. Since 25 March, nine women have been on hunger strike in Paris, protesting 246 cases of rape by the Djiboutian military.
Other developments hang over today's poll. On 21 December last year at Balbala, a suburb of the capital, the arrival of police at 4.30am to move Issa/Yonis Moussa sub-clan members gathered for an annual outdoor religious ceremony escalated into a clash that drew in the Republican Guard and left 7 Yonis Moussa dead, according to the regime or 27-50 dead, according to human rights organisations and opposition figures. The government says the police were escorting clan members to an alternative authorized site; IOG told Jeune Afrique that officers were caught in an ambush by a militant faction. The Yonis Moussa reflected that they may have been targeted for refusing to endorse the President's re-election bid. Later that day, police raided a house where USN officials had convened to discuss the incident, injuring four.
In London the day after the massacre, former chairman of the Ports Authority of Djibouti and former ally of IOG Abdourahman Boreh denounced the President for "trying to translate this peaceful gathering of the mawlid, part of our custom and religion into a political instrument". Boreh had just come from the annual commemoration in Paris of the massacre of Afar tribespeople at Arhiba in 1991, ordered during the Djiboutian Civil War by Guelleh when he was acting as effective head of state under his uncle. Boreh believed the Balbala assault was part of the president's bid to secure unassailable control over the political order of Djibouti, including through rewriting the constitution in 2010 to abolish term limits. "We have the military killing their own people. What's the difference between him and Assad?" he said.
On March 2, Mr Justice Flaux dismissed the Republic of Djibouti's three year long High Court corruption case against Boreh, saying it confirmed the regime to be "capricious", "cavalier", and on occasions "reprehensible" and describing the civil servants and former ministers called as witnesses to be "in fear of the President". The overall cost of pursuing Boreh in several jurisdictions came to $65 million, including £9.3 million costs. A Djibouti-watcher wryly observed that of course Boreh had been guilty of corruption while running the port – it was just that the President was more guilty.
Boreh has given a taste of the way IOG operates: "He will let any of his ministers, directors or whatever commit an act of corruption or of fraud. Then he will keep a red file with him, because he is a security man. So when he does whatever he wants, if someone questions him he will tell him, oh, I am going to put you in prison, you have done this… this… this. So I knew the trick, so I made sure that I didn't go that way". Despite entertaining ambitions of a presidential election bid in 2011, Boreh is thought to have a cloth ear for politics and lacks a popular following in Djibouti. With his wealth, however, he could provide significant support to the opposition by bankrolling an independent media, as La Voix de Djibouti's Maydane Okiye suggests, on a far greater scale than his funding of the USN's 2013 election campaign. The exigencies of the drone war and fighting al-Shabaab have given IOG a free hand.
The US, France and the EU have condemned the Balbala massacre and human rights abuses in Djibouti but haven't gone much further. If Djibouti's strategic role had previously proofed the regime against international meddling, the exigencies of the drone war and fighting al-Shabaab have given IOG a free hand. (There is no cause for the UK to feel complacent, with a similar reluctance towards censuring Bahrain over repression of dissent). 
But could this change? There is growing dissatisfaction in the top circles of Djibouti, power plays around the First Lady and the President's children. Guelleh's greed for what he can get from foreign powers is enormous, as the Belgians discovered when they negotiated over use of Djiboutian waters for a counter-piracy vessel. Intelligence reports showing the movement of money and arms to Somalia can only fuel suspicions that IOG is fanning the flames of neighbouring conflicts to consolidate his role of regional sheriff. Then came news that Guelleh was allowing the Chinese to build a military base for up to 10,000 soldiers, preparing to welcome a Saudi base and entertaining the idea of a Russian one. How reliable a partner is he? 
Today presents a fresh opportunity to show that the world is watching Djibouti. The most significant statement by far has come from France's governing Socialist Party, as distinct from the Foreign Ministry, which noting the manipulations and obstructions of the democratic process in Djibouti over the last 6 years, calls for "international organisations, particularly the African Union, to adopt a strong position against the conditions under which this ballot is taking place, to work together to prepare for genuine elections". Front de Gauche MEP Marie-Christine Vergiat suggests the EU is a more appropriate body than the French state to bring its influence to bear on African politics – but that action is needed rather than words.
Three US Republican Congressmen, seemingly provoked by China's advance, called for Obama to put pressure on Guelleh to step down. Dimitri Verdonck suggests world leaders could start by simply not sending a congratulatory message to Guelleh on his victory. DAF thinks that for all IOG's ability to play the west, he leads "a very weak regime" that will bend under sufficient pressure. 
Or is it the nub that in such a case, we in the west don't want any ruption, that we'll take security over democracy, if we care at all – and we might at least be honest with ourselves about that?
Ismail Omar Guelleh meeting Robert Gates in 2010. Wikicommons/Robert D.Ward. Some rights reserved.
Read more
Get our weekly email