Even if confronting Putin comes at a price, we should be prepared to pay it
Pussy Riot, the famous Russian feminist punk band, gave a concert at CIVICUS' ICSW annual conference in Belgrade this week. The show focused on the experience of protesters being jailed in Putin's Russia, something they themselves have endured. Español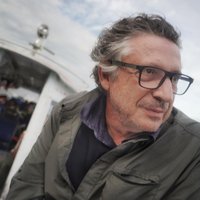 15 April 2019, 12.00am
In spite of the repression they have suffered, and the difficulties they still face today when they protest the current situation in Russia, Pussy Riot keep going.
In a meeting with the press in Belgrade, ahead of their performance in a river boat club over the Danube, the lead signer Maria Alyokhina, known as Masha, was very vocal about the group's mission.
"I believe art is changing the world. And can change the country itself. Because art is the only field, the only sphere in which asking uncomfortable questions is possible", Masha said. And indeed, when you see their show, you realise how much they champion their 'artivism'.
Since the group started to perform in 2011, their main concern has been the attacks on civil liberties in Russia. Masha contests the dynamic that, according to her, creates a debate in Russia of only two polarised options: either you favour NATO or you favour Putin's 'Great Russia'. "But what Putin is doing has nothing to do with greatness – she says. It is about killing opposition activists, it is about putting people in jail."
A weekly summary of our latest stories about the post-Soviet world.
Their current show, 'Riot Days', is focused on the deterioration of civil liberties in Russia, particularly sonce 2012, when Vladimir Putin was appointed president for a third term, violating the spirit of the constitution. "People are going through much worse things than we did ourselves back in 2011. Now, there are people that are getting 20-year sentences for their activism. They are being captured, tortured and transferred to Siberia".
As the theme of this year's CIVICUS annual conference, which gathers political activists from all over the planet, is "The power of togetherness", inviting Pussy Riot to perform seemed a perfect fit.
Even though sympathy for Russia among Serbians is unusually high, and the authority's proximity to Putin's Russia is conspicuous, CIVICUS made this choice knowing how uncomfortable the authorities may be. The idea was to send a strong message in the defence of human rights and civil liberties, and Pussy Riot couldn't have done so better.
When it comes to activism, Masha is very clear: "Solidarity is the most important thing. Without people supporting us, especially when we are in trouble, we wouldn't be able to carry on. That's what keeps you going, particularly when you go through hard times, when you are alone and feel insecure".
If the European Court of Human Rights ceases to have jurisdiction over Russian territory, this will be a catastrophe for the Russian people. "This is a real threat."
"A sort of Cold War has made a comeback", Masha reckons. She is particularly afraid of Russia threatening to leave the Council of Europe, a decision that is on hold, but which will eventually leave all civil liberties on a tightrope.
"If the European Court of Human Rights ceases to have jurisdiction over Russian territory, this will be a catastrophe for the Russian people. "This is a real threat", she says. "Sadly, this is where Russia is going. You should know".
Asked about what's the current impact of Pussy Riot's activism inside Russia, Masha says it is difficult to assess, and immediately complains about repression. The group is not allowed to perform in Russia anymore. At least "officially".
"When we recently ran our show in a very small theatre in Moscow, in a tiny, closed space, with room for just about 100 people, and for free, with no tickets on sale, the authorities closed the venue, and they are not allowed to operate anymore. (…) When we are asked to perform in other theatres and we say yes, and we send everything, they become very enthusiastic about the possibility of hosting us.
And yet, systematically, a couple of days after that, we get a phone call saying: sorry, this is not going to happen. They have threatened us with closure if we host you. This has lately happened to us about 35 times".
This content is not shown because we don't have your consent to use cookies. You can check your
cookie settings here
or...
Masha seems particularly worried about what is going on politically in Russia right now. Her description of Putin's rationale is striking: The only thing Putin and his people are proud of is about Russia having won the Second World War.
They are trying to project that victory ethos into the current situation, for instance by identifying Ukrainians as fascists that the Russian Great Army is bravely fighting as they did in the glorious past. "Every day, like 3-5 times a day", --Masha says, and you could see a hint of indignation in her eyes—"the whole propaganda machine is working on this concept. And sometimes, unfortunately, people believe that".
"It is impossible not to believe in it" intervenes her colleague, a young bearded man that has been silent so far –"if your existence is a vacuum and you are surrounded by this propaganda and you cannot go to another source of information because it is just not available".
The deterioration of human and civil rights is an on-going disaster for Russia. Take the situation for feminism, for instance, Masha insists. Two years ago, in February 2017, Russia passed a new bill decriminalising domestic violence.
It is not a crime anymore, only an administrative fault. "There is a joke now in Russia: A women calls the police saying her husband has beaten her. The police replies: call us when you're dead" Masha says. But this is not a joke: this is actually what is happening ".
"There is a joke now in Russia: A women calls the police saying her husband has beaten her. The police replies: call us when you're dead" Masha says. But this is not a joke: this is actually what is happening."
Pussy Riot, as a feminist band, have taken this development as a very serious backlash on women's rights, and their lawyers are following a number of cases of domestic violence that have been taken to the court.
Yet, according to Masha, feminism in Russia is not a movement as such. It is rather a cluster of grassroots organisations active in Moscow, Saint Petersburg and other big cities, but it is not clear if any coordination is happening as nobody has collected the information so far.
It becomes clear that Pussy Riot are, above all, political activists that use their art to denounce abuses in Russia.
They have developed a strong political position and don't oversimplify the issues they deal with, and even when on-stage, they dramatize them theatrically.
When asked what they make of street protests like the ones taking place in Belgrade every Saturday, where you see militants from the far-right join together with progressives in the march, the answer is straight-forward: "You should be very careful before calling someone a fascist. If we call all the people with whom we do not agree fascists, this is not a way out. Really it is not".
Delegates at the CIVICUS conference from all over the world were impressed at how effectively Pussy Riot's show represented the repression activists are experiencing in Russia.
Their description of jail conditions under Putin's rule is a stark warning of how human and civil rights deteriorations have occurred since the collapse of democratic politics in Russia in 2012.
7 years later, Russia's kleptocratic and authoritarian regime has invaded Crimea, attacked Ukraine, undermined the EU by supporting the far-right, sponsored Brexit, backed Trump, and promoted "illiberal democracy" all around, making it a supposed come back from the humiliation Russian elites suffered after the collapse of the Soviet empire.
Sadly, as Timothy Snyder puts it in his recent book, Russia is leading our way down to "The road to unfreedom". Pussy Riot's loud cry is a reminder that we should not accept that suicide. As Maria Alyokhina puts it: "we must choose not to shut up".
This article has been produced in partnership with CIVICUS in the context of the International Civil Society Week conference 2019, held this year in Belgrade, Serbia.
The partnership developed a blog for the ICSW 2019 that is not particularly Latin American but tackles Global Civil Society which is one if DA's thematic axis.
Read more
Get our weekly email