Fleeing Venezuela: migrants on making the perilous journey to a new life
Just across the border in Colombia, people displaced by the ongoing Venezuelan migration crisis share tales of desperation, tenacity and resilience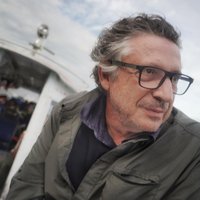 16 April 2022, 12.01am
As night falls on the Colombian road from Cúcuta to Bucaramanga, a steady stream of walkers from across the Venezuelan border arrive at the La Don Juana shelter. They look exhausted.
Most have been travelling for days, marching along a dangerously narrow road, carrying their few precious belongings on their backs. Their children trudge onwards holding hands.
It is October 2021 and the Venezuelan migration crisis, although not as intense as in other periods, continues to bleed into neighbouring Colombia – and nobody can stop it. Up to six million migrants and refugees have left Venezuela in recent years.
It is not just the totalitarian regime forcing Venezuelans to flee their homes in search of sanctuary from political violence. They are also fleeing from dire food shortages, with a 2020 study by the World Food Programme suggesting one in three Venezuelans was unable to access enough food to meet minimum nutrition requirements.
At the end of a long and dangerous journey sits the last glimpse of hope, the La Don Juana Shelter. Run by Samaritans' Purse, a US non-governmental organisation (NGO), the shelter is gradually filling up with families with children, young couples and lone walkers. Some have barely enough strength left to register at the shelter, where they will receive assistance and a hot meal.
A tattooed and tired-looking young man stands out among the exhausted walkers sitting at the doors of the reception. Alongside him is a puppy, a travel bag and a pair of pink flip-flops.
The walker says his name is Enrique Lugo, but that everyone calls him Christopher. When asked about the small dog beside him, Christopher says he adopted her after finding the animal abandoned. "I called her Troya because she is like a Trojan horse," he says. "And there's no better friend than a puppy."
Christopher's is a story of struggle and despair, like that of millions of migrants worldwide. But it is also a story of fierce will and determination.
He had travelled nearly 600 kilometres to the Colombian capital, Bogotá, when he received news that a tattoo machine was finally available to purchase at a bargain price in his hometown, San Cristóbal. He decided to return home to buy the machine, believing it would help him set up a new business in Colombia.
With a lump in his throat, Christopher describes the moment he was reunited with his mother in San Cristóbal, and then the pain of having to be separated from her once again. But now, with his tattooing machine, he feels much better equipped to survive the nearly 6,000-kilometre journey to the Chilean border, which he says he is taking "step by step".
Walking with Christopher and Troya is Kember, a Venezuelan man in his thirties, whose story also reflects the determination and courage shown by so many refugees struggling for a better life in the face of adversity.
Kember tells how, after two years working in Colombia, he had managed to save 1.8 million Colombian pesos (just under $500), allowing him to return home to his family to set up a small business.
But after re-entering Venezuela through one of the informal routes (trochas) set up near the Simón Bolívar International Bridge, the official border crossing, Kember says he was approached by Venezuelan police officers. They demanded he hand over all the money he was carrying. Despite desperate negotiations, he says he arrived home with just 300,000 pesos (about $80) in his pocket. It is difficult to imagine a tragedy of this calibre, but the resilience he demonstrates by now returning to Colombia in search of a second chance is typical of these Venezuelan refugees.
Having regained their strength with a night in the men's shelter at the gates of the Samaritan's Purse shelter (only women with children are allowed to enter the refuge and sleep under cover), Christopher, Kember and Troya set off on foot. They were headed towards the Berlin plateau, the formidable geographical obstacle that separates them from the first 'big' Colombian city they will pass, Bucaramanga.
The Colombian government does not authorise migrants to board buses on the Cúcuta-Bucaramanga route, requiring a nationality or residency card to purchase any ticket. Although there are plenty of ways to try to circumvent this rule, such as buying tickets with an ID number given by a sympathetic citizen, police inspections are frequent and fines for drivers are high. Fines are also imposed on citizens who use their own vehicles to pick up migrants and take them to the next stage.
All of this forces refugees to walk hundreds of kilometres, putting themselves at risk of all kinds of dangers and threats, which are especially acute for young women and families carrying small children. At more than 4,000 metres above sea level, the route is often covered by freezing mist and has extremely low temperatures. Many migrants – who either don't own suitable clothing or don't want to be slowed down by carrying bags of clothes – face it in flip-flops, T-shirts and shorts, forced to ignore the hypothermia warning signs posted by aid NGOs at shelters along the way. While numerous NGOs and UN agencies provide medical assistance and food packages for the road, few provide clothes.
Since 2015, a fifth of Venezuelans have left the country, with an average of 2,000 crossing into Colombia every day during 2021, according to the United Nations.
Hopefully Christopher will succeed in financing his trip to Chile by tattooing clients here and there on the streets of the cities and towns he passes through, and hopefully Kember will manage to save a few thousand pesos again and return to Venezuela to feed his children without being assaulted by the authorities en route. But this "complex humanitarian crisis", as official bodies such as the World Bank, IOM or UNHCR define the critical situation, continues its never-ending course.
Related story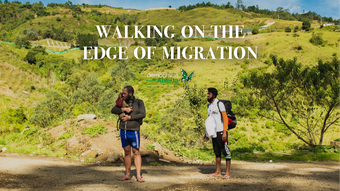 |
Multimedia reports that portray the stories of different Venezuelan migrants who have left their country due to the economic and social crisis
Read more
Get our weekly email