My friend was jailed for eight years for opposing Russia's war
Dmitry Ivanov has been sentenced to eight and a half years behind bars for speaking out. This is his story
15 March 2023, 11.47am
"You have to understand that Russia is not Putin. Tens of millions of Russians are against this criminal war. Many have relatives in Ukraine, and they feel their pain. This is a dark moment of our history, but the darkest moment always comes before dawn."
My friend Dmitry Ivanov said these words, in English, to foreign journalists who came to the Moscow court where his trial was being held.
I met Ivanov in a police van and shared a cell with him at the time of the 2021 Russian protests – a brief hopeful moment that was quickly crushed. As the editor of Mediazona, an independent media outlet focusing on the judicial system in Russia, I had been sentenced to 25 days in prison for retweeting a joke, while Ivanov had been arrested for taking part in the protests.
Nearly a year after those protests, Russia invaded Ukraine – and Ivanov decided to stay in the country and oppose the war.
A weekly summary of our latest stories about the post-Soviet world.
On 7 March, he was sentenced to eight and a half years behind bars for "disseminating knowingly false information about the Russian Armed Forces motivated by political or ideological hatred", based on a new criminal article added to the Russian criminal code after Russia invaded Ukraine.
Ivanov was sentenced five minutes after he spoke to journalists. The new "fake news" charge has been used against other critics of the regime, like opposition politician Ilya Yashin, who was also jailed for eight and a half years last December. Sentences in absentia have similarly been issued. In 2022, almost 200 criminal cases were opened under this article, according to human rights lawyer Pavel Chikov.
Ivanov was accused of "acting on the basis of political hatred" for publishing posts on his Telegram channel claiming the Russian army was killing the civilian population of Ukraine and destroying infrastructure, that its soldiers had committed war crimes in Bucha and Irpin, and that Russia was waging a war, not a "special operation". Most of the posts for which Ivanov was convicted were reposts of other people's messages, including Ukrainian president Volodymyr Zelenskyi.
It has become impossible to prove one's innocence in a Russian court in a political case
Proving guilt in a case of so-called false information is quite simple. The investigator takes the official reports of the Russian Ministry of Defence as a basis and, if something contradicts them, it is considered to be untrue.
Several witnesses for the prosecution testified at the trial, claiming that they had accidentally seen the content of Ivanov's Telegram channel and voluntarily contacted the police. This was almost certainly not the case. These witnesses were likely to have been found by the police themselves and forced to give evidence. During the trial, these 'witnesses' appeared afraid to make mistakes, reading their testimonies off pieces of paper. One of them claimed he had got off the subway, saw some police buses, and felt an urgent need to testify against Dmitry Ivanov because of his Telegram channel.
At the trial, the prosecutor said Ivanov's link to the Telegram channel had been proven by examination of his mobile phone – even though Ivanov had refused to provide the password. The prosecutor claimed during the trial that a specialist from the FSB had managed to access the phone's contents using software from the Israeli company Cellebrite, which said in 2021 it would immediately halt sales of its products in Russia and Belarus.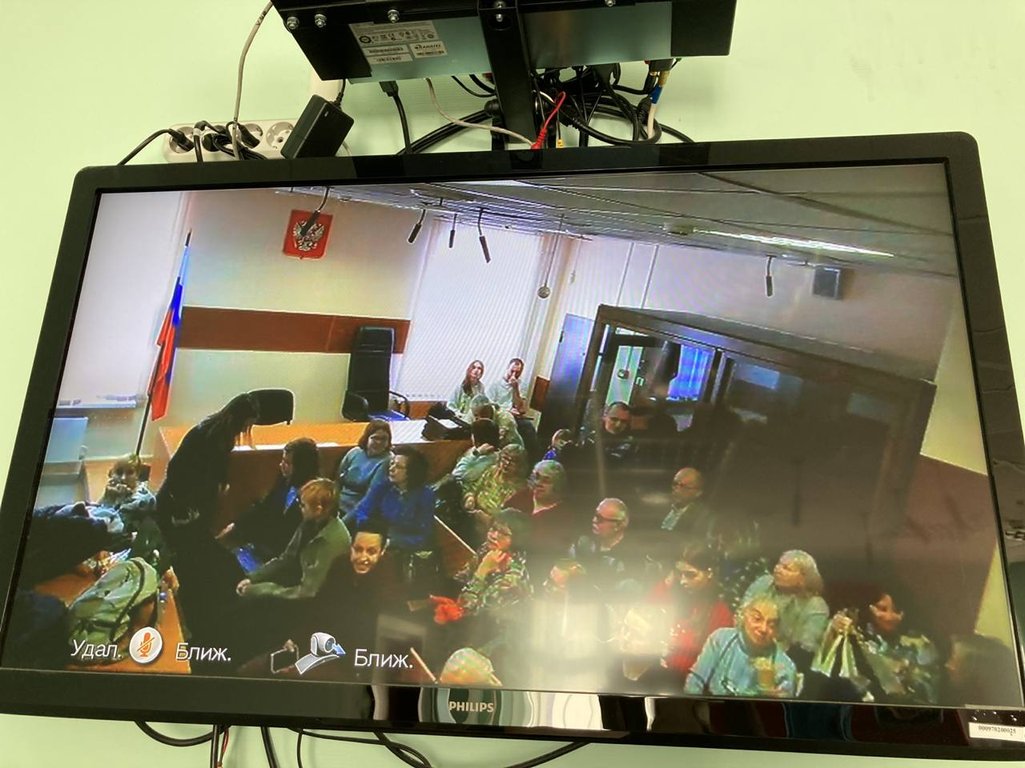 In any event, Ivanov himself didn't hide that he had written the posts on Telegram. Rather, he said he wanted to turn the trial into a platform for anti-war speeches. For each accusation levelled against Ivanov, he argued that he had written the truth, stating for instance that in Bucha the Russian military really had committed war crimes as reported by numerous international publications. Maria Eismont, who defended Ivanov in court, brought human rights activists to court as witnesses, who, based on communication with Ukrainian refugees, confirmed the death of civilians and the destruction of infrastructure in the country.
Unusually, Eismont also requested that official representatives of the Russian authorities be summoned to court.
"Ivanov is charged with a serious crime based on a comparison of his texts with the statements of [Vasily] Nebenzia, [Sergei] Lavrov and [Igor] Konashenkov," Eismont told the court, referring respectively to Russia's representative at the UN, its foreign minister, and the spokesperson for the defence ministry. "This means that these people are essentially witnesses for the prosecution and that he has therefore the right to interrogate them in court."
Because the trial was taking place in a court in northern Moscow, which is unused to dealing with political cases, the judge initially agreed to subpoena the three top officials, which could have caused a huge political stink. The next day, Moscow City Court hastily stepped in to rebuke the judge and explain that the witnesses were not, in fact, obliged to appear in court.
In any case, it has become impossible to prove one's innocence in a Russian court in a political case. The terms for opposition politicians and activists have been increasing in recent years.
This case, where Ivanov was accused only of publishing information about the war in Ukraine that contradicted Russia's official line, surprised few. And Ivanov didn't seem angry or frightened. According to his lawyer, he understood that he could face a long prison term, but still spoke openly about his position at the trial. On the day of the verdict, a large queue lined up in the courtroom to support him. For now, it is safe to attend the trials of political prisoners, but everyone is aware this could change at any moment.
After he was sentenced, Ivanov expressed support for other political prisoners he had met in prison, rather than talk about his situation. He asked his followers to write them letters and attend their trials.
New generation
The fact Ivanov didn't put himself first came as no surprise to me. I have known Dima – as his friends call him – for two years, after meeting him as we were transported to serve sentences at the Sakharovo special detention center in Moscow in February 2021.
My crime had been to retweet a joke that was wrongly interpreted as a call to participate in a protest over the arrest of Alexei Navalny, who had just returned to Russia. My sentence came as no surprise. A week earlier, my mother's apartment had been searched, and I was expecting a criminal case to be opened against me – just for having retweeted someone else's joke, although I hadn't taken part in the protests themselves.
Unlike me, Dima had been protesting actively for years, since the 2018 FIFA World Cup in Russia. As a student at Moscow State University, he protested against the establishment of a fan zone near his campus. After that, he became a prominent opposition activist: he was constantly being detained for a day at a time, and the Russian political police (the Center for Combating Extremism, under the Ministry of Internal Affairs) promised to send him to prison sooner or later.
Back in prison, I realised that Ivanov reminded me of Russia's 19th century students who fought the tsarist regime
We finally met in person on that police bus that took us to Sakharovo. Later, we ended up in the same cell. And it immediately became clear that Ivanov, 21, knew a lot more about life in prison than your 46-year-old author.
He quickly established contact with the neighbours, was able to charge our power bank, and provided us with a cell phone for almost a week, until our jail cell was thoroughly searched. In our cell, he would keep boiling water warm for hours, after putting it in a five-litre bottle wrapped in a thick blanket, which meant we could make tea and instant noodles.
Dima really wanted changes for Russia, this is why he came out to protest. He saw the current government as barbaric and unjust. Opposing it came naturally for him: he didn't understand how to live differently. In parallel, despite being regularly detained, he studied maths at Moscow State University. He was a good student. His recent arrest has prevented him from getting his degree.
Back in prison, I realised that Ivanov reminded me of Russia's 19th century students who fought the tsarist regime – and were imprisoned and exiled in Siberia for it. When the war began, I left Russia, but he chose to stay. We both understood that he would most likely be sent to prison. But he considered it necessary to write what he thought and openly oppose the war.
During the first months of the invasion, many thought that Putin's regime would collapse in the near future. A year has passed, no signs of the collapse of the regime are noticeable, Western sanctions don't seem to work, and civil society has been completely crushed. Street protests are sporadic and immediately suppressed by the authorities.
When Dima says in the courtroom that millions of people inside Russia are against the war, he is telling the truth. Even opinion polls close to the Kremlin show this.
But the truth is that the voice of these millions is not heard in the country or abroad. And people like Dima currently look like heroes operating in isolation. One can only hope that he isn't crushed by the Russian state, as has often happened to young Russian idealists like him in the past 200 years.
Russian aggression is driving Ukrainians into poverty. But the war could also be an opportunity to reset the Ukrainian economy – if only people and politicians could agree how. The danger is that wartime 'reforms' could ease a permanent shift to a smaller state – with less regulation and protection for citizens.
Our speakers will help you unpack these issues and explain why support for Ukrainian society is more important than ever.
Read more
Get our weekly email