Xi Jinping. Demotix/Gregor Fischer. All rights reserved. After a summer full of bad economic news, Chinese president Xi Jinping enjoyed a successful September, starting with a military parade in Beijing to mark the seventieth anniversary of the end of World War II, and finishing with the pomp and circumstance of a state visit to the US and a speech at the UN general assembly. These three carefully choreographed events confirmed Xi Jinping as a strong leader at home and a respected figure abroad.
But October is the time for a different kind of global event – the Nobel peace prize announcement – over which world leaders have little control. As Julia Lovell explains, there is a real hunger in China for the international recognition that only Nobel prizes can provide. That's why the awarding of the peace prize to dissident Liu Xiaobo in 2010 hurt Beijing so much.
Such magnanimity can yield big rewards
The events of September provide Beijing with a game-changing opportunity. From his new position of strength, Xi can show generosity. He should accept Japan's apology for World War II, and forgive the Japanese people. This bold gesture would rebuild China's frayed ties with Japan, and show that the PRC is a generous emerging power, rather than a vengeful revisionist state.
Such magnanimity can yield big rewards: Chinese forgiveness would provide the Nobel committee with the great opportunity to award Xi Jinping the peace prize.
Admittedly, this may seem an outrageous proposal. China-Japan relations are characterized by a mutual demonization. Last year, China's ambassador to the United Kingdom even called Japan "Voldemort" – Harry Potter's devilish foe – and a real war could easily erupt between the two countries in the East China Sea over the disputed Senkaku/Diaoyu islands.
Most look to Tokyo to solve what is called the 'history war' between China and Japan. Prime Minister Shinzo Abe's statement of 14 August, a televised war anniversary speech, was closely examined to see if it contained a sincere apology for Japan's World War II atrocities. Surprisingly, Abe's speech was much more apologetic than expected.
But it contained the interesting statement that Japan's future generations, who were born after the war, cannot be expected to keep apologizing forever. Indeed, according to Jennifer Lind, an expert on Asian history at Dartmouth College, Japan has apologized more frequently and candidly than any other country. Japanese politicians thus understandably feel that Beijing is less concerned with an accurate historical account than with using history as a political football.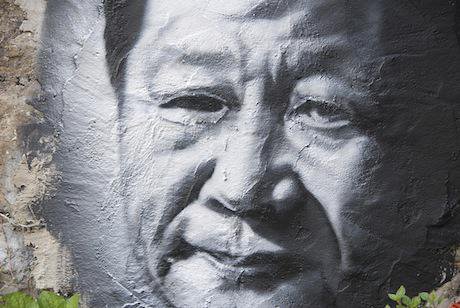 Xi Jinping graffiti. Flickr/Thierry Ehrmann. All rights reserved.It is time to switch from Japanese apologies to Chinese forgiveness.
Although it sounds counter-intuitive, accepting Japan's apology will empower China. When Beijing demands an apology, it positions China as a victim that is reliant on Japan to say the right thing. By forgiving, Xi takes political control of the situation: he sets the terms of the debate, and thus shifts from being a passive victim to be the magnanimous forgiver. Japan will be forced to accept the forgiveness: if it demurs, it will look petty against China's big-hearted generosity.
There are many objections to this strategy. How can we forgive and forget Japan's past atrocities? As Thai political scientist Chaiwat Satha-Anand explains, the point is not to forgive and forget, but to remember and forgive. 'Truth and reconciliation' commissions around the world have shown that memory is the necessary condition of forgiveness.
Rather than punish perpetrators, the goal of 'remember and forgive' is to help victims escape the cage of history that keeps them from creating new memories, and new cooperative relations. In the Chinese case, history would be left to historians in the PRC, Japan and other affected countries in an effort to build shared memories.
This process is already happening: Chinese, Japanese and South Korean historians have been working on joint history projects for two decades. Although some still parrot the hyper-nationalist party line, this process is encouraging — and it takes time.
China's negative view of Japan is not set in stone
More to the point, China's negative view of Japan is not set in stone. Before the 1980s, the PRC's official history recognized that Japan also suffered in World War II. The culprits were a small group of Japanese militarists who victimized the Japanese people as well as the Chinese people. Here, the enemy was not national but ideological: fascism and imperialism. Importantly, Xi Jinping has revived this view of history, calling World War II the "World Anti-Fascist War" at the military parade in early September.
Since he is the strongest Chinese leader since Deng Xiaoping, Xi has the power to make such a bold move. It would spark a renaissance of China-Japan relations that have been in the deep freeze for over a decade. It would present convincing evidence that Beijing prefers to develop China's soft power of win-win cooperation, rather than its hard power of military domination.
While most commentators outside China saw the military parade as a Putin-esque spectacle that shows the vengeful side of the China Dream, Xi Jinping should take the success of September's events in Beijing and the US as a game-changing opportunity to show global leadership.
Xi Jinping should graciously accept Japan's apology and forgive the Japanese people once and for all.
President Xi: that is how you get the Nobel peace prize.
Read more
Get our weekly email