Institutionalised victimhood: the 'progressive' alternative for sex work in the Philippines
With a sex workers' movement stifled and potential allies silenced, the conversation around the 'Nordic model' looks very different in the Philippines than it does in Europe.
6 September 2021, 6.00am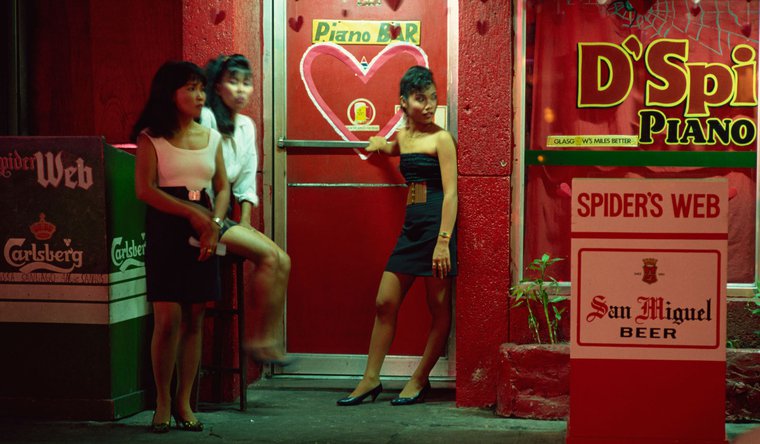 The Philippines was the first Asian country to ratify the 2001 United Nations Human Trafficking Protocol. It also enacted its own anti-trafficking law in 2003, which continues to be nationally celebrated as a victory for women's rights. The campaign for this law was led by women's rights groups such as the Coalition Against Trafficking in Women – Asia Pacific (CATW-AP) and the governmental Philippine Commission on Women* (PCW). Ending the sexual exploitation of women and children was a core focus of their campaign.
The introduction of the anti-trafficking law has created confusion regarding whether sex workers should be treated as criminals or as victims of trafficking. The law defines 'trafficking' in broad language such as the "abuse of the vulnerability of individuals for the purpose of exploitation", and this regularly leads to the conflation of all forms of sex work with "sexual exploitation" in anti-trafficking policies and practices. At the same time, the sale of sex is criminalised under the Philippines' Revised Penal Code and law enforcement agencies can legally arrest and detain sex workers. This regulatory tension has allowed law enforcement officers discretion in their actions and rendered sex workers vulnerable to harassment, extortion, and violence.
Dominance of the 'victim' perspective
For CATW-AP and PCW, anti-trafficking represents a political opportunity to redefine sex workers as victims, or 'prostituted women', rather than criminals. Since 2004, PCW has championed an anti-prostitution law based on the Nordic model, which decriminalises the sale of sex while criminalising buyers and third parties. This proposed law is backed by the Philippine Inter-Agency Council Against Trafficking (IACAT), whose members include PCW and CATW-AP as well as NGOs like International Justice Mission (IJM).
The shift from criminal to victim is intended as a signal of sympathy and support. But by defining sex work as a problem to be solved, rather than as a form of work that could benefit from greater rights and protections, the Philippines is able to use raids, rescue, and rehabilitation as the primary strategies for 'protecting' sex workers. This in turn increases their precarity, reinforces stigma, redirects them to low-paid and insecure work, and entrenches their exclusion from political life. As usual, sex workers have not been asked what they think about these policies. Many sex workers prefer their flexible hours and higher rates to the long working hours and low wages offered in retail, factory work, or domestic work.
Fence-sitting
The Philippines' anti-trafficking practices have been criticised by a small number of academics, activists, and journalists, but this has not yet translated into organisational opposition. No major anti-trafficking or women's rights organisation in the Philippines publicly supports sex workers' rights. Amnesty International - Philippines has not backed Amnesty International's endorsement of the decriminalisation of sex work. And the absence of a visible sex workers' rights movement in the Philippines, owing to criminalisation, stigma, and a woeful lack of resources, no doubt reinforces the dominance of the anti-sex work position in anti-trafficking.
However, some organisations that had previously taken a strong anti-prostitution position have moved towards more 'politically neutral' territory. IJM and Visayan Forum Foundation have responded to criticism of their anti-prostitution rescue missions by pivoting toward child sexual exploitation in their programming and sidestepping the question of sex work. Others have shifted their focus to 'labour trafficking' in fishing, agriculture, and domestic work, thereby perpetuating the distinction between 'sex' and 'labour'. HIV/AIDS organisations tend to be more welcoming of sex workers, but they do not generally engage with anti-trafficking and rarely openly advocate for sex workers' rights. There are several reasons for this public silence on sex work, and they vary among individuals and organisations.
Political costs of advocating for sex workers
To be clear: anyone who came out in support of sex workers' rights in the Philippines would almost certainly pay a political price. The understanding of prostitution as victimhood has powerful cultural inertia and is accepted as a core feature of a "third world anti-imperialist feminism". Despite some notable exceptions, most conversations on prostitution in the Philippines are underpinned by nationalist critiques of colonialism and global inequality, with prostitution in US bases and the sexual exploitation of Filipina workers overseas as central themes. Feminist Catholic nuns are particularly influential in Philippine women's movements, having led organisations such as GABRIELA, Development Action for Women Network (DAWN), and the Third World Movement Against the Exploitation of Women. These groups all lobbied alongside CATW-AP for the anti-trafficking law.
Support for sex work is furthermore framed by several leading, Philippine-based scholars and activists as a form of Western ideology that ignores structural poverty and racism. This inhibits organisations and individuals from openly supporting sex workers' rights. Apart from professional survival, the need to preserve alliances among progressive groups to lobby for other issues – such as ending violence against women and children, reproductive rights, and other workers' rights – is often part of the perceived trade-off between challenging the dominant paradigm on sex work and keeping the peace. Leaders of the Catholic Church and Christian groups wield significant influence over Philippine politics and universities, and public figures who deviate from the rescue paradigm risk being branded as immoral.
The prospect of being perceived as ignoring the plight of survivors has created a chilling effect on those who may otherwise believe in sex workers' rights.
Pressure from abroad plays its part as well when it comes to silencing support for sex workers. The United States' influence on anti-trafficking policy, in particular, prevents alternative perspectives on sex work from gaining currency. The US is the biggest external source of anti-trafficking funding for government agencies and local and international non-profits working in the Philippines, and remaining silent on prostitution or officially opposing the legalisation and practice of prostitution is a requirement of financial support. Therefore, regardless of the personal inclinations of their leaders, organisations that rely on USAID have a financial incentive to avoid including sex workers' rights on their agenda.
This gatekeeping is intensified by the structural configuration of the Philippines' Inter-Agency Council Against Trafficking, which formalises state and civil society cooperation. NGO members in IACAT are appointed to three-year terms and are dependent on votes from the government member agencies to secure a seat. Membership in IACAT provides NGOs a stronger platform for advocacy, access to funding, and greater institutional credibility. Yet organisations which openly support sex workers' rights are unlikely to be given a seat at the table.

Finally, the policy conversation suffers from the false assumption that believing sex workers means disbelieving survivors of trafficking, and the prospect of being perceived as ignoring the plight of survivors has created a chilling effect on those who may otherwise believe in sex workers' rights. Trafficking survivors, or women who were rescued from prostitution or who exited, are regularly invited to participate in anti-trafficking awareness-raising, fund-raising events and IACAT consultations. Their testimonies were highlighted in legislative hearings for the anti-trafficking law and are regularly featured in radio and TV programmes that discuss women's rights. These survivors' stories are valuable, but they have been used to de-platform sex workers who do not identify as trafficking victims.
Costs of silence
For some individuals and organisations, silence and ambiguity might be a strategic attempt at harm mitigation. It allows them to quietly minimise their participation in problematic practices, such as anti-prostitution raid and rescue operations, without endangering their access to US funding or being accused of undermining the suffering of survivors. Perhaps silence is a cover for buying time until the political environment becomes more conducive for sex workers' rights advocacy.
Most major progressive groups have also likely accepted that treating sex workers as victims is still better than treating them as criminals, and that this represents the outer limit of what is politically possible at this time. Against this background assumption, it makes sense to push for poverty alleviation and social protection but it would be unproductive to argue for workers' rights because the only viable 'compromise' solution is the Nordic model. Therefore, they end up nominally supporting (or not opposing) PCW's push for the anti-prostitution law.
Fence-sitting is a missed opportunity to destigmatise sex work and disrupt the momentum of a proposed law that institutionalises their victimhood.
It is true that the criminalisation of the sale of sex is harmful and unjust and needs to end. However, the harms of institutionalised victimhood have escaped open scrutiny. Criminalising the purchase of sex still leaves sex workers vulnerable to police surveillance and extortion, and still drives them to work in hidden and unsafe spaces. The Nordic model deprives sex workers of rights and political agency, perpetuating harms. At the same time, poverty alleviation is a long game with no guarantee of success. Neither will benefit sex workers today.
Silence helps perpetuate a self-fulfilling cycle: public and policy conversations on sex work generally take place without any involvement of sex workers or organisations who advocate for sex workers' rights, which reinforces incomplete and flawed understandings of sex workers' needs. Despite the diverse experiences of individuals who sell sex, the incorrect belief that all sex workers are being abused, forced to work against their will, and in need of rescuing is left unchallenged. Criminalisation and stigma have restricted sex workers' ability to organise, raise funding, and advocate for themselves. Fence-sitting is a missed opportunity to destigmatise sex work, engage in collaborative research with sex workers, fund sex worker-led projects, share advocacy platforms with them, and disrupt the momentum of a proposed law that institutionalises their victimhood at a crucial window where more, not less, discussion is necessary.
Even if anti-sex work proposals are coming from a place of care, they entrench a narrow conception of women as political subjects who can only demand rights based on their identities as innocent victims in need of protection. The Nordic model appears to be the only realistic path forward because Filipinos' political imagination has been limited to accept only two possible categories of sex workers – victim or criminal – both of which require policing and prosecution at the expense of labour rights. The violent war on drugs in the Philippines, which is opposed by a wide umbrella of progressive groups, provides an opening to debunk carceral approaches to social justice problems. Funders, media organisations, academic institutions, and NGOs should finally bring sex workers' voices into the front and centre of this discussion.
* Formerly known as the National Commission on Filipino Women.
Read more
Get our weekly email