Dani: LGBT+ and environmental activism in the Tapajós National Forest
Dani, an activist who fights to preserve the Brazilian jungle and for LGBT rights within her community, is the protagonist of the second chapter of the series 'Rainforest Defenders. Español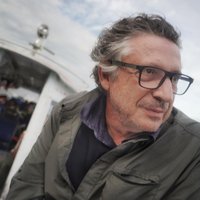 28 June 2019, 12.01am
Dani is a 21-year-old riverine activist. In order to become what she is today, Dani has undertaken a difficult and courageous identity search which must be understood within the context in which it has taken place.
Many of the communities inhabiting the banks of the Tapajós River, like many other settlements along the vast Brazilian Amazon basin, call themselves "riverine". Riberinos is a term that encompasses the whole range of ethnic diversity resulting from multiple crossbreeding over time among indigenous peoples, Afro-descendants and European descendants, mostly of Iberian origin.
Today, defining oneself as indigenous is a matter of self-affirmation. But in many communities along this abundant tributary of the Amazon, the mix is so old and dynamic that it may actually be impossible to choose which ethnic group to join.
But when the land is threatened by the operation of mining companies, loggers, agribusiness and by the appropriation of untitled land, many communities have undertaken a process of self-education and of territorial demarcation on their own so as to be able to demonstrate that they have been living in this land long enough to claim a property title to the State.
Getting their property title is actually the only guarantee they have to prevent being expelled from their land, usually by business interests related to the exploitation of the region's rich natural resources.
Another effective way to protect populations in the territories has been to establish Natural Reserves, be they permanent - such as Biological Reserves, or National Parks -, or Reserves for Sustainable Uses - such as Extractivist Reserves (RESEX) and National Forests (FLONA).
The Prainha community - today split into Prainha 1 and Prainha 2 – is located in one of these FLONAS. The fact that they live in a National Forest has afforded them relative safety from external threats, and this is what has quite possibly allowed them to address some internal matters, such as the decision to settle in two differentiated communities.
It is in the Prainha 2 community where we meet Dani, this courageous young woman who has carried out an intense identity search which has led her to recognize her long hidden –before the family, the community, and the church – repressed homosexual condition.
To Dani, self-affirmation and recognition within the community was practically impossible for a long time. In addition to the significant presence of conservative Evangelist churches, which have spread very effectively throughout Brazil (in the case of Prainha 2, the Seventh-day Adventist Church), traditional cultural structures firmly control sexuality, so that exploring any alternative paths is practically out of the question.
The distribution of roles between genders is clearly asymmetric and the sexual and reproductive bond is strongly controlled through marriage. In this context, sexual violence and abuse are frequent phenomena, usually concealed and buried in silence.
In this context, Dani's journey, herself a victim of sexual violence, has been a hard one. But through her involvement with a group of young activists coordinated by Engajamundo, a young Brazilian environmentalists' association, she has finally found a space in which to freely express her homosexuality.
Acknowledging herself publicly as a member of the LGBT+ community became a factor of empowerment and a channel for her commitment to this and other important community causes.
"My struggles here are not a few," says Dani. "First, the fight for the preservation of the conservation area where the FLONA in which we live is located, surrounded by sojeiros (industrial soybean growers). Agro-toxic pollution is coming to us from all sides and so is the advance of the large sojeiros, who are already threatening several neighboring communities. To be able to live in this wonderful land, and protect it: this is the very first fight. "
"But I'm also involved in another fight", Dani forcefully goes on. "It's the fight for sexuality, an issue which is not being addressed in the communities, or in schools, or families. It was just impossible for me to assume, on my own, the fact that I am a lesbian.
Luckily, I was able to do it thanks to an exploration of other forms of struggle, which we recently conducted at a session in my school, the same school where I studied when I was 16 and 17 years old. That was the time when I suffered most. I suffered in the community, I suffered at school, I suffered in my family".
"Until recently, I felt unable and helpless. I felt like garbage, quite honestly", says Dani with emotion as she recalls her suffering. "I felt I was nobody, I felt like a discarded piece of clothing. I was nobody, nobody really".
Going from repression, frustration, depression and several suicide attempts to the pride of acknowledging who she is was indeed a decisive step in Dani's life. She is today a proud LGBT+ activist. "The fact that I can bang my chest and say to myself that I am an inspiration for other people is a source of pride. The fact that the other day a young man said "I'm going to do what Dani did" was, I felt, a big privilege. A very happy event".
To this petite but defiant young woman, the link between the fight for sexuality and the defense of the land is crystal clear. Both are tough struggles in the Low Tapajós communities: "If I am strong enough to fight the prejudices against sexuality, I will be strong enough to fight the invading soybean holdings which are devouring the forests and challenging the communities, which are surrounding our FLONA and threatening to suffocate us".
Dani believes that the two causes are closely linked. "Because I am now a resistant", she says. "If I managed to resist the repression of my sexuality, I will resist the sojeiro's invasion of my territory. This I know".
It is precisely this link between existing and resisting that we find among the young activists - be they riverine, indigenous or Afro-descendant – all along the river and inside the rainforest.
Dani does a very lucid description of the process of awareness of these Amazonian communities which are far away from urban centers, relatively isolated and quite autonomous in their day-to-day operation – regarding the threats of invasion of their territory and to the environment, and regarding their closed social systems, which are dominated by traditional structures that go back a long way.
Among all the threats described and perceived, Dani is aware that the greatest of them all comes from the political situation resulting from the election, last November, of the country's new president, Jair Bolsonaro: "Today, what is truly frightening is the political moment Brazil is going through.
Right now, I am afraid of getting out of my home because of some people, because of the dominant prejudices. I could be leaving home one day, and never get back. I could leave home by foot, and get back in a wheelchair. This is my biggest fear".
Bolsonaro has made it clear that he wants to do away with activists, because they are the ones who raise awareness about the enormous damage that the predatory economy and massive deforestation are causing in vast areas of the Amazon - which now may feel that they have carte blanche under the new government and can cause a huge disaster.
Bolsonaro also believes that doing away with the activists who defend their rights - whether through indigenous self-affirmation, through the defense of their Afro-descendant lineage, or of the LGTB+ cause - is to end the germ of resistance to his project of destruction.
Recent cases of aggression against LGBT people in the streets of Brazilian cities – i.e. the case of Luana Trans in Santarém - are generating a very dangerous atmosphere of violence against these groups, and spreading fear widely while liberties are being curtailed at an accelerated pace.
Before getting involved in actions with the other activists in the region, Dani, all by herself and helpless, had plunged into some very dangerous self-destructive dynamics. Being now recognized is what gives her indomitable power to fight not only against homophobia, but also against racism and sexual violence, in addition to defending the environmental cause and confronting the threats of agribusiness and becoming a climate warrior.
Bolsonaro's obsession to combat these activists offers them precisely, more than ever, the reason to persist in their fight: without their courageous action in the territory, there would be no limits to homophobia, racism, gender violence, violence against minorities and the unscrupulous predatory economy that is plunging our planet into an irreversible environmental crisis.
Dani is here to remind us.
This article is part of the Rainforest Defenders series, a project by democraciaAbierta in collaboration with Engajamundo Brasil, with the support of the Rainforest Journalism Fund of the Pulitzer Center. It was originally published by El País here
Read more
Get our weekly email